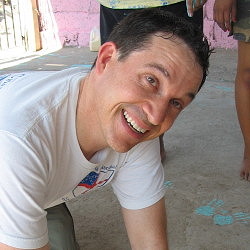 Curtis Wait
Executive Director, Amiguitos
A lifelong resident of Colorado USA with a background in business and organizational development, Curtis is an ordained Episcopal Priest. While in seminary, he began traveling annually to Ecuador assisting with medical missions. Soon his wife and children also joined him on these trips. The experience changed them all. Now Curtis, Anne, Alex and Dana have all learned Spanish (with varied success and continuing study). A friendship with one of the key leaders (Goldi Santana Mera) of community centers in Guayaquil Ecuador developed. Goldi traveled to Colorado for Curtis' ordination in 2004. When Goldi moved to Veracruz Mexico permanently in 2006, she continued building community centers in vulnerable neighborhoods, Amiguitos was created. In 2004 Curtis and Maria Elena Montoya de Arredondo worked together in Lafayette Colorado helping reach out to vulnerable children and families. Maria Elena now lives in her home town of Pénjamo, Mexico. Curtis organizes trips and support to Veracruz and Pénjamo, Mexico.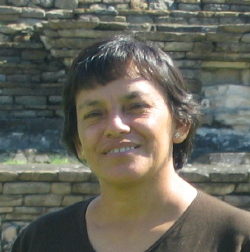 Goldi Santana Mera
Director, community centers in Veracruz, Mexico

Goldi is a native of Guayaquil, Ecuador and now permanently resides in Veracruz, Mexico. Goldi lives and works in Veracruz, putting to work all the resources she can find to improve the health, education and welfare of vulnerable residents. Goldi is the first woman ordained a priest in all of Latin America. She has been an Episcopal Priest for over 25 years. Being a woman in leadership within a culture that does not generally respect female leaders (and has few female ministers) speaks volumes about her persistence and strength. With degrees in teaching and theology, Goldi has spent a lifetime building schools and caring for children suffering in poverty. Her work in Guayaquil (a city of two million where over one million are chronically unemployed) has prepared her well for her work in Southern Mexico (one of the most impoverished regions in Latin America). Goldi has a group of leaders from the center of Veracruz (El Centro) who support the lives and work of residents in the struggling neighborhoods of Veracruz (Laguna and Reserve).

Supporting the transformation of trip participants is Curtis' primary work. Supporting the transformation of vulnerable Veracruz residents is Goldi's primary work. Together they support the work of the other and have seen the multiplication of good friendships (Amiguitos).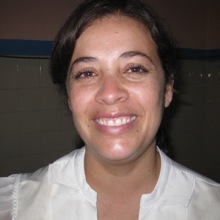 Maria Elena Montoya de Arredondo
Director, community centers in Pénjamo, Mexico

A lifelong educator and native of Mexico, Maria Elena has worked in the USA and Mexico helping children and parents. With her university degree in Special Education, she has a passion for kids with special needs. In June 2009, Amiguitos started their programs in Pénjamo under Maria Elena's direction. She provides support for vulnerable children. Public programs of support are non-existant in her community for children with special needs (who have no education options beyond elementary school) and difficult for children who have been abused and have had to seek shelter in orphanages. Under her direction, these children and their families support each other and are reaching out to others in the community. Amiguitos has sponsored a health clinic and donated supplies to the elderly, vulnerable school children and an orphanage.

Saúl Suárez Salazar


President, Amiguitos Mexico



Instructor
, community centers in Veracruz, Mexico


Saúl is a native of Xico, Mexico. Every weekend he provides computer classes at the Tarimoya and Laguna centers in Veracruz, Mexico (drives 2 hours to reach Veracruz). Saúl is the designated driver for the Amiguitos truck. And he does everything that needs to be done at the centers and guest house with repairs and getting gas tanks ready so that visitors have hot water (among many other things). Saúl has a full time accounting job and works with the Diocese of SouthEast Mexico and other clients. He is the treasurer for the many Amiguitos projects (teens, parents, land title, truck plates, and others). Saúl also comes to the USA to give presentations and raise funds for Amiguitos. He has formed Amiguitos Mexico and is the president of this organization.