JUN2013 Work Trip
The eleventh Amiguitos work team worked in Veracruz June 2013 for two weeks of educational programs and a single medical clinic at the Laguna center. It was our first time to see the new water purification system installed at the center which is providing low cost safe water. This should increase the health of all adults and children in the area a great deal and we are greatful to our amiguitos in Pheonix for their generous help! Scroll down to see: 1) Our work team, our blog and our entire picture roll from the trip.

Our Work Team (in the order your picture was found):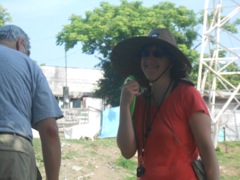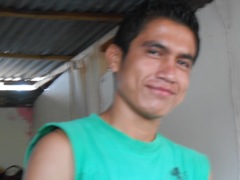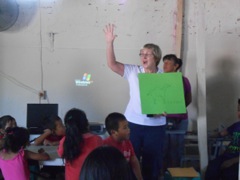 Alwen (right, Physical Education "PE") Mauricio ( "PE") Marlene (English)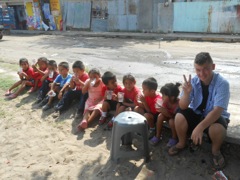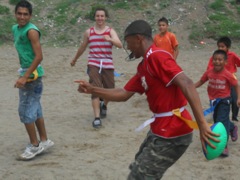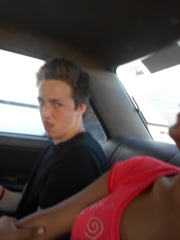 Garrett (right; PE) Chris (PE) Jacob (PE)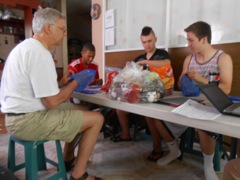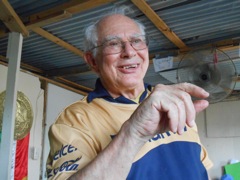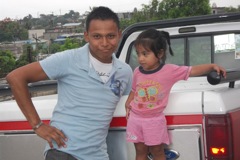 Peter (left, PE) Jerry (Crafts) Cesar (left, PE)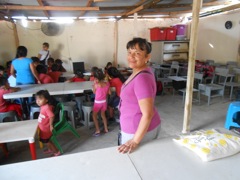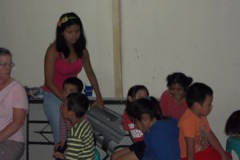 Goldi (Principal) Melanie (left PE) Sulma (top, English)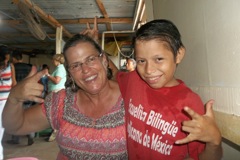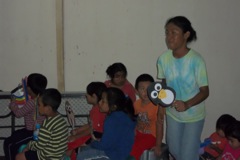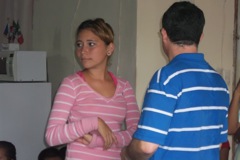 Anne ( English) Danna (right English) Diana Laura (English)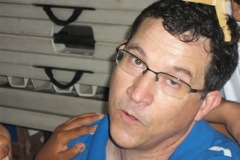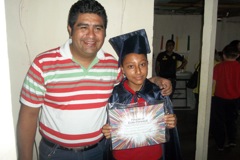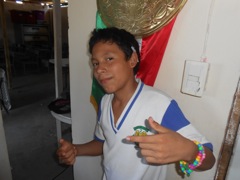 Curtis (PE) Saúl (left, Audio Visual) Augustine (left, PE)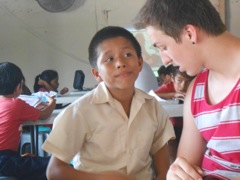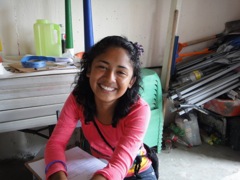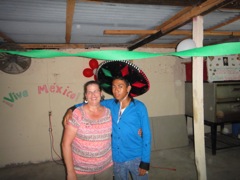 Epifanio (left, PE) Aléjandra (Color Guard) Raúl (right; English)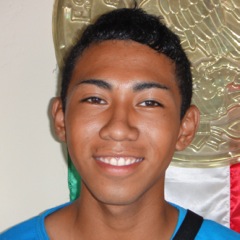 Raúl (English)

Our Blog (June 9, 2013 to June 21, 2013):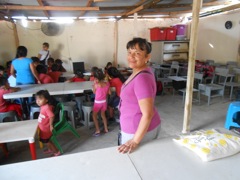 DAY ONE (Sunday 6/9)
The June 2013 Amiguitos work trip has begun. From the USA we have Alwin, Peter, Jacob, Garret, Chris, Jerry, Anne and Curtis. And of course we have Goldi, Saul, and lots of teens (Cesar, Melanie, Alejandra, Mauricio, Mareli, Danna, Sulma, Magali, Epifanio y mas). Today (Sunday 9JUN2013) was our first day. The night before we landed in Veracruz airport and had no problems clearing customs. Several bags were searched but the customs officials were happy.
Today was a rest day. We organized the donations and went to church. It was in ENGLISH. What a surprise. The toys and gifts were given out and then water was delivered throughout the neighborhood by the boys (Cesar, Chris, Garret and Jacob). We are having a great time. Wonderful to be back in Veracruz, Mexico. Curtis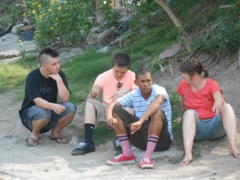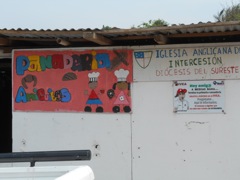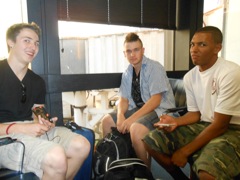 DAY TWO (Monday 6/10)
Jacob (teen) dishes the blog:
So anyways, hi. I don't know why I started that way I just did. But hi. Today was American Football day. I don't know about my bunkies but I looked like Drew Brees. Man is it hot. Feels like an oven with humidity. But it's definitely worth it to see all those smiling faces looking at you. It gives you a good feeling inside. To quote Evan Almighty " A.R.K. One act of random kindness at a time." '
"Fly High, Free Bird."
Free Bird Lynyrd Skynyrd
Jacob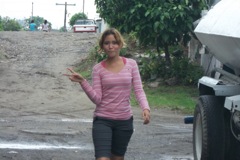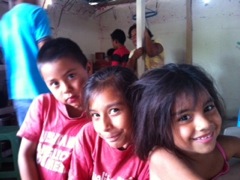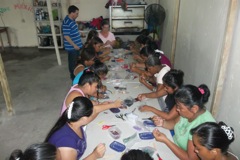 DAY THREE (Tuesday 6/11)
We had our one and only health clinic of the trip. It was held in the Laguna center and many families from the center came to see the doctor and receive free medicine (we have a tiny amount of meds to give away). Dr Porfi and Dr Tomas helped out with their usual efficiency and humor. The statistics you ask?

Total Patients = 130
Total Perscriptions = 293
# of Adults = 63
# of Adult Persciptions = 169
# of Children = 67
# of Children's Perscriptions = 124
# of Doctors = 2
# on Work Team = 21
Curtis

A 2nd 6/11 BLOG from Chris (teen) -
Today was exhausting but very beneficial to our understanding of how medical centers are ran in foreign countries other than our own. It was interesting to see how big of help we could be by doing the simple things such as vitals, perscription medicines, and treats for the little ones. I would certianly love to do it again and I bet others would agree as well.
The medical center that we pretty much ran for the day was very busy in the morning as everyone waited anxiously for their turn. As patients finished their talks with the doctors, they were asked to wait outside for one of our team to bring them their prescribed medicine. We celebrated our hard work with delicious soft tacos and Coca-Cola. Everyone seems to love Coca-Cola here. It's very amusing to me. Hopefully tomorrow goes as planned and we have as much fun as we did today.
-Written by Chris

DAY FOUR (Wednesday 6/12)
Chris (teen) blogs-
Today was a huge success. The St. Josephs Youth supervised the field day for the Amiguitos children.
The games included three-legged races, frisbee golf, water balloon tosses, and last but not least, sack races.
It was an extreme joy to see all of the smiles on their faces. We had a delicious lunch which consisted of taquitos and Coca-Cola.
We have another objective for tomorrow; make the kids happy and keep them occupied.
The Spanish among our three USA teens is improving as well.
It is certainly an enjoyable experience. I am glad that I came. I really don't want to leave.
-Written by Chris
DAY FIVE (Thursday 6/13)
We had a great day of classes and crafts in the center plus activities at the soccer field. In the evening the parents did an amazing party for us. It celebrated Mexico with dancing in costume and traditional food. Of course they had all of us dancing by the end of the evening. Really fun. Curtis

2nd 6/13 BLOG From Peter (adult)

Today was our fourth day working with the school children. Each day we have become more comfortable with each other. As the children entered the center, there is a flurry of buenos dias, hola, and high fives and fist bumps. Each person was looking to see if their new best friends would be with them again today.

The routine of the school day was similar to the days before. In the center Jerry, Anne, and Marlene engaged the students with English lessons and crafts. While they did that, Chris, Garrett, Jacob, Alwen, Curtis, and I manned the P.E. field. We did similiar activities as the days before. The children loved running around outside. So much so that they demanded that we play some of the games many more times than we had planned. It was our pleasure to ablige them. Our last group of the morning became particularly good at American flag football. I think we saw some future NFL draft picks.

In the afternoon, we were treated to an invitation to visit the home of one of the teachers and young mothers at the center. Angelica graciously welcomed us into her home. She was so proud to show us the home that her family and friends had helped her build. It was a structure 10 x 25 built of wood framing, corragated metal walls, and a dirt floor. It was divided into two rooms. One third was a bedroom for the family, and the other two thirds was space to be used as a kitchen, storage space, and room for the motorcycle. It was a pleasure spending time with Angelica in her home learning about her hopes and dreams, and sharing ours with her. The afternoon was a lesson in what is necessary to create a place of warmth and love.

At the end of the work day, we went back to Goldie's for showers and fresh clothes for the evening. This was to be a special night. The women of the center had prepared a special event for us. It was a glorious evening of dancing and food. Part of the spectacal was the women in traditional costumes performing several dances. One of which was a historical dance that told the story of the women gun fighters during the Mexican revolution. Before we got to have our meal, we all accepted the requests of the women to join them on the dance floor for a variety of dances. A wonderful time was had by presenters and guests alike.
Peter


DAY SIX (Friday 6/14)
This is a "Free Day". The Americans toured downtown Veracruz, did some shopping, fine dining and general tourist stuff (including the beach). No time to clean up as the Americans hosted a party for the Mexican teenagers (note the trend: party, party, party). Ok, we work too. But never on a Friday. Curtis


DAY SEVEN (Saturday 6/15)
"Free Day". Written by Chris (teen):

Well today was definitely a day to remember. Garrett, Jacob, Mauricio, Alejandra, and I headed off to the street malls of Veracruz at about eleven o'clock. We shopped in the stroes for about an hour and a half, and after, ate a delicious meal for lunch at a very fancy restuarant.

After our lunch break, we enjoyed a couple hours swimming and relaxing at the beach (Carribian). It was very fun. The water, however, was very salty and didn't taste too good. You might ask, How did I manage to taste the water?, and I would reply with, When waves hit you it in the face unexpectedly, you don't really have a choice.

Following the beach, we headed home to quickly get ready for our party for the teens. We danced, ate delicious food, and joked with each other about our American dances. It was rather entertaining. Well to me it was anyway. But as I digress from my point, today needs to be revisited with more of the Amiguitos children.

Sadly, tomorrow is our last day here [5 team members return Sun 6/16, the rest Sat 6/22], and I don't want to leave the people I have befriended in the last week, because hopefully these will be relationships I can keep for a lifetime.

So as we prepare for the Zoo and the beach once again tomorrow, unfortunately, we must also prepare ourselves for the farewells we have to face. It will be sad and really emotional, but the memories will never be forgotten. -- Chris
DAY EIGHT (Sunday 6/16)
"Excusion Day" - We always take the teens out and about to learn new things. Today we went to the beach (always fun) ate lunch at CostCo (awesome air-conditioning, unlimited soft drinks) and the Zoo! We got there just in time for the "snake show". Curtis

2nd 6/16 BLOG From by Garrett (teen)
Today was one of the most memorable days of the whole trip. We started off the day by going to the beach with a large group of teens. The beach was so much better today because we actually had some surf to play with, and we also played soccer on the beach. Then from the beach we set off to Costco, where we all are some great pizza in the nice air conditioning. After lunch we loaded into the cars and set off to the zoo, where we got to see some pretty sweet animals. There were monkeys, tigers, birds, snakes, lizards, lions, leopards, and all sorts of other creatures. It was so much fun with all of the others that were there. But then again today was a little sad, because when we got home we had to say goodbye to all the teens, which really sucked but life goes on. Overall it was a good day, and it was a great day to end it with. Garrett
DAY NINE (Monday 6/17) and TEN (Tuesday 6/18)
We have started the second week of program activities at the Laguna Center. We are finishing some plays that the kids have been working on for a couple weeks. Thursday we will see the results. - Curtis

DAY ELEVEN (Wednesday 6/19) and TWELVE (Thursday 6/20)
Jerry did his final craft (sun visors) while Marlene and Anne got their students ready to give plays in English with face masks and props. Then it was show time. The students did great. Curtis led a "thank you" activity with the moms in which they could make braclets and necklaces for themselves. And wow, there were some amazing results. The grand finish was a evening graduation ceremony. Jerry, Anne, Marlene & Curtis helped others to give out diplomas and certificates of academic excellence. Two students completed primary school (K-6) and two students completed secondary school (7-9th). Next month, Cesar will graduate from High School. A great way to end the day. Oh yes, it did rain a lot due to a tropical storm moving through the area. Not a big deal. - Curtis
FINAL DAY (Friday 6/21)
We had a great final day together in Mexico. The teens and the adults went to the mall! We ate at the food court, looked at all the pretty things to buy and then watched the new Superman movie. Then it was time to say goodbye. See you all again in December. We had a great trip. - Curtis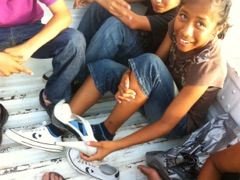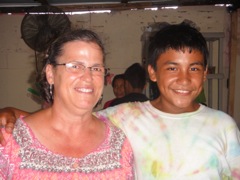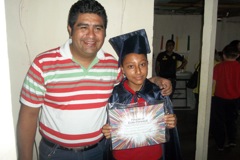 Our Photos (June 9, 2013 to June 21, 2013):
Yes, we have a lot of photos. We hand those cameras around and the kids go wild. Enjoy!!
Click a photo if you want to see it bigger.