June 21, 2012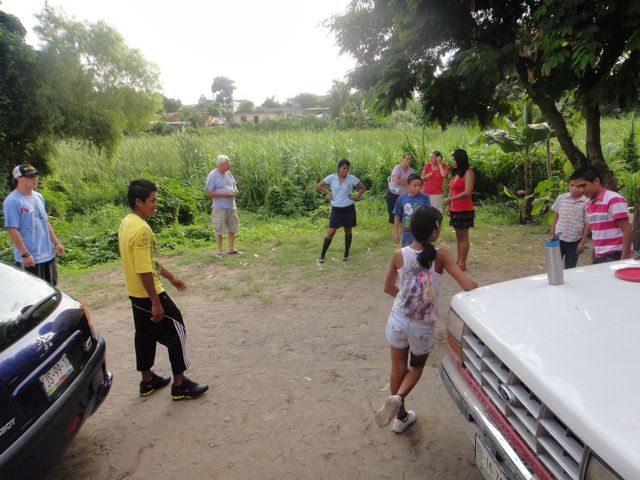 The group enjoying playing with a soccerball prior to dinner at Good Friends Burgers

We had another wonderful day at the center today. We started the day by watching another small portion of Harry Potter and listening to the story about The Good Shepard and his sheep, and the Lord's table. We then continued the day by making homemade sheep by tracing the children's hands and then covering them with cotton balls. Although the preschoolers didn't fully understand the concept, they had a lot of fun scribbling all over their papers and sticking cotton balls on them. After more fun with the parachute the kids were given the opportunity to try "butter beer", the famous drink of Hogwarts. We then enjoyed a delicious lunch of homemade taquitos. Once the afternoon kids arrived we got to repeat all the activities from the morning.

Tonight for dinner we had the special treat of going to the center to have dinner with the Mexican teenagers. We played soccer and frisbee in front of the center for a while, while Saul and Goldi were going to get dinner from "Good Friends Burgers", the restaurant that the teenagers started. We all got the opportunity to try the burgers that the teenagers make at the restaurant and they were amazing. It was so much fun to spend time with the teenagers and just relax and have a good time.

Overall, today was a great day full of many smiles and a lot of laughter. I can't believe how lucky I am to be in such an amazing place with such amazing people.

-Emily M.