June 2010 Work Trip "Blog"
The fifth Amiguitos work team is in Veracruz June 5 - June 28, 2010 for construction on the Laguna center and 8 medical clinics. Below are the brief updates from the team during the work trip.

Please scroll to the bottom to see the latest update

On Sunday May 23, 2010, at 9 PM, Curtis Wait wrote:

The team of 38 people is gathering from the USA and Mexico for construction and clinics. Photos of the team are posted. Over 30 volunteers started packing vitamins today in Thornton, Colorado. Thank you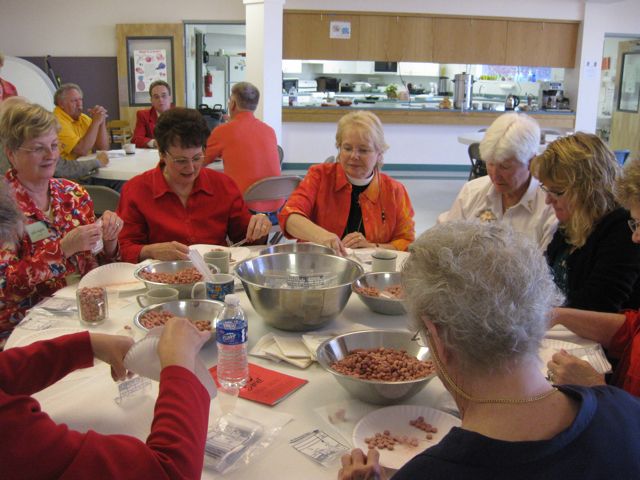 Please keep the team in your prayers as we travel and prepare for construction and the clinics.
Click here for more pictures from the June 2009 work trip

Click here for more pictures from the Pill Packing Party!

Curtis
On Sunday June 6, 2010, at 9 PM, Curtis Wait wrote:

Yesterday the first wave from the USA arrived. Curtis, Anne, Alex, Dana, Vaughan, Riley, Lisa, Meg and Jerry. It is Goldi's birthday and she was presented with a stuffed bear (a favorite gift). Unfortunately the medicine was once again detained by the customs officials. Tomorrow (Monday), Bishop Benito wil work with Customs to liberate our medicine once again (repeat of December with some variations).
Today, Sunday was a pill counting day and church in the local school. We handed out gifts and came back to enjoy pizza. Meg was a hit has the "balloon lady". Making shapes and dazzling children and adults alike.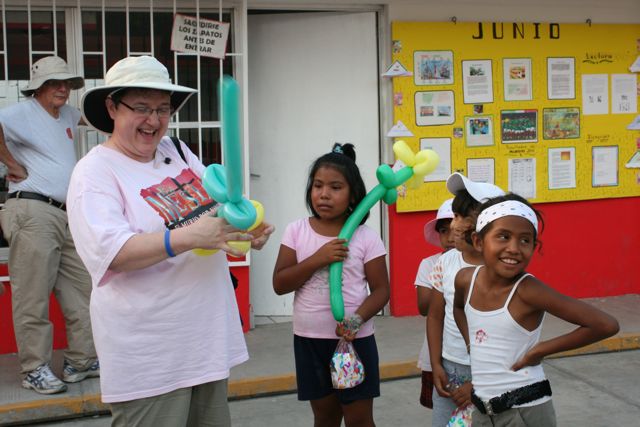 Meg makes balloon animals and attracts a long line of children
Oh, its hot (90 degree high and 80 degree low). However our guest house and rental house are well equipped with window air conditioners (6 units total!!!!; ah yes).
Curtis
AND Meg wrote:
We made it safe and sound to Veracruz LATE last night. We've had breakfast and now all are firing up
their computers to communicate. Thought I'd take a moment myself, to let you all know I'm here. It's
already very color (HOT) and of course will be getting hotter. No worries, I'm actually adapting pretty well. I opted for the one room in the house that doesn't have an air conditioning unit in it, We have 2 fans for me and my roommate. I wanted this so that I could stay on a more even keel and not be subject to too many extremes. I really think this is going to be a good decision.
We are counting vitamins for future clinic times and just taking it easy for now. We went to church this afternoon for service and celebrations and dinner with our amigos aqui. Looking forward to it all!
We got in on time plane-wise at around 11pm Saturday night. We did not leave the airport until about 1am due to problems with Aduana (customs). Once again they were trying to give the group some trouble with all the bags of medicine. They recently got a new director for customs and he's not familiar with the Amiguitos group. He stopped the group in December for the first time. After a call to the bishop here, who then called the governor, the medicine bags were finally cleared after a couple of days. The Amiguitos organization were told that they would not have any more problems with Aduana. Well, as we found out last night, that isn't true. So after calls to the bishop and all again, we will have to wait a couple of days to get it all cleared. Luckily, our clinics don't begin until next week.
Because of our late arrival, we were able to sleep in a little and had breakfast at 9 this morning. After cleaning up the dishes, there were many little chores to keep our hands busy…stuffing treat bags for the kids at church in the evening…counting some of the meds that are here and putting them in smaller portions for the pharmacy….getting all computers online.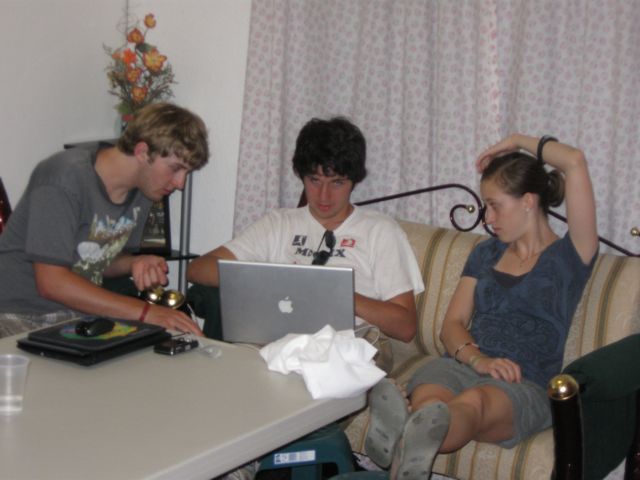 Riley, Vaughan and Dana get caught up on Facebook & email
Then it was time to eat again! Goldi is a wonderful hostess and a great cook! She follows awesome hygeine for our eating, no one has ever gotten sick on any of their previous missions, so you know she is doing something right!
We we went to the local escuela (school) for church this evening. I'd say there was about 15 adults and 30 kids there, not counting our group which grew to 100 by the end of the service. Hearing an Episcopal service in español wasn't too difficult manage. The community was very welcoming and when I brought out my balloons to do some twisting for the kids, well let's just say I was the MOST welcomed! Balloon animals and flowers in any language will bring ALL kids and a few adults to at least watch! I was in my element, had sweat running down my back and face and....well, EVERWHERE! No problemo, I truly feel acclimated, even if I went through about a gallon of water today.
Tomorrow will be a construction work day. We eat breakfast at 7am and then a time of worship that I get to lead with one of the teenagers as my assistant. (We all will have a chance to lead a worship on work days (M-Th) I just get to start it off!) After worship, we head off to the new community center that is in the process of being built to help continue the building process.
Buenos noches!!
Love,
Meg
On Monday June 7, 2010, at 9:30 PM, Alex Wait wrote:

Today we started our construction. The first task was to take down all that stood in our way.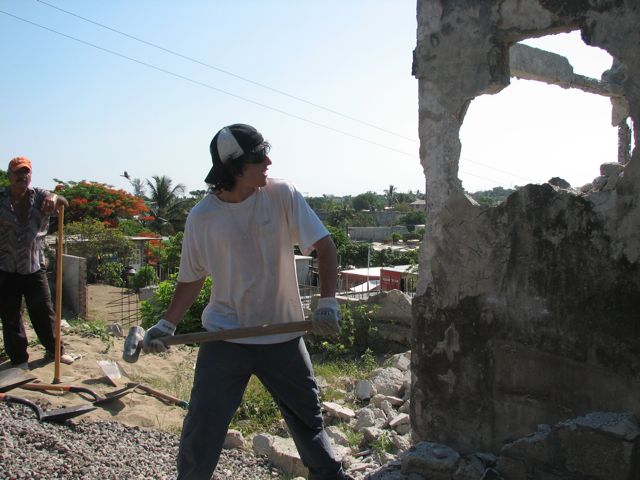 Alex demolishes a wall
Hammers and chisels took care of the building on our property. It didn't take long for us to help it fall down all the way. In the hight of the Veracruz sun (which yes, is different than the sun that shines in Colorado) swinging huge hammers made for a very stinky group. Luckily it only took us a few hours to complete our task and we were done before lunch. We had lunch in the center a few blocks away then came back to Goldi's house to join the rest of our group that stayed behind to count the pills that we do have. A nice long cold shower later and that is my day till now. Tomorrow we start moving dirt so we can begin the construction of a second retaining wall (and by "we" I mean the bulldozer, whoo hoo!).
The medicine was freed from the airport! Good job bishop!!
This message will self destruct in 5...4...3...2...1....[insert BOOM here]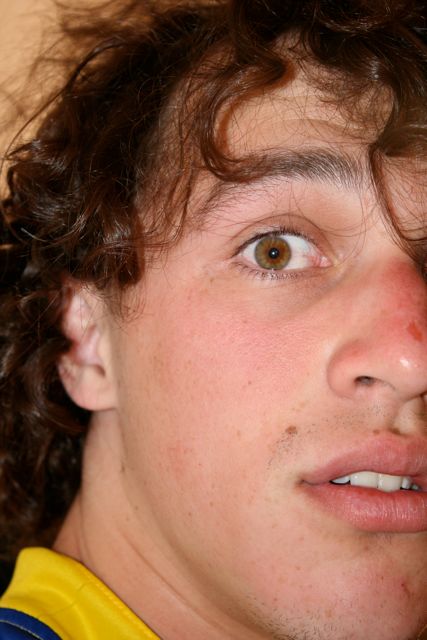 Alex
On Tuesday June 8, 2010, at 10:30 PM, Riley Walker and Ali Lufkin are today's reporters:
Riley wrote:

No sooner had the sun's first rays peered over the horizon and blanketed the lush Veracruz cityscape with it's burning embrace than the Amiguitos Team (aka Team Edward) began its preperations for a day of hard work, redemption, and honor. Team Edward had already proved that concrete walls were no match for its crack team of demolition experts, but even some obstacles (namely, a giant pile of dirt and cement) are just too large for even the best to take down.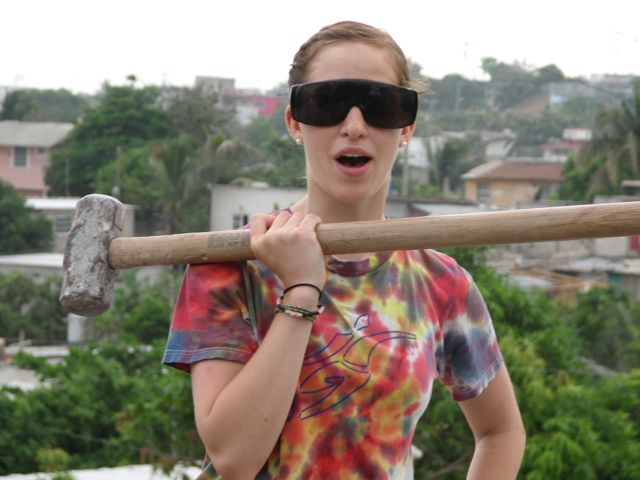 Dana "pumps up" for some demolition work
Team Edward watched as a massive bulldozer tore into the hillside, devouring houndreds of pounds of dirt in every bite. As they scraped and shoveled gravel and other rubble from what was previously a wall, the Team came across an interesting discovery. Among piles of old decaying clothes and Spanish literature, the shovels collided with porcelein. They had found a toilet. With one crash of the hammer, the putrid potty was sent on to the next life, leaving only a smooth, white stump and its foul stench behind. Before they knew it, the day was over and Team Edward returned to their base - recharging and rejuvinating for the next day's battle on the Amiguitos hill.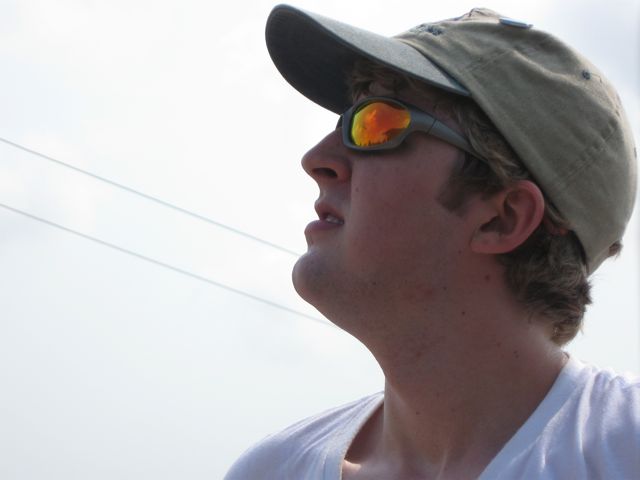 Riley
Ali wrote:
Yesterday was my first day on the worksite and my first day in the heat here in Veracruz. I drove with Goldi in the truck (a gift from St George's)to the worksite. All was going well through dirt roads, over potholes, around corners, with Goldi guiding me "Derecho" for straight ahead, "Esquierda" for left, and "derecha" for right (not to be confused with "Derecho"). Then we came to a intersection. When I finally got up the courage to cross the 4 lanes of traffic, I found myself squeezing my eyes shut and going for the gas peddle. I managed to open my eyes to see my way across the road. Goldi and I spoke the few words, "Gracias a Dios!" and laughed. Goldi is generally serious with all the work and dreams, so the laughter filled me with a sense of connection. I realize I know little about this new friend, Goldi. I know she is a woman who is also a priest and who is, for some reason, wanting to build a school and community center. We talk across the languages of our homes, and say little about the philosophies or theologies of life. The language spoken here is mortar and brick and rebar... anti-parasite medications and hospitality to anyone who will help her with her dream. That's more than enough.
I met a family today who showed us their home... kitchen the size of our kitchen table, and one bedroom with only room for 2 beds, enough for the whole family... over the beds hang clothes lines, but beautiful fabric hanging as doors, bright paint visible where the weather has not faded it, and tacos on the stove. The pride of the grandmothers in this home was clearly their 4 year old son, who is attending Goldi's school. It occurred to me on the long, wordless walk home (100 degrees?) that this child's education is indeed a miracle in this village. Even at 4 years, he is on his way to the gift of discovery. Thank you Goldi. THanks Curtis. Thanks to everyone who moves dirt and concrete and gravel to make this happen.
Click here for more pictures
Ali
On Wednesday June 9, 2010, at 7:00 PM, Jerry
wrote:


We started out the day very hot. We finished the day even hotter. But outside of that we went to the job site to do the work that is needed to build our new center. We weren't able to get too much done because the construction manager wasn't at the site initially. After he got there it was decided that we need to move some more dirt. This took until about 2 in the afternoon (with the help of our local earth mover).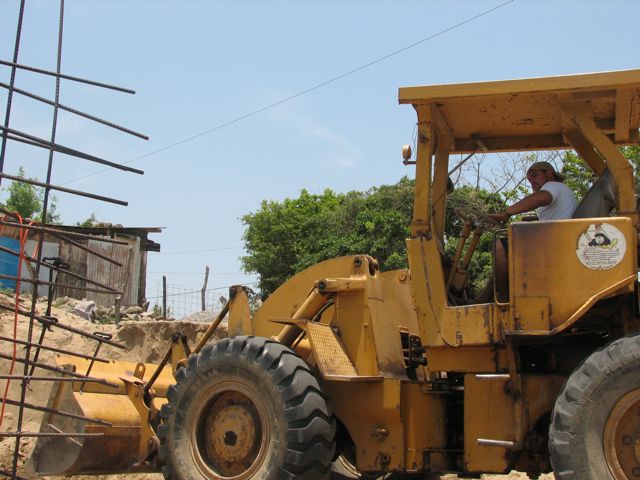 More earth is moved at the construction site
We were able to get some things completed. We cut the rebar and cut the tie raps so we can start placing the rebar tomorrow.
We did get the dirt moved so we can start assembling the rebar.
Things are looking great for tomorrow.
Click here for more pictures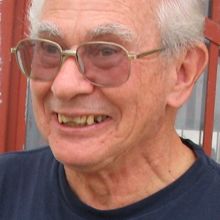 Jerry
On Thursday June 10, 2010, at 7:00 PM, Dana and George blogged.
Dana
wrote:
Today was el ultimo (last) day of construction for our June 2010 trip. Personally I would say we were VERY successful in our re-barring skills. I would like to give a shout out to today's team for working so incredibly hard. It's been a long time since I've seen so much sweat. Our accomplishment for the past couple days has been cutting and bending 120+ pieces of re-bar. (I represented the women and personally cut 25 pieces). For those of you who haven't experienced construction in general, I highly recommend participating at some point, because the feeling of accomplishment after so much physical work is quite rewarding.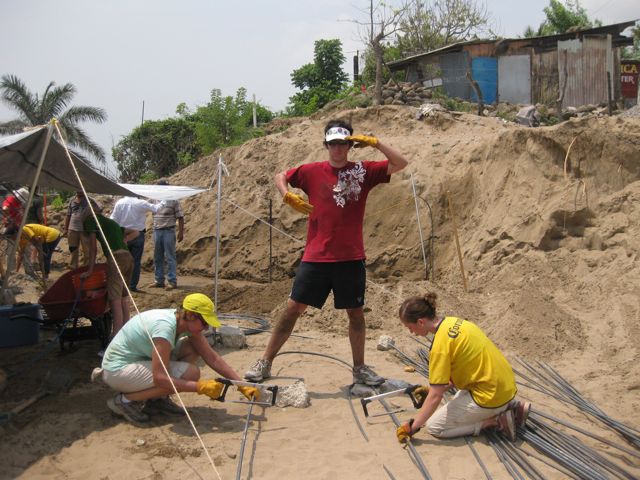 Lisa, Vaughan and Dana cut rebar baby!
While some of us were working in the land, others (Hannah and Anne) were teaching and supervising the pre-schoolers in the center. Having done this task twice in the last week, I can defend that their work was just as strenuous as the land work. The language barrier, the germs, and controlling of the crayons are just a sample of the obstacles faced. Again, working in the center is incredibly rewarding because you get to experience the daily life of Goldi (my role model). It's also interesting to see how the Mexican children are similar to those I work with at home. Getting to know each individual is one of my favorite things... all ranges of personalities create a high-energy work environment. Others were counting pills in the guesthouse (Meg and Ali) and having counted millions of pills, that is a tough job as well.
It's sad to see that our physical labor for this trip has to end, but I am very proud of the amount of work completed. Thanks to all the bodies used (Mexican and American)! Soon that well counted set of meds will be handed out to needy kids and families.
-Dana
George
wrote:
This week has been a really fun and productive time. I was a big hit in the center with the eight year olds. I can now drive through the neighborhood and hear the really loud Hola from the different groups of children. The construction team is getting really good at bending rebar and preparing the physical site for the work.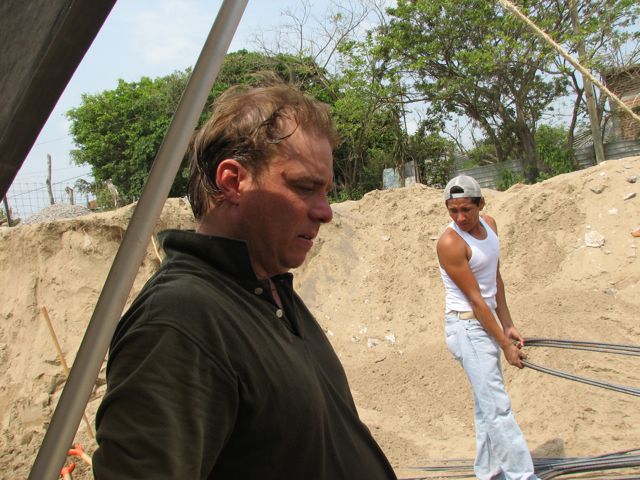 George loves the work site, even in the heat
The building designer has great plans for the site that were wonderful to see. We are along way from completing the building but the slow and steady work is great to see and experience. Goldi is making dinner for us as usual. The team is blogging. I now have a new base ball hero. He is starting the game and he struck out 14 batters in seven innings, his name is Stephen Stausburg. Tomorrow the world prepares for the world cup which is a big deal in Mexico. Hello Leadville be proud of our concrete wall. Our wall began this project and this week the second wall will be finished. We are beginning to connect to the whole.
Click here for more pictures
-George
On Friday June 11, 2010, at 9:00 PM, Lisa and Riley blogged.
Lisa
wrote:


After four days of laboring in the heat, we took the day off to play touristas in downtown Veracruz. Our contingent (Ali, Jerry, Anne, Hannah, Lara, Lisa) traveled by limousine (back of the Amiguitos pickup truck), while most of the teens (Alex, Vaughn, Dana, Riley, Taylor) headed for the beach (in taxis). Curtis and George went shopping for supplies and Goldi continued to supervise construction and the center.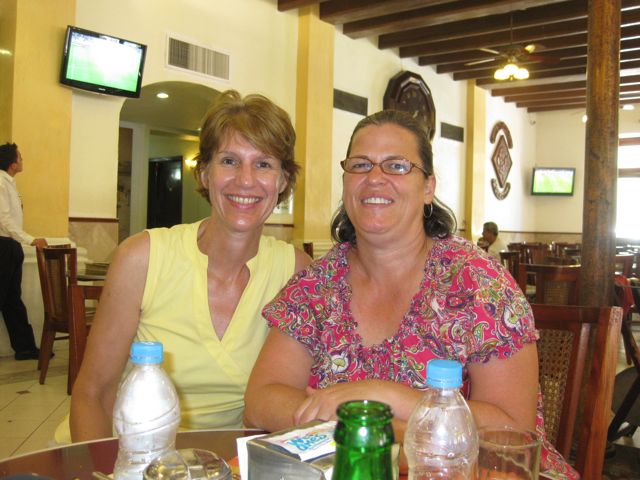 Lisa and Anne enjoy a break for touring with lunch at Gran Cafe
Although Veracruz is a vacation destination for Mexicans, we were the only Americans in sight. A flora festival occupied the downtown Veracruz plaza, with lots of exotic plants and roses for sale. We were treated to more glorious architecture—balconies, checkerboard marble walkways, tropical colors and a peek inside the Catholic cathedral. Many thanks to Anne for being our most excellent tour guide and interpreter.
Today was wonderful, but what I believe we'll remember most about our visit to Veracruz are the new friends we've made at the construction site and the community center: Lamberto (the hardest working man on the planet); Poncha (with her constant smile and major muscles); Christine (shade tarp master); the extended family who proudly welcomed us into their simple home; the children at the center who taught us Spanish while we tutored them in English; and non-stop Goldi who, after supervising at the center and construction site all day (while were had a free day), came home to cook dinner for a dozen or so sweaty Americans.
Many, many thanks to our Latin American friends who have shared their resilency, graciousness and open hearts with us.
Lisa
Riley
wrote:


After four days of grueling bending, shoveling, and destroying everything in its path, Team Edward took a much needed hiatus. Team Edward Captain Goldi, however, was not about to let our freedom go to our heads. After a 7 o'clock wakeup call (actually breakfast at 7), she recruited several squad members to search for a new refrigerator in downtown Veracruz. The remaining members of the Team were left to fend for themselves and, after some delegation of duties, split into two divisions. Division Alpha ventured bravely into town, finding themselves in a colorful menagerie of fascinations and curios. Division Epsilon, however, opted to stay at base camp and watch the much anticipated World Cup (especially the match between Mexico and South Africa), which proved to be most exciting and entertaining. Once the Mexico vs South Africa game was finished, Epsilon followed in their counterpart's footsteps and cautiously made their way deep into Veracruz. Upon their arrival, they realized that they were far out of their element. Two members of Division Epsilon, Privates Rubio and Bon Bon, loomed conspicuously over the sea of bustling Mexicans. The stares of spectators followed Epsilon along the colorful storefronts of the seaside bazaar, across the glistening pier overlooking the Gulf of Mexico, and through the bustling labyrinth of the Veracruz Mall, eventually ending at the peaceful beach, where Division Epsilon lingered (mostly) unmolested. In an unexpected turn of events, Epsilon found itself face to face with Division Alpha, who had decided to visit the exact same beach, purely by coincidence. But alas, the day was coming to a close, and Team Edward made the long journey back to Base Camp to prepare for the trials of the coming days.
Editor's Note: Private Rubio was later treated for severe sunburn.
Click here for more pictures
-Riley
On Saturday June 12, 2010, at 9:00 PM, Anne and David W blogged.
Dave Wait
wrote:

It was a beautiful day today in Veracruz. My son Curtis and his son Alex, and by brother Jerry were all supporting me to learn the training of young Mexican minds at the Tarimonya community center. There were about 22 children available for the training. Goldie was in charge of teaching. Subjects I saw being taught were English, computer, colors, puzzles and dance.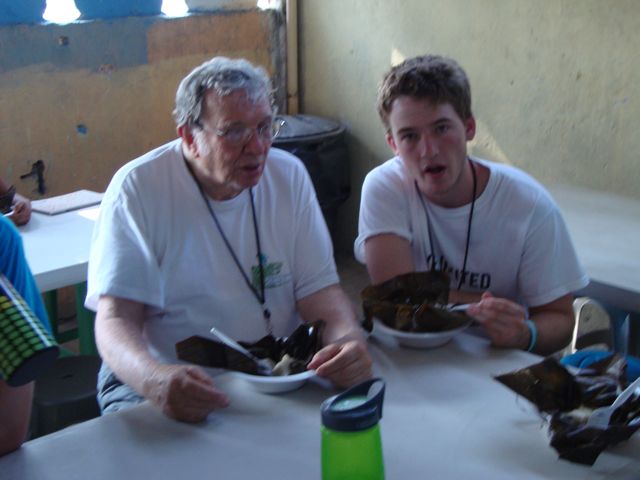 David and Taylor taste the tamales
My favorite activity was the food and it was fantastic. It appeared to me that the kids favorite activity was receiving the gifts at the end of the session.
I had a chance to take pictures until my camera battery was discharged. There was great enthusiasm for all activities.
It was a fun day and it was hotter than my home town Boulder, CO.
This is Lisa and Bailey's last day and clearly they are going to be missed.
I am impressed with how much Mexico uses speed bumps to control traffic. In contrast to the main roads, the back roads unpaved, ungraded, and very bumpy and a puzzle to figure out how to get to where you want to go.
Dave Wait
Anne Wait wrote:


Hi Friends!
Today we split up into two teams to work with children at the community centers in La Laguna and Tarimoya. I was in Laguna where Riley and I taught a little English class and played games with the school age kids. Riley's dance moves and skills in charades were very entertaining for the kids.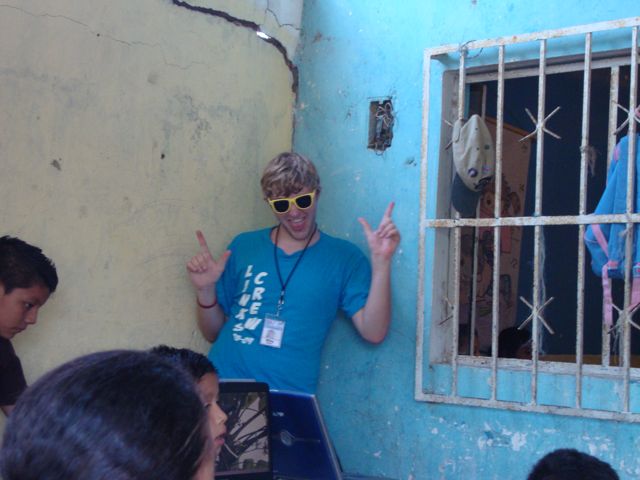 Riley dances in Laguna
I was impressed with the improvement in the children's English knowledge and pronunciation. Most importantly, they are much more bold about speaking English than they were two years ago. Saul and Riley also taught a computer class during which the kids were learning how to open Microsoft Word and Excel. Vaughan and Dana were locked in a small room with about twenty pre-schoolers for several hours. I am personally very grateful. They did an amazing job entertaining, teaching, playing, and refereeing. The Hokey Pokey was a big hit as was the dancing. After the classes we all had lunch and said adios to our little friends. We are now relaxing a bit back at the house where several people are enjoying a bit of World Cup soccer action. World Cup is the talk of the town in Veracruz right now.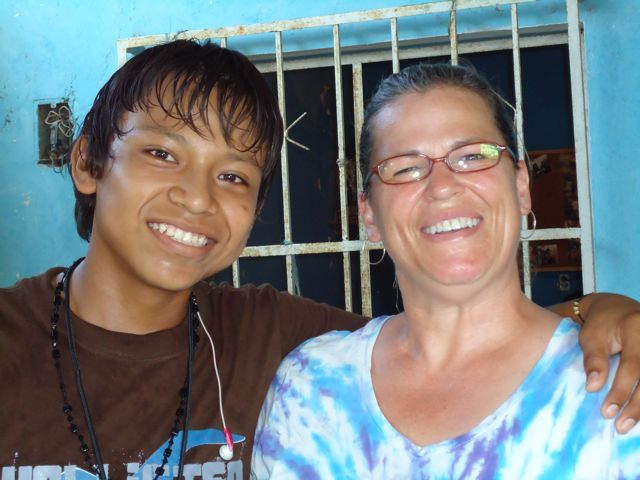 Cesar and Anne chill in Laguna
Tonight we are looking forward to a fiesta here at the house. We have invited several of the teenagers from La Laguna to party with us. I hear there is going to be a dance performance - Riley dancing to Beyonce! I am really looking forward to that. Thanks to all of you who take interest in reading our blog. I am personally enjoying the hiatus from my regular life that Veracruz offers me.
Hasta Luego!
Editors Note: Ali, Hannah and Lara left for Colorado early today (George is staying until Wenesday). Maria Elena took her college entrance exams today and felt good about her performance. Vaughan's 17th birthday was celebrated. The St. Joe's group arrived tonight: Angel, Emma, Michele, Marlene, Paul, Dana S. Lisa and Riley leave tomorrow morning.
Click here for more pictures
Click here for even more pictures!!
~Anne
On Sunday June 13, 2010, at 9:00 PM, Dana Stallins and Vaughan Andrews blogged.
Dana S
wrote:
Wow!!!! I woke up this morning and it was dry, well not really, but it is a lot drier than Colorado right now, so I hear. The first day has been a relaxing day. The only duties we had were here in the house, so no different then at home, except I actually had to do the dishes, blahhh. The weather has been a little cooler then it had been the last few days, so it has been okay to walk down to the store and get the essentials, you know, Coke-a-cola and Gatorade; seems just like home. On a personal note I would like to believe that I am pretty good at math, but I'm not sure I will ever get a hang of paying $18.50 for 4 sodas. I know it's just pesos, but it seems like so much and I get brain lock and can't seem to process the change, ahhhhh. Maybe I should start coming to Mexico more often so I can figure this out.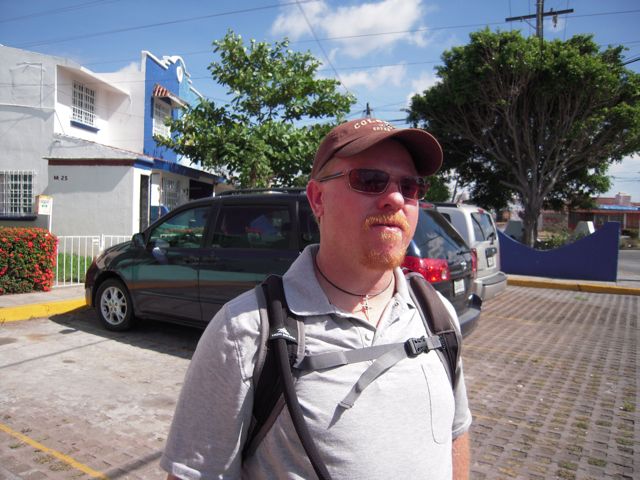 Dana Stallins strikes out for Laguna from the guesthouse
We did go to Laguna for the first time and I was welcomed with open arms by all the children and their families. It was really neat to see how excited they were to have us here. Michele performed over 10 Baptisms and I think she might becoming home with a new way to perform them at St Joseph's Lakewood, Colorado. We're back at the house now and I need a shower something fierce, so good nite all as we have a big day ahead of us tomorrow.
Dana Stallins
Vaughan
wrote:
Sunday, today, was a fantastically relaxing day. The new arrivals from St. Joseph's arrived late last night, to replace our Amiguitos Riley and Lisa. After sleeping in until 8:30!!!!!, we had a great breakfast and got to meet the new arrivals. We spent a lazy day watching movies (Sherlock Holmes), socializing, and watching Germany whoop up on Australia in the world cup.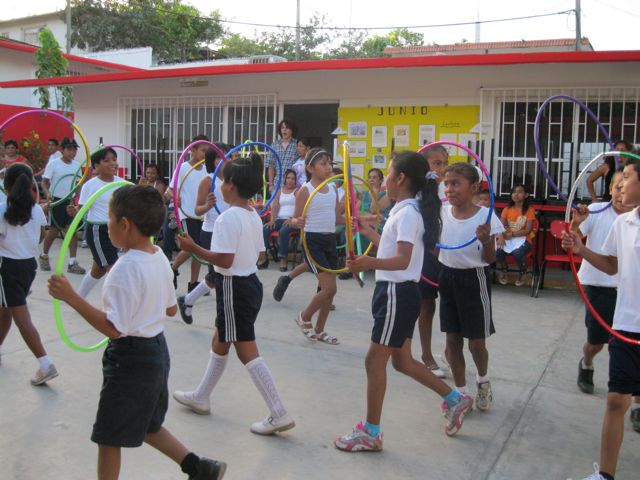 Children perform dances to welcome the workers from the USA
After another great meal we got ready to leave for a church service in Laguna. At the location, there was a ballin' baptism, and afterwards all the children put on a great performance. The highlight definitely being Curtis getting out-danced by the Mexican chicas! All-in-all, it was great preparation for an upcoming week of clinics and fun!
Click here for more pictures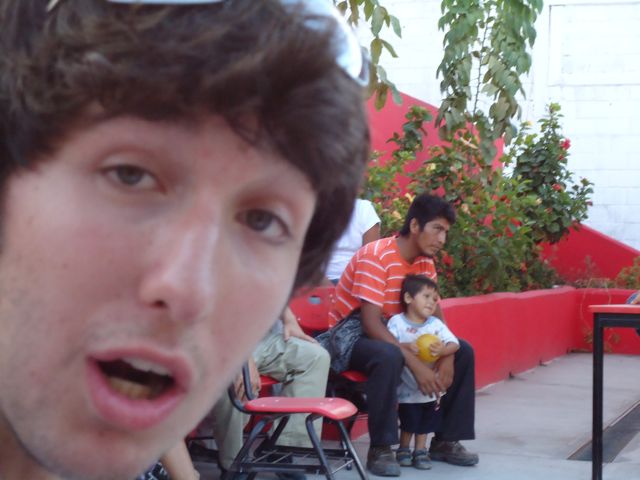 --Vaughan Andrews
On Monday June 14, 2010, at 7:00 PM, Marlene Logan
:
Today began with breakfast and worship. We were then off to the Profesor Manuel Medina Miranda La Leguna School for our first clinic. We had a late start and a bit of confusion but soon functioned as pros. The veterans on our team did a great job at leading the set up and training of our team. We saw 177 patients--they still came even after the skies opened up and poured rain down on all of us. The Anglican bishop of the diocese of southeast Mexico in the province of Mexico, Benito Juarez Martinez, joined us for part of the day.
Marlene hands out medicine to Rumulda for Anett Noeli
It was amazing to see so many people --and to see how grateful they were for the attention and the medical care they are given. Lunch was superb and was prepared by one of the women in the neighborhood. We are ready to return tomorrow where we plan to have over 500 children from the school come through the clinic. The numbers seem overwhelming--but we are up to the challenge!
Click here for more pictures
Marlene Logan
On Tuesday June 15, 2010, at 7:00 PM, Paul Clark and Angel Jung blogged today
.

Paul wrote:

Today was a long and amazing day for me. The sheer number of kids living in this situation boggles my mind. Its amazing to see all these kids lining up for seemingly miles to get something us Americans take for granted; medicine and clean water. Seeing these people, these caring and loving people, completely changes my view on the country of Mexico. I used to be the person who wondered why people cross the border into our country, but living four days with these people, I see why they would want to find a better life for themselves and their families. But out of all the things I learned, the thing that hit closest to home was what I learned about myself and the people around me. I learned a lot about not only the residents of Veracurz, but about myself as well. I learned that I can survive for about two hours without sitting before my back hurts and my neck begins to sizzle in the bright sun of Mexico. I also learned that (Despite what I tell myself) not everyone is out to get me. I had a nice conversation with one of the other members of the mission about how I felt about myself and I gained a whole new view on the topic. I am so grateful that God brought us fifteen people together this fine week so we can help the people of Veracruz with medicine and learn about ourselves along the way.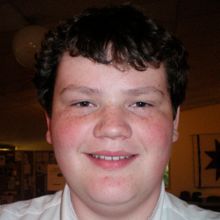 -Paul Clark
Angel wrote:
So we woke up this morning to overcast and much cooler temps. It was a very nice change. Dana Stallins was our very prompt alarm clock and we got to breakfast on time. This morning we had eggs and BACON. My favorite. As usual it was good. But lunch YUMMMM! Ok After breakfast I was able to hide by the sink during worship. And for the first time this trip we said the Our Father in spanish which was pretty cool. It is amazing how much I have taken a dishwasher and running water for granted. Here there is a lot involved in keeping healthy. After another taxi ride we made it back to the school. We got there with enough time to get everything set up. It was especially nice that we were able to leave everything at the work site overnight.
I've been working with Anne, Emma and Marlene in the pharmacy. We also worked with some kids from the center Raul, Rosa and Cesar. They were so much fun and have forgiven my rusyt spanish. We were super busy in the morning and everything flowed nicely. It rained but luckily being on the phamacy team I get to be inside with the air conditioner. So now I'm spoiled and will expect my husband to be updating the air conditioning in our house now.
Lunch was fabulous I am so lucky!!!! They served empenadas with chicken and beef. Then we drizzled them with chile and cream. Yummo. The food was so good. I am in love with the food here. The rest of the afternoon flew by. Cesar drew me a penguin that you have to check it out.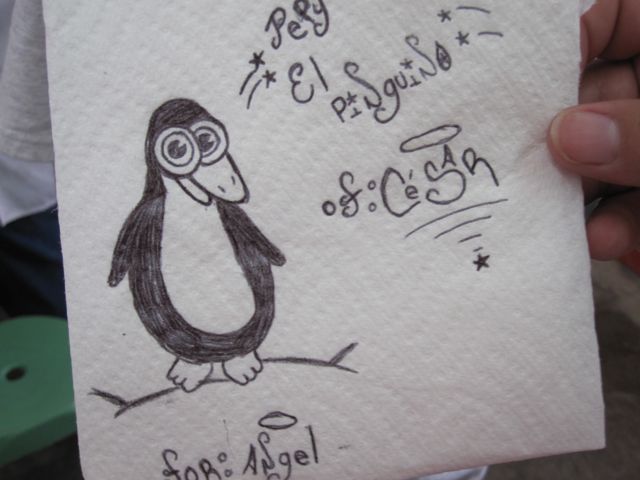 Finally, I walked home about 2.5 miles. The distance was not too long just from my house to the church, but the neighborhood and conditions seemed a world apart. We stared off and passed a retention wall made out of tires. The smell from some of the puddles made my eyes water and I didn't want to know what was in the water. There were mangy dogs everywhere and children playing in the dirt with no shoes. What tugged on my heart was a little voice screaming for his Mama. He must have been a baby and he cried the whole time it took me to get within earshot and after. I just think about how much I take for granted and blessed I am. My children go to school and have the toys and clothes they could ask for. I have never had to wonder where a meal came from and even though my children cry when they are sent to time out, I never wonder if they are hungry.
This has been one of the hardest days emotionally here. I hope that my children never have to live this way but can understand that others do. I miss you my kiddos and love you more than life.
Click here for more pictures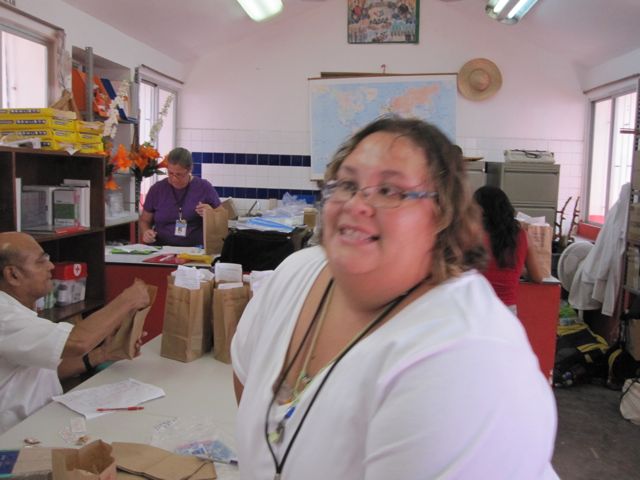 -Angel
On Wednsday June 16, 2010, at 7:00 PM, Michele Quinn and Emma Clark blogged today
.

Michele wrote:

Today we went to a different school in a different neighborhood - same barrio different part. Tomorrow we will be in yet another part. We saw far more folks in the medical clinic than in the past days - 386 to be exact. Another day where gratitude pours out. This school was bigger than the one for Monday and Tuesday. My favorite little guy - Christian - came for the day to help. He really was a big help and spent a lot of time running RXs from the doctors to the pharmacy. I was just delighted that he came again. I am hoping and praying that he will find his way to Goldie's center and maybe, just maybe avoid a Mexican gang in a few years. Every stereotype I have ever had about the Mexican people has been completely shattered. This nationality is warm and generous and friendly, gracious, hospitable and overall delightful from the youngest to the oldest. Once again we had a marvelous lunch - the treat at lunch was fried plantains.The treat at breakfast was liches. They are a wonderful fruit that look like a spiked ball.
Michele eats the fruit that looks like a human eyeball
One peels that off and the inside looks like a firm white grape. They were delicious but Emma would have no part of them. She said there was no way she was going to eat a hairy fruit. (I don't know what her excuse at lunch was over the plantains). My jobs have been mostly spending time with folks, either playing with the kids while they wait or keeping crowd control while they stand in line. Both are quite similar. Thankfully I love being with kids - any and all kids. I have handed out coloring sheets and crayon, read stories (well actually told stories in English with pictures), made bubbles, played ball (all sizes), and "taught" English. Never boring. Every night we are really tired and more than ready to go to bed. Morning comes quickly and a new adventure begins. These few days here have changed my being. The person who will return to the states on Sunday is different than the person who arrived last Saturday. Hopefully I will not forget the lessons learned this week. The cup is full, no matter what. Life is full of unexpected grace filled moments. I live in a world so full of riches and others live with almost nothing. Yet the folks here seemed rich in so many other ways that I am poor. The greatest joy has been Christian - how appropriate his name is. He is an 11 year old who has captured my heart.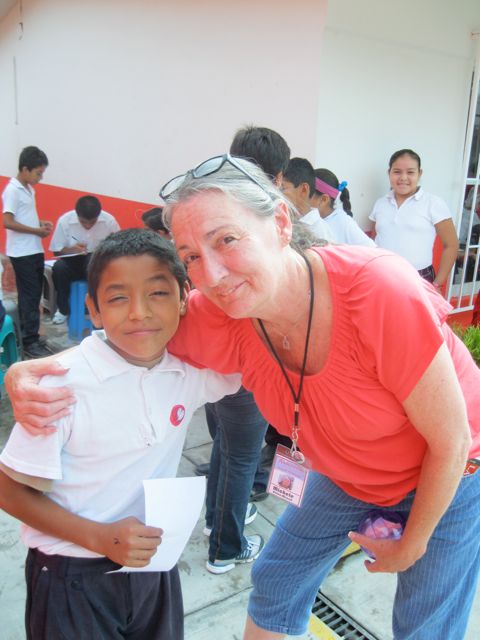 His friendship means a great deal to me in a short time.
Michele
Emma wrote:
Today we woke up to yet again another overcast day . Thanks to my ever so prompt alarm clock , thanks again anne, i was able to wake up and get down stairs in time for breakfast . We once again loaded up the taxi's and the truck to go off to another clinic, but sadly this time we were a few people short , George and Taylor had gone to the airport to return home and Marlene stayed at the guesthouse all day due to not feeling well . We got there and ran around like crazy trying to set up everything before clinic opened at nine. We started right on time and were kept very busy, at least till lunch . Raul was a great help in the pharmacy . After a very delicious lunch and a well deserved break , we set back to work. But this time instead of continuing my work in the pharmacy ,i switched places with Mother Michelle so she could escape the hot sun. I conversed with the people waiting to see the doctors , and i was asked many questions by many of the school children about Colorado and my name , and my spanish of course . I saw some families in this line , and conversed with many of the children's from these families. As the lines dispersed and grew i noticed some unquine features of these children such as a a flat nose , cleft lip , birthmarks in strange places and port wine stains . Marks and features that we as a society consider ugly , but here these features and these marks are so beautiful. I saw a girl with a deformity on her lips and her foot , missing 2 toes , and yet when she smiled back at me, my heart broke . Her smile was so beautiful and it brought out a tinkle in her eyes , that made me realize the true beauty in this place . Each and every child had a sense of beauty about them , with their smiles , their eyes , their marks and their features . These things changed me today , and contiune to change me as i write to you . I will leave Vera Cruz as a changed person , no longer the incompent american who doesnt open their eyes so to speak. I have opened my eyes and seen that people have less than I , but have a greater happiness than i ever could have gained before this trip . As we ended out the clinic , it started to pour , the rain fell down from the sky eventually soaking everyone outside within seconds . I watched the children run for cover as i ran across the courtyard to see how everyone was doing in pharmacy since i left. We ended out the day on a great note and I can't wait to start yet again another day and meet more people . And continue to spread this love that God has most graciously given me to spread at my will. As I once heard , Love with all your heart and spread your love as you spread money that you spend .
Click here for more pictures
Click here for even more pictures!!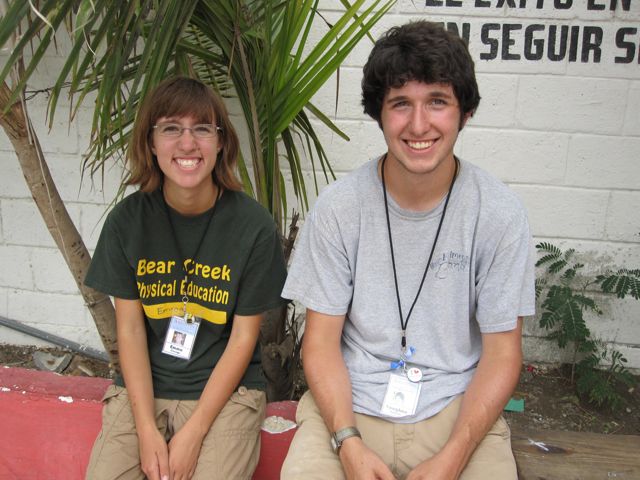 Emma (note Vaughan hangs too)
On Thursday June 17, 2010, at 7:00 PM, Paul Clark wrote:
Today was another long and rather outstanding day. Each school we visit blows me away even more than the last. The school today was in an even worse part of town than the previous ones. the perimiter walls are covered in graffiti and the interior is in disrepair. Inside the school though, was a sea of smiling faces, all waiting for the medicines that us Americans take for granted. I was on the task of gretting people outside the school and inviting them in to see the doctors and when I saw their faces going in, there was an expression of stress and concern. Maybe they were concened about where their next meal was going to come from or that one of their kids was sick. Being on door duty, I saw most of the patients twice. Going in and coming out. When I saw their faces on their way out, it just made me feel so good to see smile after smile, ocasionally acompanied by a "Muchas gracias." It gave me a strong sense of acomplishment that I helped make these people's day if not week or even year by playing a role in the distribution of important medicines.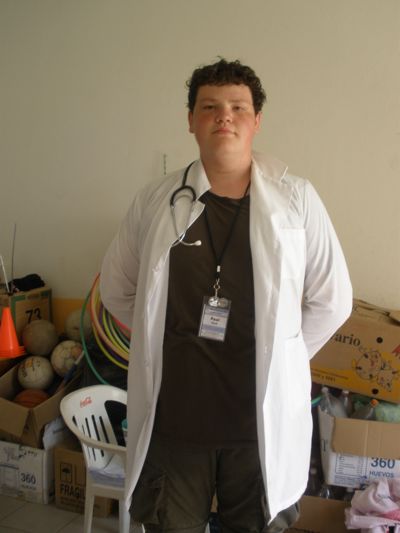 Paul is our "human sign" to attract people to the clinic
During the time while we weren't greeting people, I had plenty of time to reflect on the week and thought about some things I think are important that I will share with y'all. First, not everyone in the world is as fortunate as us. There are people who live in a crowded patch of mud in a crumbling concrete house in a part of town that the government has all but forgotten. Secondly, no one is evil. I had an open and half consumed bottle of water taken from me today while on door duty and I was about to persue the man, but then I remembered that he needed it much more than I did. Instead, I just got another one from Curtis, telling him that it had fallen into a puddle and I had to throw it away. And finally, no matter what color, gender, or culture a person is, they are still people. When I looked at the people who came to the clinic today, I noticed something; they were so similar to us in so many ways. Despite the cultural barrier between us, I was still able to communicate efectively and have a really great time with these kids. I was just blown away by the creativity and energy that was botteled up and overflowing from them. I expected to feel out of place, not speaking much Spanish at all and thus not understand anything, but then I realized that the people understood the language of kindness and generosity and spoke it fluently.
Click here for more pictures
Paul Clark
On Friday June 18, 2010, at 10:00 PM, Dana Wait wrote:
Dearest Friends and frequent blog checkers (thanks grandmas):
Today was quite eventful. For I, who chose to sleep in, the morning was relaxing. Most everyone else went to the center in La Laguna to teach english classes and run around with the pre-schoolers. From experience I know that both tasks always involve high energy, yet are imensly worth while. Seeing and playing with the ninos is probably the reason I return to Mexico year after year. The sense of appriceation and knowing that your presence means something is a unique feeling, and one that as an American is not often felt.
After visiting the center and sharing a meal with the kids, three groups toured different homes from the Laguna community to gain some perspective on the living conditions in the area. Having attended a couple home visits, I was better prepared for the sights of the scene. The home we visited today consisted of two "bedrooms" and a kitchen area for a family of five. The four roosters, being the only pets (who were chained to the "Lawn") reminded me that I was no longer in the states. Hospitality shown by the mother opened my eyes to see that there is generosity in poverty. Generosity is not a demonstration of wealth but instead a demonstration of how money and kindness are not at all connected. The evening was spent being tourists downtown Veracruz (even some walks on the beach) and a trip to Costco to prepare for tomorrow's excursion.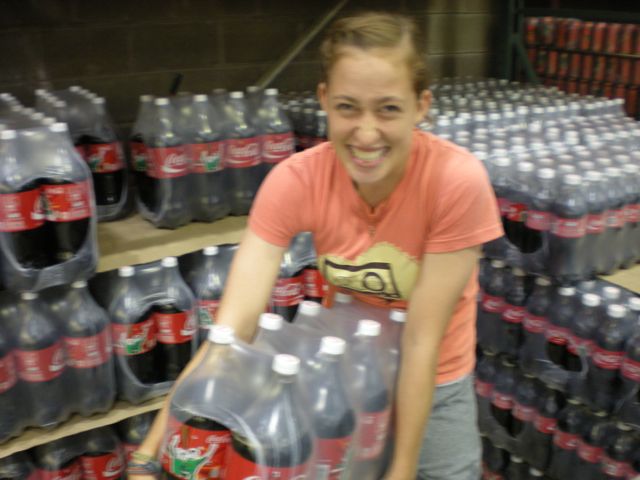 Dana makes a Costco run (more Coca-Cola please !!!)
Click here for more pictures
- Dana (With expert advice from Vaughan)
On Saturday June 19, 2010, at 10:00 PM, Curtis Wait wrote:
We had a great time on our excursion today. 14 teens from the Laguna center joined all those from the USA for an African Safari (near Puebla, Mexico) and tour of aztec pyramids. It was 8 hours in the bus, but worth it. All had a great time. David Penner arrived in time to join us and it was the last day for Michele, Dana S, Marlene, Angel, Paul and Emma.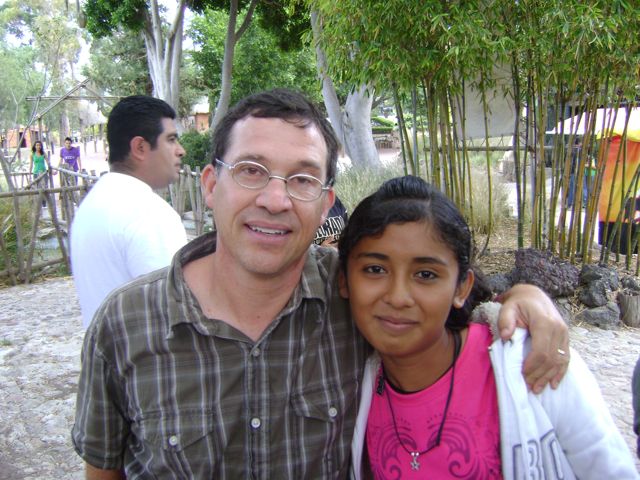 Curtis & Alejandra on African Safari with Saul (background) and all the rest of the Amiguitos


Click here for more pictures
Click here for even more pictures!!
Curtis
On Sunday June 20, 2010, at 10:00 PM, Anne Wait wrote:
Today was a quiet day for the Amiguitos here in Veracruz. We had breakfast with our friends from St. Joseph's and then had to say adios. They went to the airport for their return flight to the USA. We will surely miss them at clinic tomorrow. The main work of the day was to begin helping Goldi with her move to the new house. She is going to be moving into the house that we have been using as our rental for this month. It is conveniently locate just across the street. A lot of furniture and all of the pharmacy supplies were moved in a short amount of time. The old refrigerator was taken to the community center, which should be a big help to Goldi on a daily basis. We plan to move a little bit each day this week. This evening Curtis hosted a movie night for the Laguna teenagers. "Avatar" was enjoyed by all as was the pizza that followed. Yum!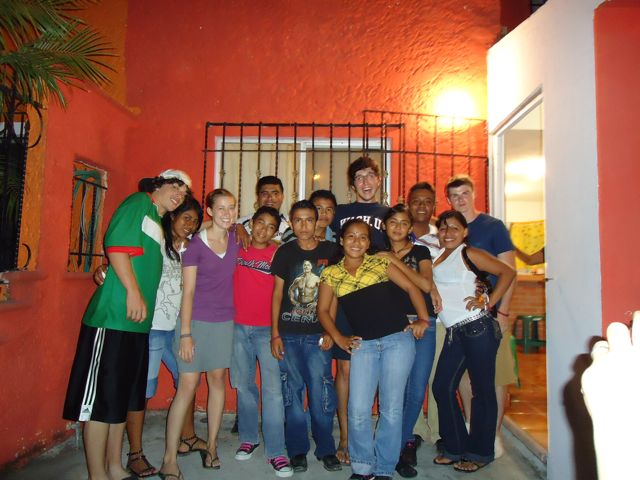 Teens watch "Avatar" on Dana and Vaughan's last night
As you can see, it was a very low key day. Now we are rested and ready to go in to high gear for the final four medical clinics this week.
Click here for more pictures
~Anne
Here is a recap of the first week of clinics:
The patients, perscriptions:


Profesor Manuel Medina Miranda Esquela - Colonia La Laguna
Monday 14 June 2010
177 Patients (121 children, 56 adults)
472 perscriptions (303 children, 169 adults) given.
3 Doctors; 25 on Work Team

Profesor Manuel Medina Miranda Esquela - Colonia La Laguna
Tuesday 15 June 2010
311 Patients (240 children, 71 adults)
832 perscriptions (622 children, 210 adults) given.
4 Doctors; 25 on Work Team

Vincente Lombardo Toledano - Colonia Las Lomas
Wednesday 16 June 2010
339 Patients (258 children, 81 adults)
1236 perscriptions (985 children, 251 adults) given.
4 Doctors; 19 on Work Team

Emma Goday - Colonia Dos Caminos
Thursday 17 June 2010
314 Patients (163 children, 51 adults)
691 perscriptions (530 children, 161 adults) given.
4 Doctors; 19 on Work Team
Week totals:
1041 Patients ( 782 children, 259 adults)
3231 perscriptions (2440 children, 791 adults) given.
On Monday June 21, 2010, at 7:00 PM, Curtis Wait wrote:
Today was a great work day. We were at Tarimoya, which is the poorest area that we work in and the school agreed at the last moment to allow us to have clinic there. We were short a doctor and still delivered a great clinic (201 patients seen; 608 perscriptions filled). We miss all our friends from last week who returned to the USA and enjoyed having David Penner at his first clinic.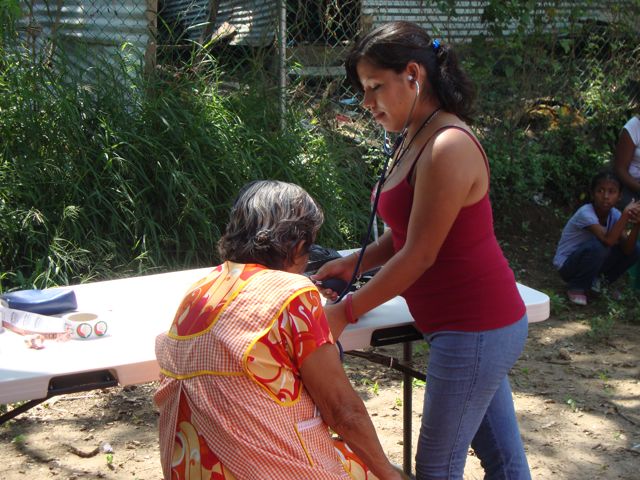 Maria Elena runs triage at Tarimoya school
Click here for more pictures
Curtis
On Tuesday June 22, 2010, at 6:00 PM, David Penner wrote:
Today we held a clinic at Hermenigildo Galena, at a school Amiguitos had never been to before. It was the biggest day for the June trip so far- We had 372 People (908 perscriptions filled), the vast majority were students at the school. I was helping with triage and doing blood pressure, which wasn't bad at all- the kids don't need to have their blood pressure checked. We were busy, but it all moved efficiently and the doctors worked fast. For lunch we had Gordas and empenadas and of course, Coca cola.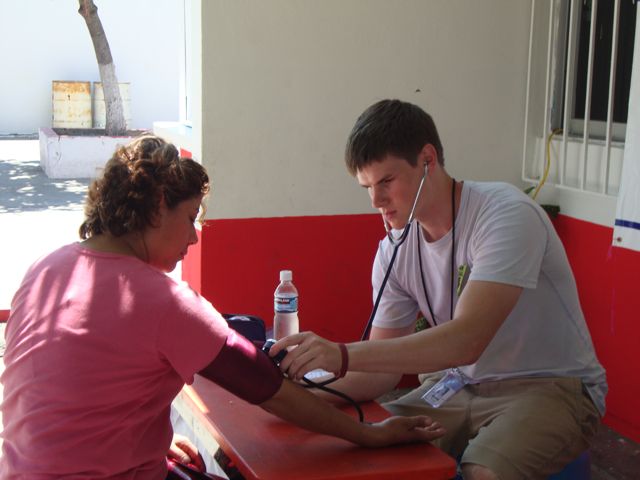 David leads the triage team - here taking a blood pressure
The kids seemed to think I was strange, all white and tall and blue eyed- but we all had fun. One highlight was the students dance classes in the courtyard where we worked- then a group of young girls being coached to dance to lady gaga.
Click here for more pictures
Click here for even more pictures!!
David Penner
On Wednesday June 23, 2010, at 6:00 PM, Curtis Wait wrote:
We visited a new school today and saw over 200 patients before lunch. Unfortunately the teachers had cancelled the afternoon classes and so we had very few patients after lunch. The patients had many more perscriptions and were happy that we came with medicines. The team is doing well and able to see every patient that wants to see a doctor.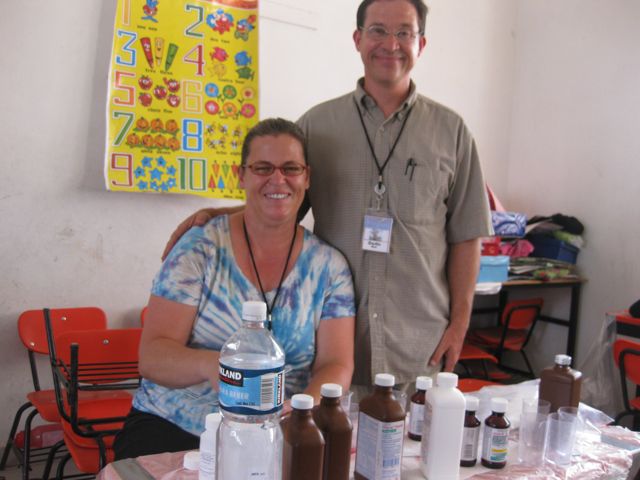 Anne and Curtis work in pharmacy
Click here for more pictures
Curtis
On Thursday June 24, 2010, at 10:00 PM, Alex Wait wrote:
Last day of clinic. Started off strong with over 60 children passing through the gates before we had been at work more than an hour. The one child per minute pace did not last all day however. After seeing the children from the school in the morning, the teacher of the only afternoon class decided not to show, rendering the children wild and scattered. The final count was 230, with 58 adults wandering in. 621 total prescriptions on the day. Decent numbers for a team of our size, but we spent most of the day standing around waiting for a rush that came and went with the school children. In the afternoon there was more smoke from the neighbor's trash burning ritual entering the pharmacy than there were prescriptions.
The day did not end so anti-climatic however. After clinic we made a stop at the construction site to view the newly finished concrete wall segment that was now standing on its own. We then had to move all of the wood and extra rebar that was leftover off of the site. After my life (as well as the lives of David and our strong-young-chamacos) was in minor peril on a few truck rides the day wound down.



New school work site and more retaining wall!
Looking back on the week, and two previous, I am very proud of us. This has been a very successful trip once again and I would like to thank each and every one of you who have been a part of it, as well as those who have been following. You have made this another amazing experience for me (those reading on the internet didn't make a whole lot of difference to me if we're going to be completely honest but you deserve credit for such dedication ;] )
From the Hot and Sweaty, This is Alex Wait signing off-- ¡Viva México! And U-S-A-U-S-A!
Click here for more pictures
Alex
Here is a recap of the second week of clinics:
The patients, perscriptions:


Jose Maria Morelos y Poavon Esquela- Colonia Lomas de Terimoya
Monday 21 June 2010
201 Patients (96 children, 105)
608 perscriptions (267 children, 341 adults) given.
3 Doctors; 17 on Work Team

Hermengildo Galena Escuela (nueva) - Colonia El Coyol
Tuesday 22 June 2010
372 Patients (342 children, 30 adults)
908 perscriptions (806 children, 102 adults) given.
4 Doctors; 15.5 on Work Team

Sor Juana Ines de la Cruz Esquela (nueva)- Colonia Predio 4
Wednesday 23 June 2010
260 Patients (177 children, 83 adults)
728 perscriptions (432 children, 296 adults) given.
4 Doctors; 16 on Work Team


Jose Maria Morelos y Poavon Esquela- Colonia Lomas de Terimoya
Thursday 24 June 2010
230 Patients (172 children, 58 adults)
621 perscriptions (435 children, 186 adults) given.
4 Doctors; 15 on Work Team
Week totals:
1063Patients ( 787 children, 276 adults)
2865 perscriptions (1940 children, 925 adults) given.

GRAND TOTALS FOR THE TWO WEEKS:

2104 Patients ( 1569 children, 535 adults)
6096 perscriptions (4380 children, 1716 adults) given.

On Friday June 25, 2010, at 10:00 PM, Anne Wait wrote:
Hola Amiguitos,
First of all, I would like to especially thank all of our friends who support us by reading the blog. I personally appreciate the support. (Sorry about my ungrateful son.) You're the best!
Today was a catch up day. I spent most of the day doing pharmacy inventory and then packing up supplies with a lot of help from Jerry. Alex, David, Jerry, and Curtis began the moving process of Goldi's house. She is moving out of her current house to the house that our guests have been using for the past three weeks. Luckily it is just across the street. Today the boys moved a couch, a washing machine, two beds, an evaporative cooler, lots of huge water jugs, and about 500 big bottles of Coke - remember the last trip to Costco?!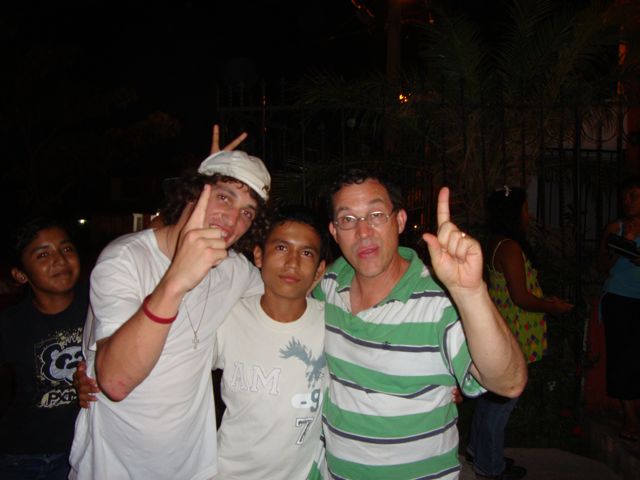 2010 "Spoons" Champions: Alex, Mauricio and Curtis
This evening we had yet another party with all the Laguna teens. We had a computer lab set up, so everyone could play around with the computers for awhile. I have several new facebook friends after this evening. Then we ate some delicious chicken from Feliz Pollo. It was yummy, but Omar didn't think the chicken was feliz anymore. After dinner we had a very lively game of spoons. Curtis, Mauricio and Alex were the proud champions. That's it from Veracruz. Buenas noches.
Click here for more pictures
~Anne
On Saturday June 26, 2010, at 2:00 PM, Curtis Wait wrote:
Hi everyone - My day started (like many) with a 5:45am drive to the airport (or 11:00pm arrivals is also typical). Today, David Penner left for the USA. My tenth and final airport run. Only Curtis, Anne, Alex and Jerry remain and we all leave Monday very early (5:45am .... the usual ... but we'll take a cab). Returning to the house at 6:45am ,I noticed a horse drawn cart and recognized the people in it. I stopped and talked to Ignatico and Marta plus waved to their children Jesus and Andres. Iganacio asked why I was up early and how much longer I was in town. It feels good to just stop in the middle of the road and talk to friends. The chickens, donkeys, horses and all kinds of bicyles, working carts, pickups, buses and even the motorcycles selling tortillas seem normal now. Monday I will be back in the USA and obeying all the traffic signals and staying in my own lane. I suspect that will feel strange for a while.
The rest of our day was spent giving a program in Amiguitos new center in the very poor Lomas de Tarimoya center (an every Saturday program). First we all packed up for English classes and computer classes at the Lomas de Terimoya Amiguitos Center.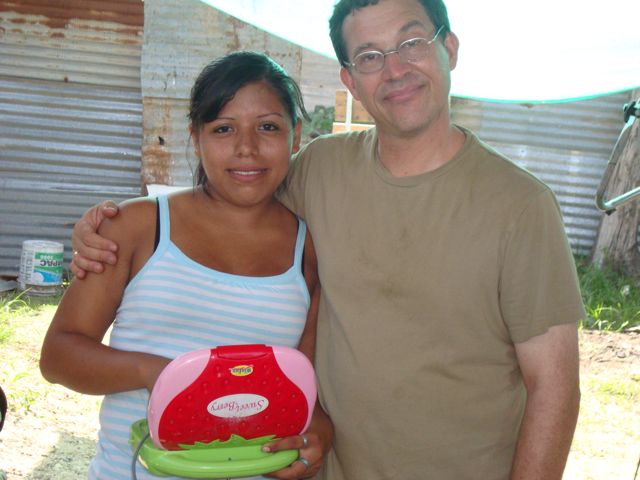 Maria Elena and Curtis help with computer classes in Tarimoya
The teens from Laguna also came and we had a good day with the children of Tarimoya. Now we rest. Of course there is a meeting with the architect (construction on the new Laguna school never stops) and tomorrow move Goldi into her new house, a meeting with the teens and closing Eucharist in the evening. Then pack for the trip home. The strong sun and bouncing around primative roads in the back of a pickup truck takes its toll. Up early, up late the "surprise of the day" which is a Mexican tradition (too many to list on this trip) have taken their toll. I have a small cold & cough, a sprained toe and patches of sun burn. All in all I feel great, just a little nicked up. However I am thinking more and more about my own bed in Colorado these days.
Now Alex has dashed off to watch the USA vs Ghana world cup soccer match. The rest of us are resting. We look forward to coming home and telling you all about the beautiful children here and how much they mean to us and how meaningful your help is in their lives. Of course Maria Elena (assistant teacher in Laguna & hopefully a student at the University of Veracruz, Veracruz in the spring) is getting sad for our pending departure (an often repeated step since we trickle back in small groups). Fortunately, Alex will be returning to Mexico in two months to start a semester at the University of Veracruz, Xalapa. So he plans to be in Veracruz every weekend and see the chamacos then. This brings a smile to Maria Elena's face .... together they will both be alumni of the University of Veracruz if all goes well!
Click here for more pictures
Curtis
On Sunday June 27, 2010, at 9:00 PM, Curtis Wait wrote:
We are finished! Saturday night was a visit to the malicon in downtown Veracruz to see the sailing ships from the Navies of the world who came to celebrate 200 years of the Veracruz naval station. The group boarded the Ecuadorian ship which had the nicest band and got everyone dancing.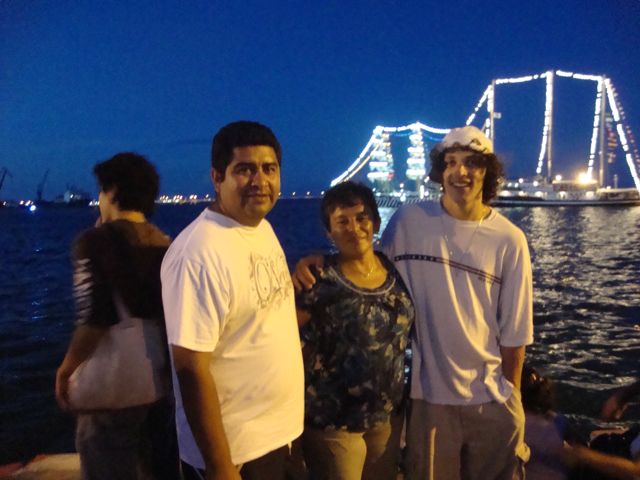 Saul, Goldi & Alex enjoy the ships of the world
Sunday was moving Goldi (while seeing Mexico also leave the world cup playoffs as did the USA). We had a great time at the center with Eucharist and goodbyes to all the people in Mexico who worked with us on the land and in the clinics. We miss them already. Next time, join us in Mexico in December !!!
Click here for more pictures
Curtis