The word that comes to mind when I remember this trip to Veracruz is, "FACES".
Being with Ellen O'Grady, who did portraits of individuals, inspired me to look into each face as an artist might.
I was moved by the intimacy of Ellen looking into a young boy's eyes as he sat perfectly still, gazing back at her. I remember the grin when he finally saw her artistic creation of his face. What validatioin, which says to me, "You are beautiful, you are a work of art. This is how I see you." The image I carry from this trip is one of respect, of looking at one-another deeply, and creating art out of a life, a face, a person. I come away with images in my mind of an older man who wanted me to take his picture, a young girl skipping rope, a toddler smiling as someone picked him up and put him on his shoulders. I remember the strained look of a father, waiting at the medical clinic with his mother and small children, the relieved look of a grandmother collecting anti-parasite medication for her grandson, the worried look of a mother, entertaining new friends in her home, with no food to serve, but the dirt floor carefully swept....
Each person a depth of stories, a treasure, a gift.
Thank you, Curtis, for making this possible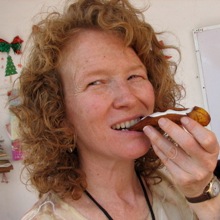 Ali Lufkin