December 2010 Work Trip "Blog"
The sixth Amiguitos work team is in Veracruz December 25, 2010 to January 8, 2011 for an art project at the Laguna center and 4 medical clinics. Below are the brief updates from the team during the work trip.

Please scroll to the bottom to see the latest update

On Sunday December 12, 2010, at 9 PM, Curtis Wait wrote:

Our work team is gathering for the December 2010 work trip. Alex is already in Mexico having just finished a semester of studies at the University of Veracuz in Xalapa. Goldi, Saúl, and all the teens are of course already in Mexico because they live and work in the center in Laguna. December 19th Anne, Curtis and Dana start their flight, spend the night in Houston and arrive Monday December 20th will all the medines and some time to relax with Alex. Donna, Ellen, George, Ali, Hannah, Lara, Stephen, Sharon, and Peter all arrive late on December 25th. We will have a day to rest and then start clinics on the 27th. We look forward to having a great work trip and appreciate all your prayers and support.
I am very excited to have a friend of mine, Ellen O'Grady, lead an art project with the teens at the center the week of January 3rd (no construction project this trip .... whew!). Ellen is an artist, an international activist and an author.
Click here to visit Ellen O'Grady's website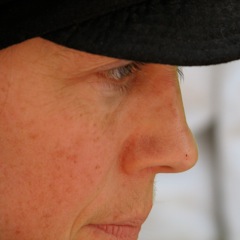 Ellen O'Grady
I look forward to seeing our work team soon in Mexico. And thank you all for your wonderful support.

Curtis
Click here for more pictures (from prior work trips)
On Tuesday December 21, 2010, at 10 PM, Curtis Wait wrote:

Anne, Dana and Curtis arrived on Monday and went straight through customs with the medicine without any troubles. Thank you for your prayers on our behalf. We travelled to Xico to spend some vacation time with Alex prior to beginning our clinics on Monday December 27th. We will return to Veracruz Thursday and pick up the remaining team members who all arrive on December 25th. Today we visited Saúl's trout farm in the mountains and had a great relaxing day. Tomorrow Alex will give us a tour of Xalapa including the places that he visited frequently as a student the past semester.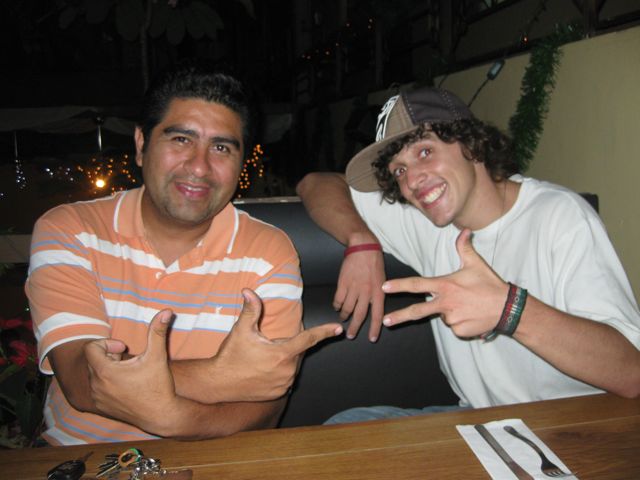 Saúl and Alex host Anne, Curtis and Alex in Xico
Click here for more pictures
Curtis

On Sunday December 26, 2010, at 9 PM, Anne Wait and Peter Moller wrote:
This morning began quite early for the teens of the community center and many of us as well; we met at the local panaderia (bakery) for a bread making lesson. A HUGE pile of dough was kneaded and made into many different types of breads, cookies and donuts. It was a pleasure to watch the love and care that the teens put into making the breads and treats.
Maria Elena, Melanie & Dana show off the donuts the teens made
It was also impressive to us that this project began as an idea of the teens in Amiguitos. Later in the day, we were joined by about 150 people from the community in La Laguna for eight baptisms and a eucharist service. Every baptismal service in Mexico is of course followed by a fiesta. We were entertained by dancing children and teens and fed bowls of mole. It was delightful to see the presence of so many young people at the church.
Ali, Curtis, and parents baptise Enrique with help from his parents


Click here for pictures of the 8 people baptized
We all had a grand time!
Click here for more pictures
~Pete & Anne
On Monday December 27, 2010, at 7 PM, Ellen O'Grady and George Lufkin wrote:

From Ellen - Today, I painted portraits in an alleyway outside the doors of our first health clinic.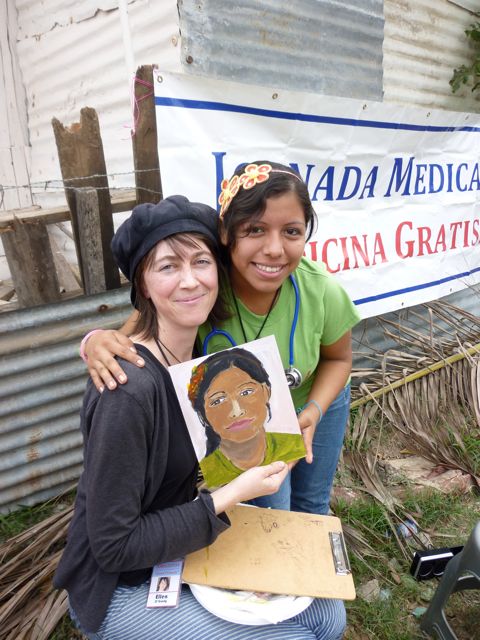 Ellen paints Maria Elena (the first painting on first day of clinics)

It was a wonderful day, though difficult to concentrate at first, with people looking over my shoulder and talking, kids leaning against my legs and arms to have a good look. I am not complaining. As a non-Spanish speaker it made me very happy to be sharing in an activity with people here, and the painting got easier. There were even moments when despite the crowd I felt I was sitting alone with the person in front of me. ~Ellen

George wrote - Today at clinic at Taramoya we enjoyed over 120 patients. Thirteen young people from Goldi's school assisted with the clinic. We played frisbee, and catch.


King George of Tomatoes (aka en México "Princess Tomato")

Many old and young alike came to the clinic. We had a great time teasing each other. I was wearing a Santana Claus hat with a Tiara. So my name became princess. Later I
was eating tomatoes, so I became the princess of tomatoes. However, I
Insisted that I am the King of Tomatoes. May only the truth be told.

~George
On Tuesday December 28, 2010, at 8 PM, Donna Hood:

Donna's Big Adventure


It was a good day in the neighborhood. We began our journey with a fabulous breakfast followed by a cab ride to the wrong neighborhood. After finding our emergency information we contacted Goldi and were on our way. We arrived at the clinic to find the Doors locked, climbed over the wall and quickly set up.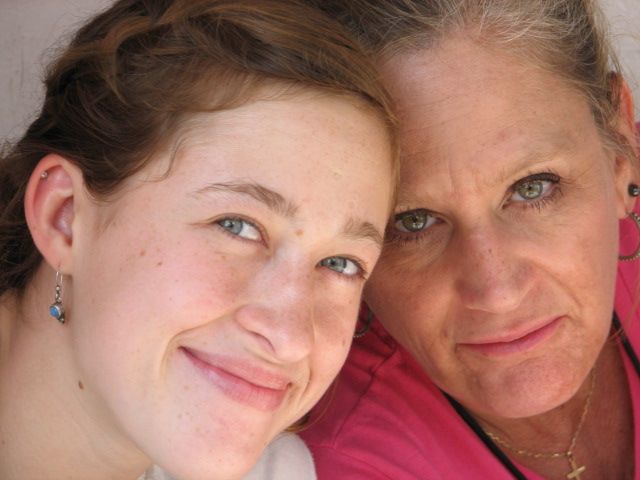 Dana "supervises" Donna in Triage

I am part of the triage team. We record the height and weight of each patient and take blood pressure for the adults. I was in charge of the scale mainly because I was the only one that Could get it to work. Nobody liked me. Everyone thought the scale was off and took their shoes off to be weighed. I finally figured out how to weigh the babies without making them cry. Weigh the mother first then add the baby. Some math involved. There is no crying in weighing. We saw over 200 patients and had Dana's favorite for lunch; bean and Chicken tostadas, cheese empanadas and fried plantains with coke and fresca for everyone.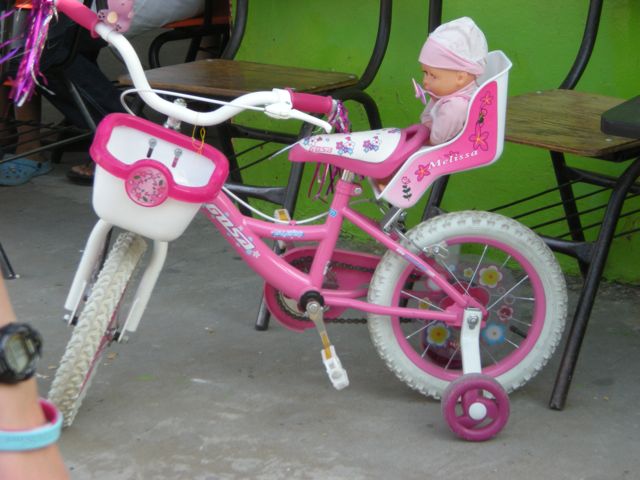 The perfect ending to a perfect day, a Pink bicycle was at the clinic. Tomorrow we return to our home neighborhood, Laguna.

On Wednesday December 29, 2010, at 9 PM, Sharron Moller:

A nice day with sun, but not too hot. We got off on a wrong foot because seven of us started off walking to the elementary school in La Laguna, not realizing we had left Hannah locked inside the fence at Goldie's house.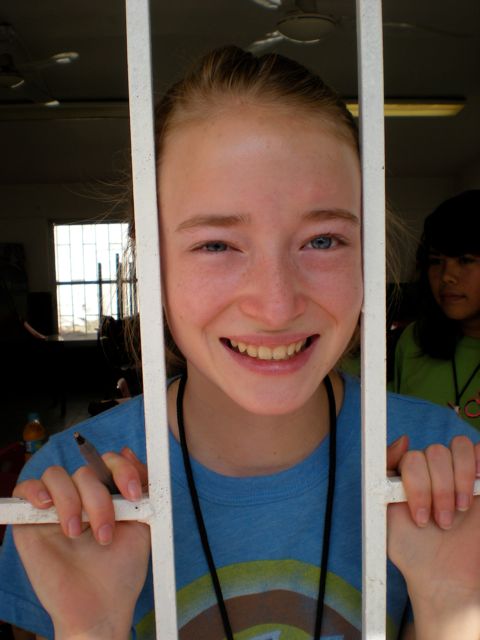 Being a very slender person, she was able to squeeze through the metal bars and go to the room where Ali and Lara were convalescing. Ali called Curtis who sent George back to pick up his daughter.
Pete and Sharon were thrilled when 2 preschoolers came back to give them kisses after they had dispensed medicine for the family.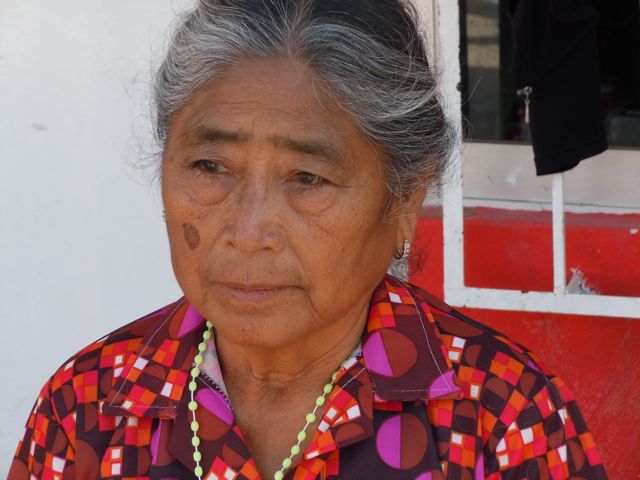 It was humbling to meet several women who had obviously been through much in their lives, yet had wonderful smiles.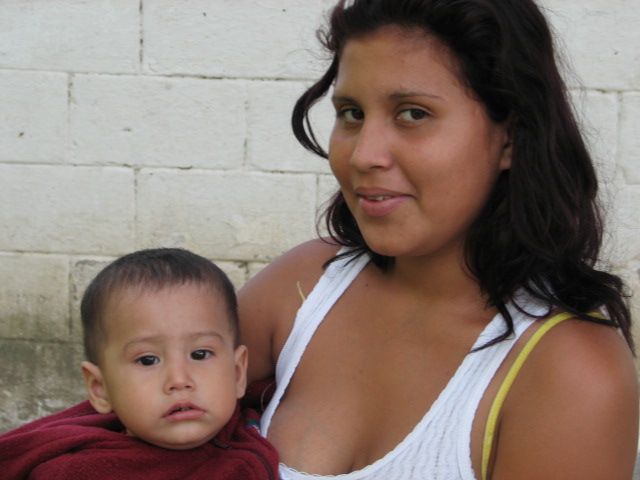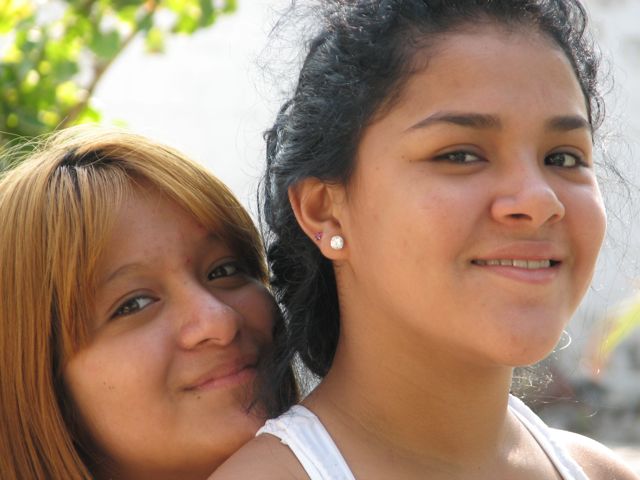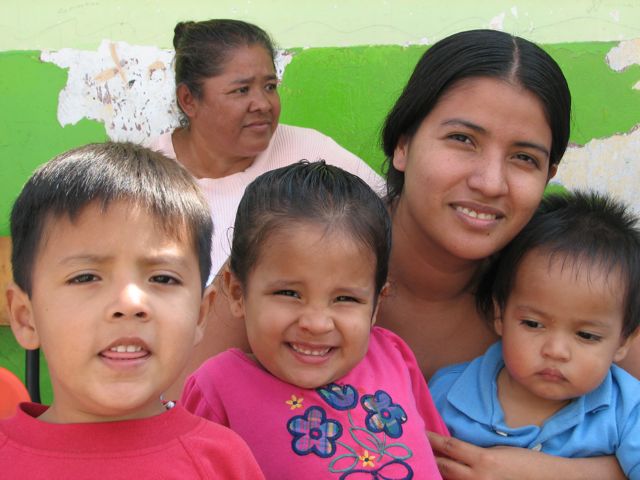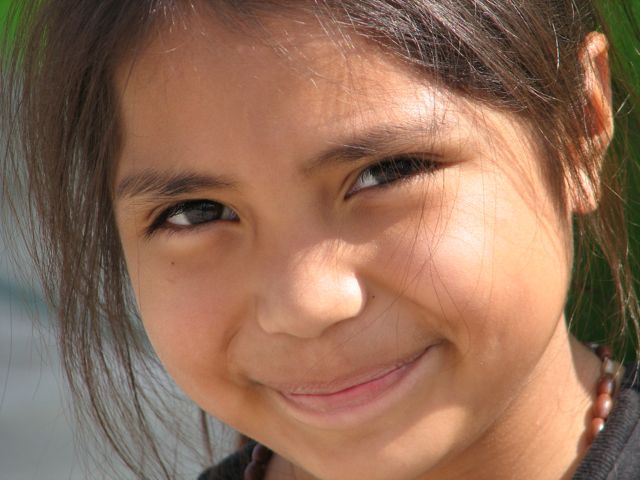 On Thursday December 30, 2010, at 8 PM, Curtis Wait and Hannah Lufkin Blogged:

Curtis wrote
-We had our last clinic of the work-trip. For the first time we performed a clinic at our center (temporary) in La Laguna. It worked just great. It was nice to have our own kitchen and bathroom. Everyone was working like a well oiled machine. We took our team photo.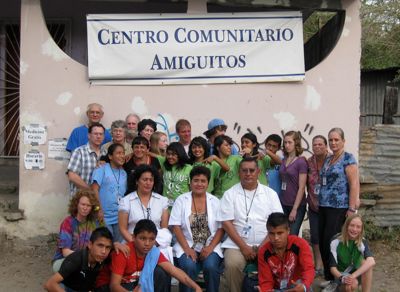 Tomorrow is a fun day (act like tourists and go bowling with the teenagers). Saturday much of the team returns to the USA.
Curtis
Hannah (15 years old) wrote:


No worries, I didn't get left anywhere today. I missed a lot of days being sick so I am trying to make the most of my last two days here. Things ran smoothly in pharmacy, I helped Anne sort medicine and count pills. Ellen drew very nice sketches of the people in the medical clinics. I visited a family of seven who live in a small two room house. It was a productive last day of clinics.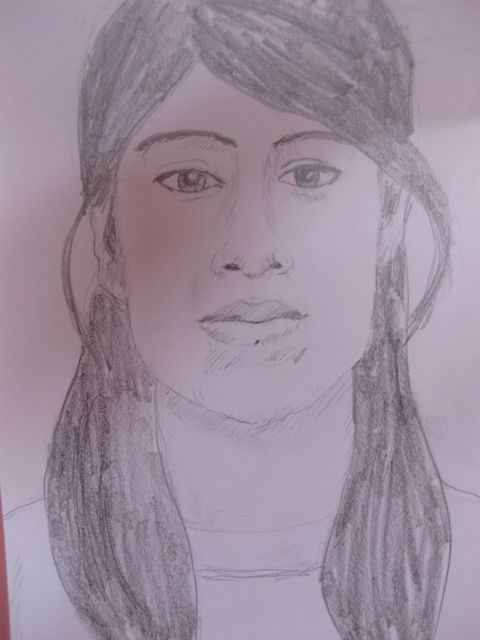 Ana (in pencil) by Ellen

Hannah

Here is a recap of the week of clinics:
The patients, perscriptions:
Centro Communitario Amiguitos
CCA- Colonia Lomas de Terimoya

Monday 27 Dec 2010
124 Patients (55 children, 69 adults)
354 perscriptions (155 children, 199 adults) given.
3 Doctors; 25 on Work Team (Hannah & Ali out)


Enrique Segarra Thomas Esquela; Col. Vias Ferreas

Tuesday 28 Dec 2010
202 Patients (87 children, 115 adults)
630 perscriptions (280 children, 350 adults) given.
3 Doctors; 28 on Work Team


La Esquela Manuel Medina Meranda
Colonia La Laguna
Wednesday 29 December 2009
101
Patients (55 children, 46 adults)
296 perscriptions (158 children, 138 adults) given.
3 Doctors; 24 on Work Team
Centro Communitario Amiguitos
CCA- Colonia La Laguna
Thursday 30 Dec 2010
151 Patients (99 children, 52 adults)
451 perscriptions (282 children, 169 adults) given.
3 Doctors; 24 on Work Team


GRAND TOTALS FOR THE WEEK:
454
Patients ( 241 children, 213 adults)
1731 perscriptions (875 children, 856 adults) given.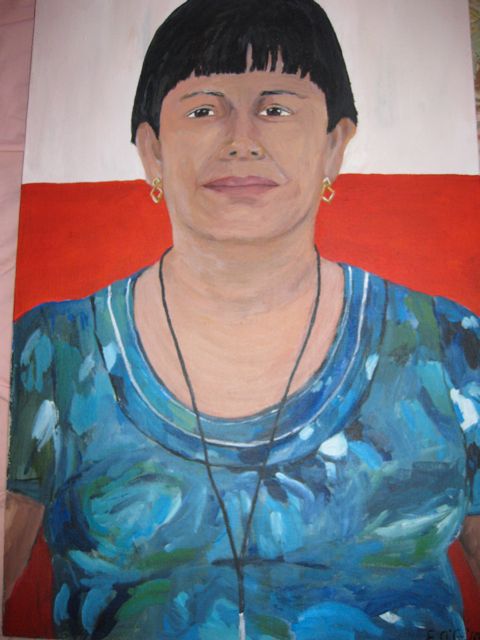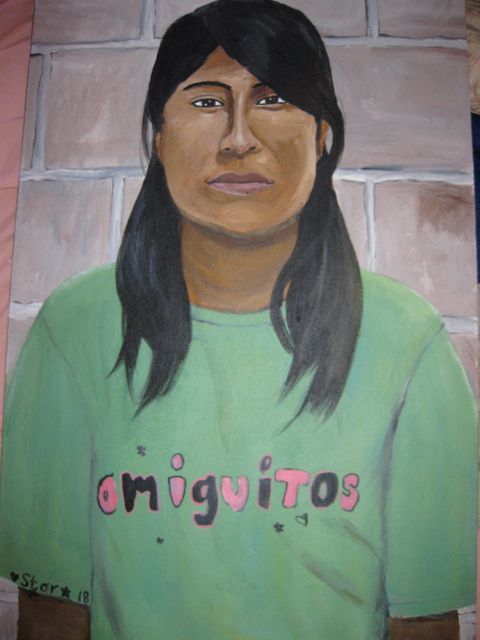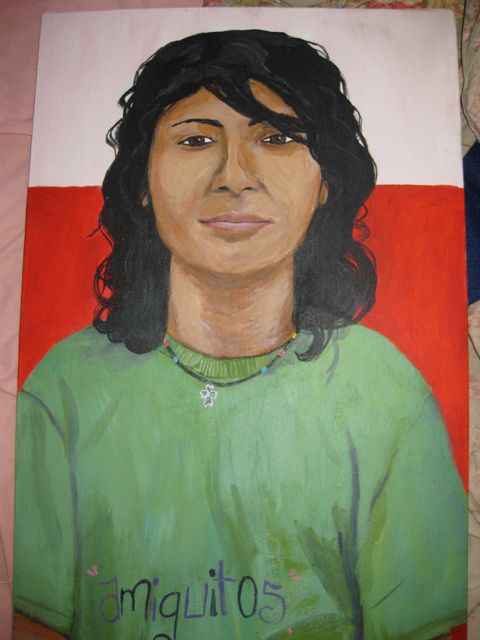 Ellen's portraits of Goldi, Ana & Alejandra


On Friday December 31, 2010, at 8 PM, Steven Gonyaw and Dana Wait (17 years old) Blogged:

Steve wrote: I enjoyed the tour of downtown Veracruz and walking along the dock near the ocean. We shopped in many places and found the cup I was looking for. I figured I'd bring my sister home a souviner.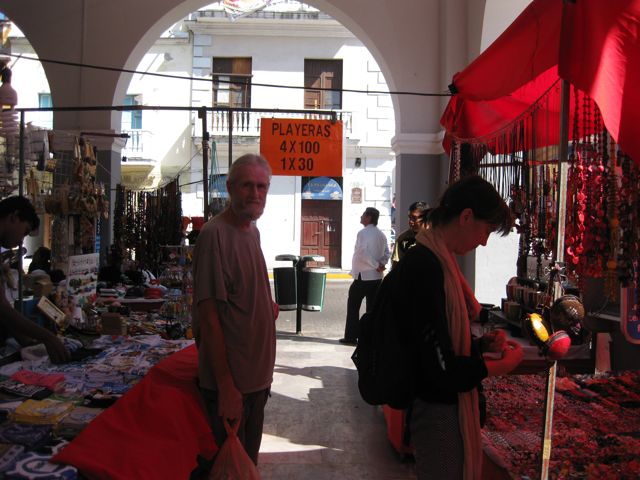 Steve and Ellen shopping

We had a great meal at Gran Café. I discovered that down here in Mexico its okay to eat with your fingers and that was fun. 7,000 taxis are in Veracruz according to the taxi drivers. That is fortunate since we needed several. I enjoyed myself. I'm thankful for my new friends. ~Steve


Dana wrote: Congratulations, it is officially the last day of this year. Hasn't 2010 passed so quickly? This year has been full of memorable experiences, but for me, these last couple weeks have been quite special. The company that we have here have really made an impact.

Today was our free day of the trip, so we started by touring the downtown and looking at arts and crafts. Funny enough, Carolina, the new governor was speaking in the town plaza, so we all got to see her. We then went to lunch at our favorite place, The Gran Cafe. Finally we went bowling with all the teenagers, which I really enjoyed.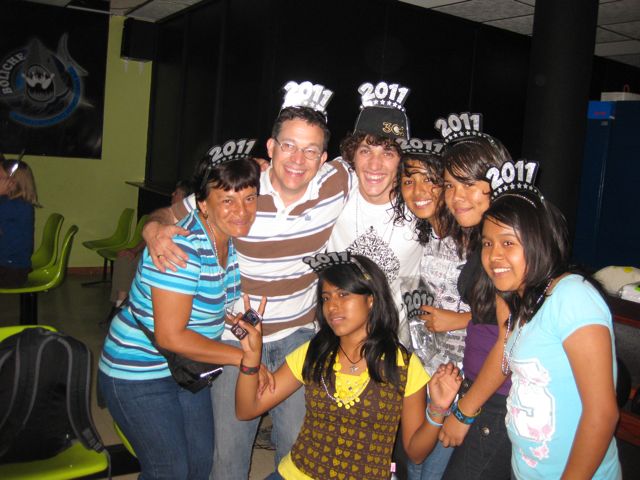 Goldi, Curtis, Alex, Alejandra, Vianey, Rosa and Ana

It's always fun to experience something like that with people who have never had a chance to do it before. Everyone seemed to really enjoy themselves.
So since tonight is the last night of this year, we'll be having a large, probably fancy new years dinner. All the older folks are planning on going to bed at nine but the youngin's will be staying up to welcome the new year.

I'd like to thank all the people keeping up with our blog about our travels here, and hope everyone has a fantastic new year! ~Dana

Surprise!!!! The truck arrives back in Veracruz WITH ITS MEXICAN Licence Plate!!! Yippee!!! No more problems with the local transitos (traffic cops) !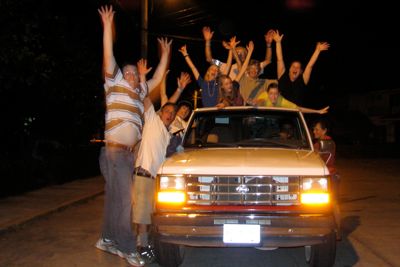 Saúl arrives to the new year's eve party with a special surprise,
the truck has been legalized and has its Mexican plates!!

On Tuesday January 4, 2011, at 10 PM, Curtis Wait Blogged:

The second week of the December work trip is often construction. This year we are doing an art project instead. Ellen O'Grady has been painting portraits at the clinics and now she is giving 10 hours of art classes to the teenagers. They will draw and paint portraits. Then the art will be combined into a banner to display in this and future centers. Most of the team has returned to the USA leaving Curtis, Alex and Ellen to help Goldi at the center and conduct the art class.
Teens draw while Goldi has class with 50 smaller children outside
An added bonus, the Presiding Bishop of the Episcopal Church, Katherine Jefferts Shori, visited the Diocese of Southeast Mexico today and so we all gathered at the retreat center (3 hours from Veracruz) to have a celebration together. Another surprise is that a friend of mine from Colorado (Chris Johnson) was travelling with the bishop. A fun day, but tiring.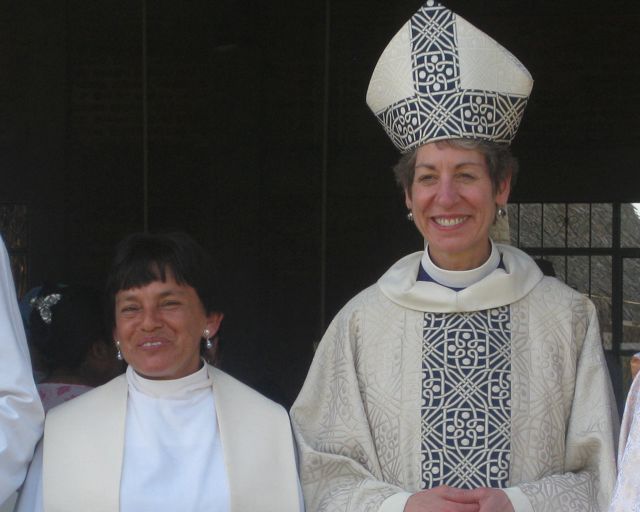 First woman ordained priest in Latin America (Goldi) with the
first woman to lead a national church (Katherine)
Click here for more pictures
Curtis
On Thursday January 6, 2011, at 10 PM, Curtis Wait Blogged:

The three kings have arrived! The Mexican children have received their gifts and had their fiesta. Today Ellen preached at the celebration eucharist and then it was off to art class for the teens with Ellen and a party with cake and hot chocolate for the little kids. Below is Ellen's sermon: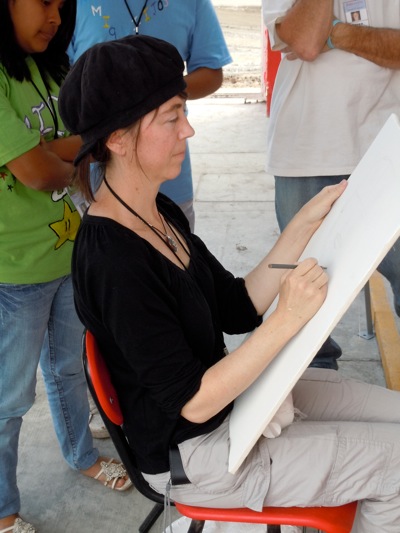 My name is Ellen O'Grady. I am an artist. For seven years I lived and worked in Bethlehem in a neighborhood similar to La Laguna. Often I would pass by the Church of the Nativity, which is located at the place Jesus was born and where the wise men travelled to bring their gifts.
This time of year in Bethlehem is cold and rainy, occasionally it snows. It is the worst time of year for a journey. I imagine the three kings were very uncomfortable travelling the far distance. I imagine the inns were full and because they lacked shelter, the kings travelled all through the night, dozing occasionally on their camels. I imagine the kings and the people travelling with them often got frustrated, even despairing. I imagine they heard voices in their head, saying the journey was a mistake.
But they kept going. And going. And finally they came to the manger. And when they got off their camels and came closer to see baby Jesus, all the agony of their trip slipped away. And the world would never be the same.
Any worthwhile journey brings with it fears and doubts, AND moments of human connection and creation which could not happen without the journey. Whether it is a journey that involves travelling a far distance, like Goldi coming to Veracruz from Ecuador to start Amiguitos; or a journey that involves doing something completely new, like Omar taking culinary classes.
On every significant journey I've been on there have been voices in my head telling me that I might be making a mistake. It was true during the years that I worked in Bethlehem. And it is true of my short time in Veracruz. Moments when the voices in my head said, that I might be making a mistake; you do not speak the language, you are not going to be able to connect with people without speaking Spanish.
But then came the moments when all those doubts slipped away. For example when I was sitting drawing a person here in Veracruz. It does not matter that we speak different languages, when I sit to draw you, any one of you, the light of God shines through and it does not matter that I am in Mexico because in that moment, I am home in the presence of God, in the presence of love. Or a moment like yesterday, when the chamacos were drawing their portraits of themselves. Every one of them was bent over their canvases with great focus. It did not matter that we come from different cultures, this creation is of God. Creativity binds us together, it creates a holy space.
You are a very creative people. The way you build your homes, the way you respond to the destruction of a hurricane. Ana's hats. Melanie's sandals. The bread we're going to eat at Eucharist and at the 3 kings celebration. Bread made by the children's hands. The building you are building for your center, which you are creating with YOUR hands. As the three kings rejoiced when seeing God's creation after their long journey; I rejoice here, with you, in the midst of all of your creativity. I rejoice in all of God's creation through your hands, your hearts, your voices and your minds. I rejoice in you. Gracias.
Click here for more pictures
On Friday January 7, 2011, at 10 PM, Curtis Wait Blogged:

The work trip is over! With many hugs and goodbyes, the work trip has ended. Our week of art classes was spectacular. The teens worked with Ellen to create beautiful self portraits. Hope to see you soon in Mexico!!
Ellen's students and their self-portraits

Summary:
There were hundreds of pictures taken durin our work trip. The blogs contained the pictures taken by the day's photographer.
Click here for all 1700 pictures from the DEC2010 work trip

The Laguna teens art class was amazing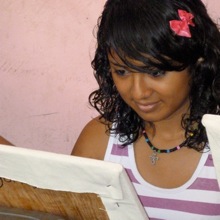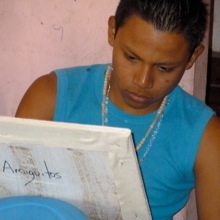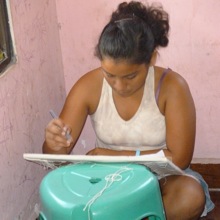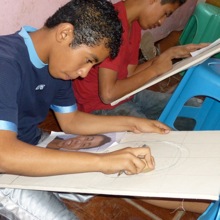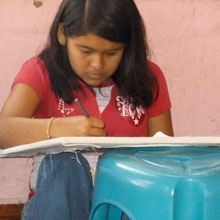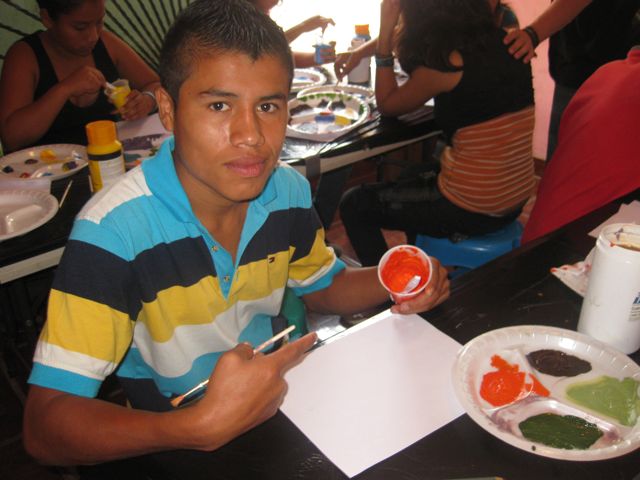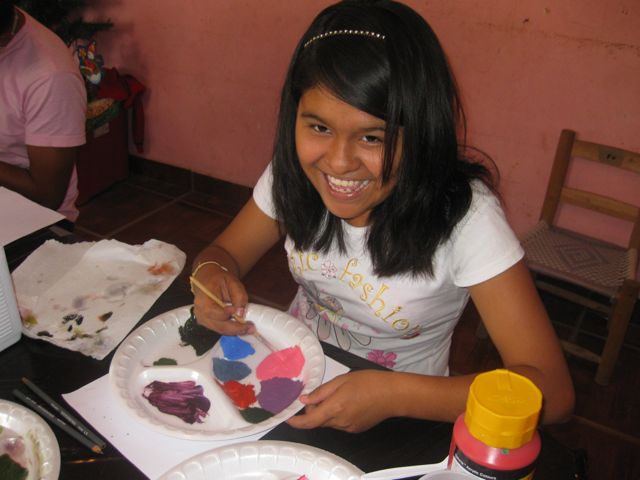 Welcoming cerimonies were full of dance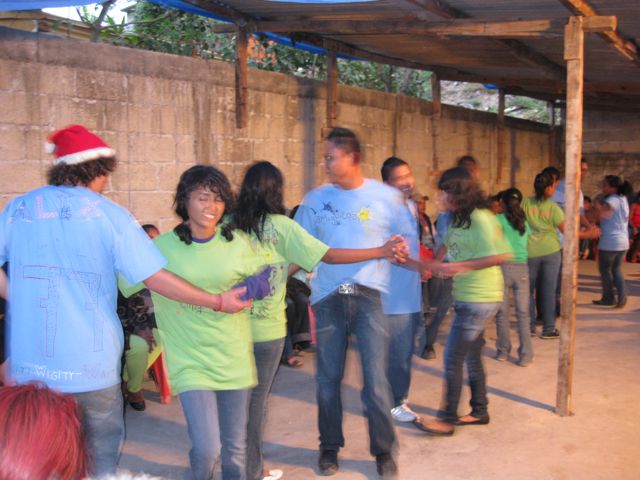 Bowling was a blast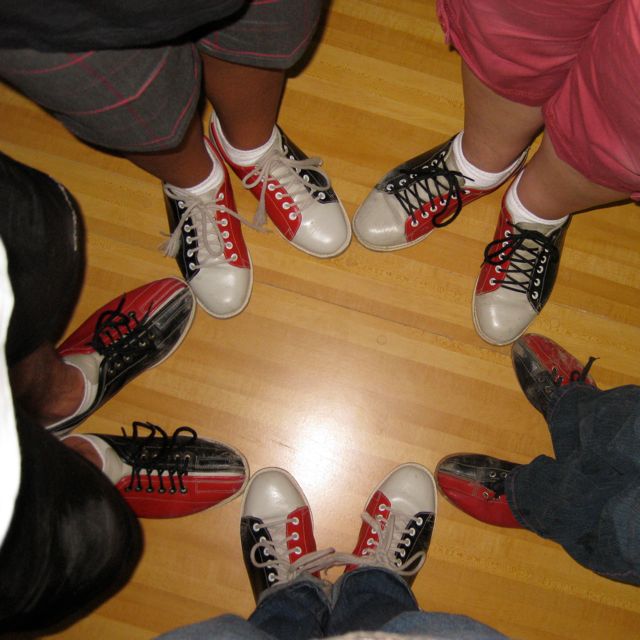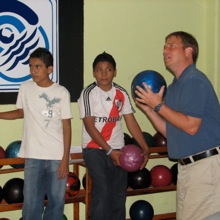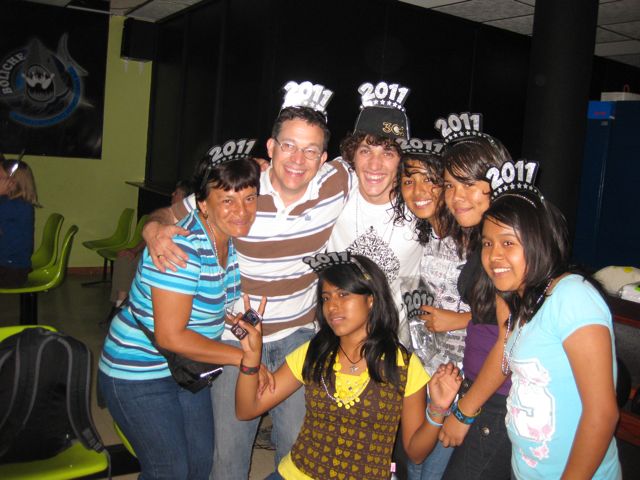 The Laguna teens launch a student bakery!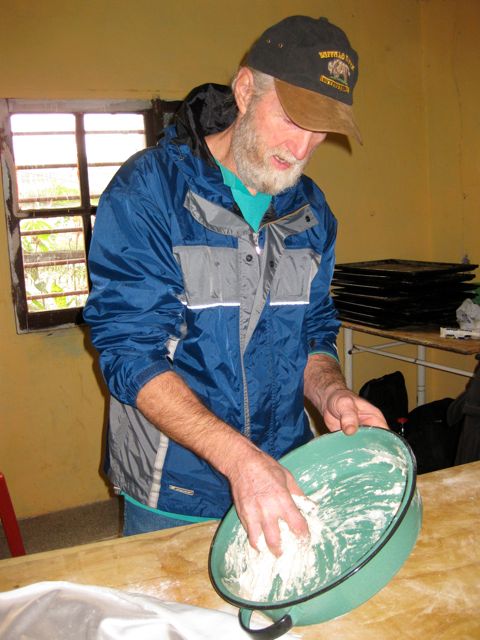 And we always have fun .... together!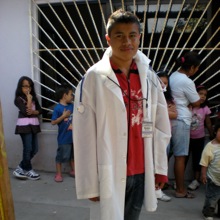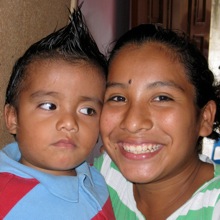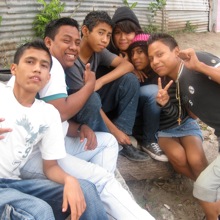 On behalf of the art class
December 2010 Work Trip

Ramón, Cesar, Ana, Melanie, Rosita, Mauricio, Vianey, Raúl, Alejandra & Omar...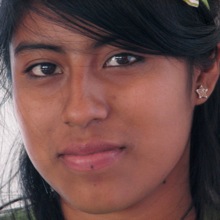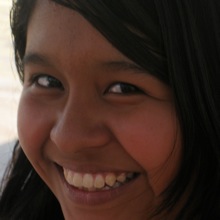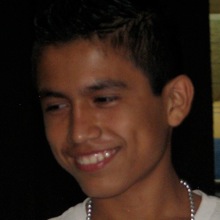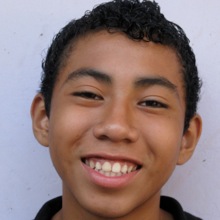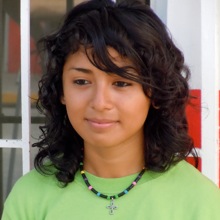 * * *

Special Thanks goes out to "55" for all the great work.
We all hope to have you back in Veracruz real soon.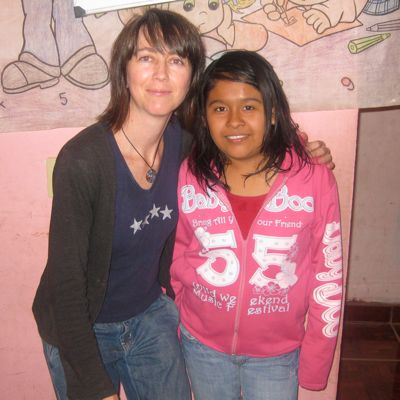 Click here for more pictures of Ellen O'Grady painting in Veracruz