June 2009 Work Trip "Blog"
The third Amiguitos work team is in Veracruz for 8 medical clinics and one medical clinic in Penjamo in June 2009. Below are the brief updates from the team during the work trip. Please scroll to the bottom to see the latest updates!

Curtis


On Thursday June 11, 2009, at 1:47 PM, Curtis Wait wrote:

Buenos Días,
Our work team is on its way to Mexico. Alex Wait arrived safely June 6. Anne & Curtis are on our way now and arrive late tonight Thur June 11th. Tomorrow Alyson & Matthew arrive and Saturday Barry and James. Dana and Viki arrive a week from Friday.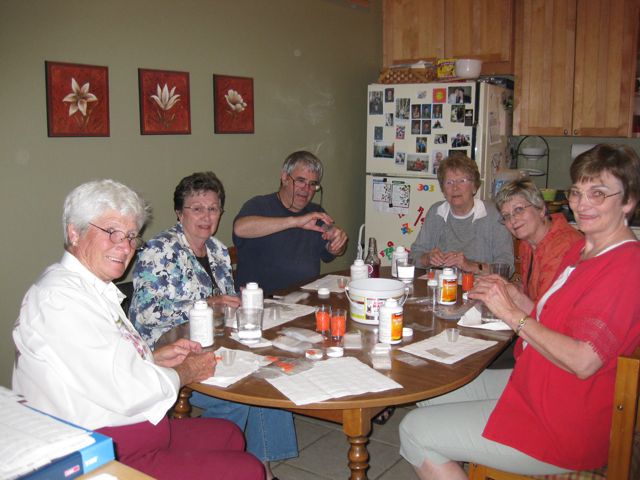 These pill packers can really pack it! Thanks to all those who helped on Friday June 5 ,2009 at the Wait's house (more photos below in next BLOG).
We are all excited and want to thank all the folks for helping pack pills last Friday June 5th. We will keep you up to date on our progress. We have clinics Mon/Tue/Wed/Thur the next two weeks around Veracruz and then make a 10 hour trek up to Pénjamo for a final clinic on Sat June 27. Please keep us all in your prayers and thank you all for your ongoing support!
Curtis
On Friday June 12, 2009, at 6:30 PM, Curtis Wait wrote:

We made it!! Our paperwork never made it to the customs officials however. But to our great relief the bishop of SouthEast Mexico came to the airport and marched into the customs area, spoke to security and the customs officiers and made sure they would let us through. So no problems!! Its great to fly into a small town airport. Many thanks to bishop Benito Juárez Martínez for working his magic.
So the pill counting continues. With only 4 of the team here it goes a lot slower. But we count and count. Alyson and Matthew arrive tonight (Barry and James tomorrow), so we will soon have reinforcements.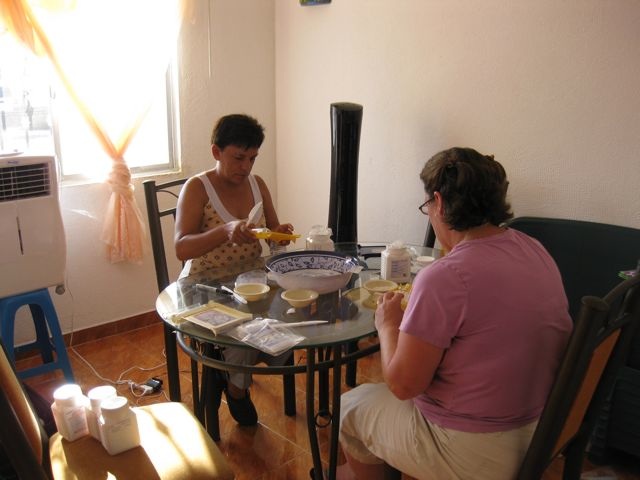 Goldi & Anne count, count, count ..... Alex and Curtis off screen crying for mercy.
We were also met with great news. Goldi completed the purchase of the land the day we arrived. So the permanent center is on its way. Also in Veracruz this week were John, Steve and Matt from the Peace and Justice center in Phoenix (the money behind the land purchase). Alex has been down for a week as well. So attached are some photos of the pre-clinic preparations both in the USA pill packing and now the Mexico version. Plus John, Steve, Matt & Alex helping out at the center in Laguna this week and poking around the land. Okay, a few things about the land. It is on a big slope (we have to level it) and it has an old building (we have to tear it down). We will be able to keep the septic tank but that is it. Lots to do. Goldi is already talking about renting a man with a backhoe to tear down the building and dig some of the terracing. Then we need to build retaining walls and of course walls around the property before any of the children can meet there (perhaps a small roof to keep the sun out too & a working bathroom!). Yeah, so we will be in the temporary center for quite some time. Still, very good day today.
Click here for more pictures.
Did I mention that tempuratures are stuck at 96 farenheit (and 50% humidity). I think I'm getting used to it! (no I'm not). Give me a day or two. Curtis
On Saturday June 13, 2009, at 10:30 PM, Matthew (Age 14) wrote:

Today we helped out at the preschool, the smaller kids colored and played with the computers. The older kids practiced English and learned the names of foods. Everyone threw rings and tried to catch them on the dolphin's nose. For lunch we had chicken noodle soup with tortillas, tamales, and oranges. It was really tasty. After school we went down to the lagoon.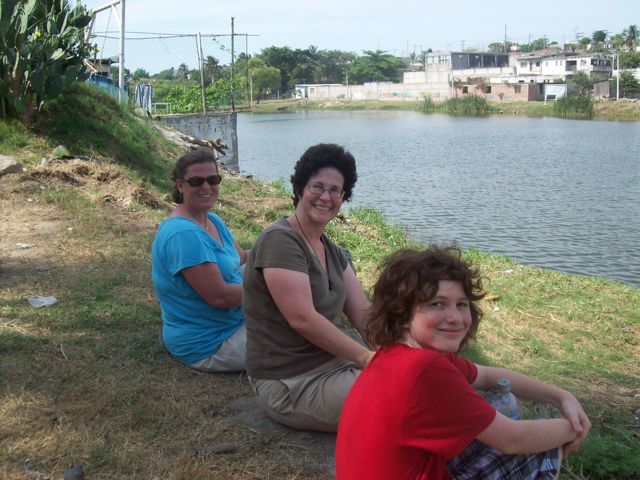 Anne, Alyson and Matthew relax for a few minutes at the lake ("laguna" in Laguna near the Amiguitos Community Center

Alex can skip rocks really well but everyone else was lucky to get in a skip or two. Many swan in the lagoon and took pictures of the people. Some played slapping games, for lack of a better term. We went back to the school for a meeting and some games. Non-Spanish speakers had some trouble understanding but once the games were demonstrated everyone joined in. Some of the kids took flyers for the clinic.

Matthew

On Sunday June 14, 2009, at 8:30 PM, James (Age 16) wrote:

Today we woke in the smothering heat and humidity of summer. We started the day off slow with a nice warm and delicious breakfast. We then started to count and label pills with Anne. After a few hours Alex, Curtis, Alyson, & Goldi went to Wal-Mart and bought the necessary goods for the week to come. Once they came back I found out that the water cooler filled with Gatorade was almost out so Berry, Alex and I went to the Super Smart and bought more ice for the new batch of Gatorade and a little extra for other drinks. I have now become the ice boy and I will be getting ice now for the rest of the time that I am here in Veracruz. Later we had lunch, which consisted of beef, rice, salad, and French fries. After lunch we did more pill sorting and labeling, and the five men from Arizona came and went with us to the community center. Anne showed me her stash of bubbles. Now I will have plenty of bubbles for all the clinics to come. At 3:00pm we then went to the community center where 14 people were baptized.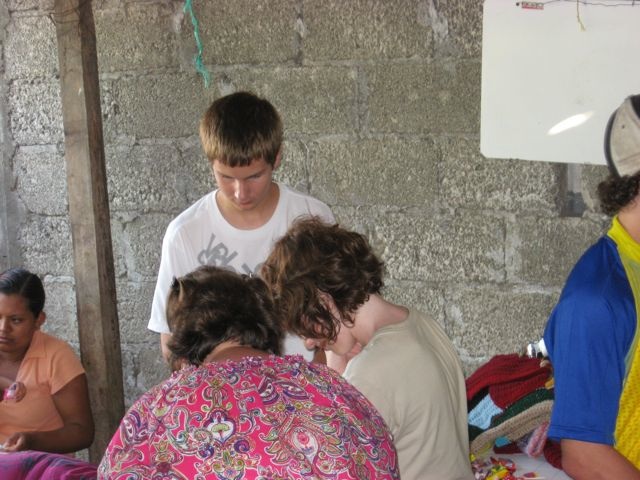 James gives out Candy at the Amiguitos Community Center
We then had a "fiesta" where we handed out candy and stuffed animals to the kids along with blow up balls. We then started to clean up and had a last minute meeting about the clinics to come. We then left and returned to Goldi's where my Dad and me left and bought chips for the group and got a water bottle for me for the clinics. Well it is getting late and I want a shower so I'm going to wrap this up. We had a good day today and we got a lot of the pill sorting and labeling out of the way along with some baptisms, this week is going to go really well.
Click here for more pictures
James
On Monday June 15, 2009, at 7:00 PM, Alex (Age 19) wrote:

Day #1 of Clinic. We were in La Laguna, where our community center is. It was an very good day in terms of production. We saw 155 people!! 120 kids from the surrounding area and from the school. The newest members of the team, Matthew and Alyson both did very well and where not overwhelmed by anything but the heat (which is a constant problem in Veracruz), however we took care of the heat with our cooler, 10 gallon container of Gateraid and LOTS of ice. We have a great team this year and I'm so excited for the next few clinics! The Chamacos who are helping us do a great job. Maria Elena helped Alyson take temps, weight, height and blood pressure. Ramon and Omar took medical histories, Guillermo helped me with the Doc-to-pharmacy business and Elena and Cesar both helped in the Pharmacy. All of them did a great job and I know we wouldn't be able to do much without them, so I'm happy to be working with them for the next few weeks.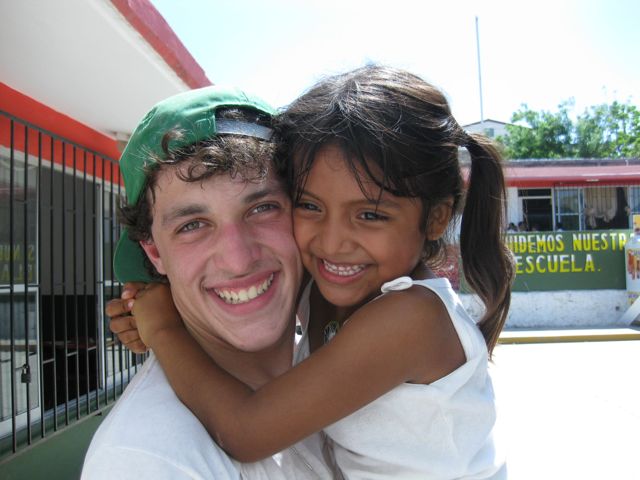 Alex makes friends!
Tomorrow we are in the same school and are going to see the rest of the kids that we never got to see a doctor today and whoever else may come. I know that we well be as efficient as we were today if not better now that we have made some necessary adjustments.
***Today was Porfi's 53rd Birthday!!!!!!***
This message will self distruct in 5…4…3…2…1………
Click here for more pictures
Alex
On Tuesday June 16, 2009, at 7:00 PM, Barry Pardus wrote:

The second day at Laguna School! After a wonderful breakfast of tamales, eggs, pineapple, peaches and pastry, our generously provided city transportation arrive on time. Upon arriving at the school, the "Tarp Team" set up the Triage tarp and then the uber tarp in the courtyard. Alex, tarp man extrodinare, spent a lot of time on the roof of the school. Both were very much appreciated throughout the day as the blazing sun rose in the Mexican sky. The uber tarp allowed the Dentists to utilize the courtyard to see the children.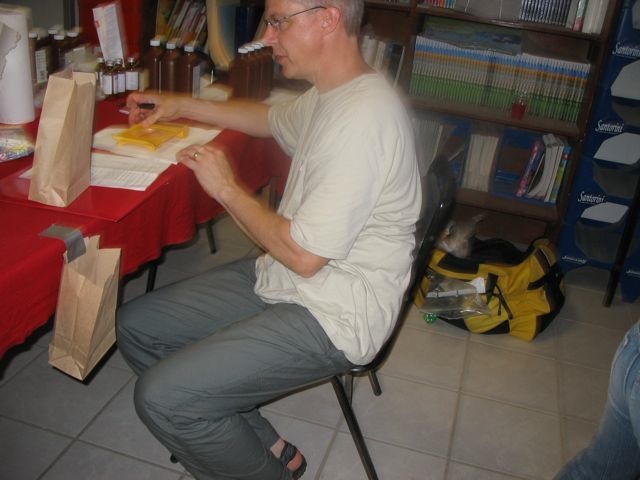 Barry is a blur as the perscriptions were FLYING through
pharmacy on our second day of clinic at Laguna. More people and many more medicines per person (news of our arrival in Laguna spread and the sicker people made their way in to clinic). Tomorrow
a new location. A slow down coming for pharmacy???

The day two medical experience saw almost 100 more patients than the previous day. The Pharmacy filled over 610 prescriptions for 233 people. The entire team was very dedicated and worked very hard serving all of the people. Our Water Lilly (Curtis) tirelessly kept the gaterade flowing. All were well hydrated! (I think I need to go to the bathroom).
The staff and principal at the school were very gracious and tolerant of our team and we appreciated them for letting us "disrupt" their normal day. The school carried on classes as we worked.
The work is tiring and at times can be a bit challenging, but also so rewarding. All-in-all a very good clinic day!
Click here for more pictures
Barry
On Wednesday June 17, 2009, at 8:30 PM, Alyson Bradley wrote:

Today we got to sleep in. After two early clinics it felt wonderful not
to have to get up at 6:00 a.m. to shower, eat, and go. I stayed in bed
reading until 8:00 a.m. – I loved it!
After breakfast, Goldi, Curtis and I went downtown (
el Centro
) to Costco. We went by the beach, which was beautiful. Costco looked the same as in Colorado, only everything was in Spanish. There were more tropical fruit flavors, mango and pineapple were common. Most of the items were the same. We filled three carts full. The challenge of the Costco shopping was fitting the three cartfuls in the small car the Veracruz government graciously lent to Curtis. We got it all to fit by some miracle, but it involved Goldi being surrounded by food, paper towels, and candy. She even had to hold the cake we had bought! When we went over speed bumps the candy would fall down on her head like a piñata. We were late coming home and had to quickly unload the car into the house because it was time to go to clinic.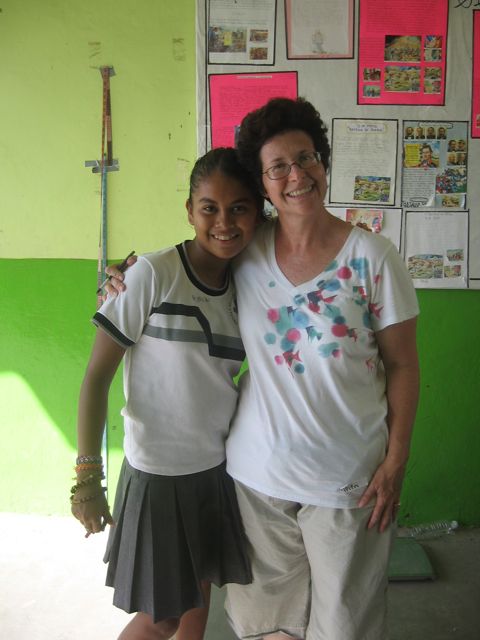 Caren & Alyson handle triage
The lift team (Barry, Alex, James & Matthew) with help from our driver,
Hugo, helped unload and put the bags for the clinic in the truck and the
car. We went to a new school today in Vias Ferreas. The teenagers from the center came to help (thank God!) It was busy, but not as busy as yesterday. The highlights were having ice cream when a vendor came by on his bicycle cart, and the empanadas we had for dinner (in a quick break). We are going to go for pizza now, so I better sign off…
Click here for more pictures
Alyson

On Thursday June 18, 2009, at 10:00 PM, Curtis Wait wrote:

We done did it! The first week's clinics are complete (over 680 patients and 1850 perscriptions filled). It was another "late start" schedule (clinic 1pm to 7pm). So per our new "late start" tradition, Goldi & Curtis go shopping. This time to Home Depot. Again filling the car with gear. Something to set the things we bought yesterday on.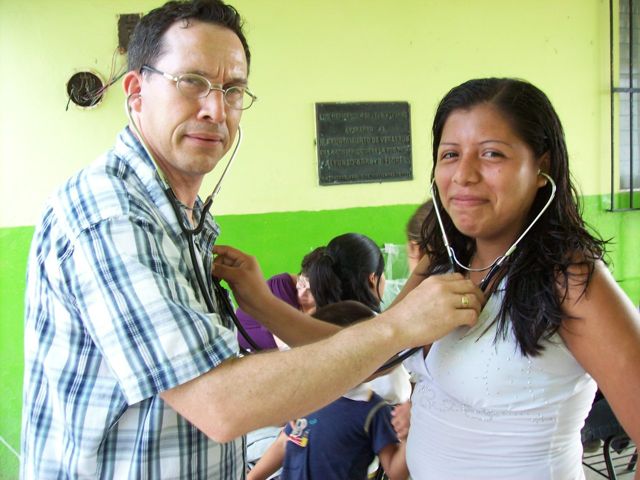 Curtis is always checking that everyone is doing well. However, the Latina Salsa beat of Maria Elena's heart seems to have him confused. What's fair is fair, so as part of the "triage team" Maria Elena checks Curtis' heart and recommends he go to pharmacy for some meds.

It was cloudy and rainy all day. We waterproofed our truck bed and put the people in an extra taxi and the other car. Note for June to November the streets of Veracruz can turn into rivers (nice photos of that in today group). We also took lots of pictures of our food today (and even some flowers). Fortunately the rain stopped just as we setup clinic and only started again as we were finishing the last patient. Lower tempuratures, no wind (and no tarps today!!!! ..... yipee!)
It is nice to have a few days without clinic! Tomorrow is free time and Saturday an excursion to Tajin (ruins four hours away). Great fun. Dana, Viki & Saul arrive Friday and Alyson, Mathew, Barry & James leave Sunday. So slight adjustments for our "Week 2 team".
Click here for more pictures
Curtis
June 2009 Clinics: 1st Week (15Jun09 to 18Jun09) RECAP:
The Team was HUGE

From the USA (in order of appearance):
Alex (runner/security)
Anne (pharmacy)
Curtis (water)
Alyson (triage)
Matthew (pharmacy)
Barry (pharmacy)
James (pharmacy)

Already in Mexico (also in order of appearance at clinics):
Goldi (entry tickets)
Hugo (driver yeah!)
bishop Benito (customs)
Dr. Augustin (medical)
Dr. Maya (health briefings & pharmacy)
Ana (pharmacy with her mom; Dr. Maya)
Dr. Porfirio (medical)
Roberto (translator)
Dr. Tomas (medical)
Miguel (runner)
Ramon (medical history/runner)
Raul (medical history/pharmacy)
Ana (medical history)
Maria Elena (triage)
Caren (triage)
Omar (runner)
Guiermo (runner)
Elena (pharmacy)
Cesar (pharmacy)
14 Dentists each day (different ones each day, tracking down the names which include: Dr Ana, Dr José "PP"
2 Psychologists (hmm, again need names)
Maria Luisa - Additional Health worker
Special thanks go to the Principals, custodians and teachers at the schools in Laguna neighborhood (Primary School) and Vias Ferreas neighborhood (Enrique Segarra Thomas school). Also we very much appreciate the City of Veracruz for providing a driver and vehicle, PLUS a tiny gold car for Curtis to drive. Fewer taxis and much more fun.

40 Team members


The patients, perscriptions & conditions:
Laguna - Monday 15 June 2009
Temp High 90F/32C Low 73F/23C Humidity 80% 1.6 cm rain
155 Patients (120 children, 35 adults) 364 perscriptions given.
~130 patients visited the dentists
Laguna - Tuesday 16 June 2009 - weather very hot:
Temp High 90F/32C Low 79F/26C Humidity 73% 0.0 cm rain
233 Patients (170 children, 63 adults) 619 perscriptions given.
~200 patients also visited the dentists
Vias Ferreas - Wednesday 17 June 2009 - weather hot & windy:
Temp High 91F/33C Low 81F/27C Humidity 69% 0.0 rain
151 Patients (104 children, 47 adults) 426 perscriptions given.
Vias Ferreas - Thursday 18 June 2009 - weather cooler & rain:
Temp High 84F/29C Low 77F/25C Humidity 87% 2.1 cm rain
144 Patients ( 56 children, 88 adults) 446 perscriptions given.
Week 1 totals:
683 Patients ( 450 children, 233 adults) 1855 perscriptions given.
~330 patients also went to the dentists
On Friday June 19, 2009, at 8:30 PM, Barry Pardus wrote:

Ah Friday! After four very productive clinics we have tiempo libre (
free time)
at last! We had the luxury to sleep in once again (breakfast at 9:00 am). Around noon, we took taxis downtown for lunch, site-seeing and some shopping. If you have not had the opportunity to ride in a taxi in Veracruz, it is similar to Nascar except the driver speaks Spanish and you pay for the ride. It is a good idea to make sure you paid your last insurance premium… Lunch was at the Gran Café (has air conditioning!) where most of us partook in the "Tower Of Meat"; a huge platter of beef, pork, chicken, sausage and bacon (a partial cholesterol challenge).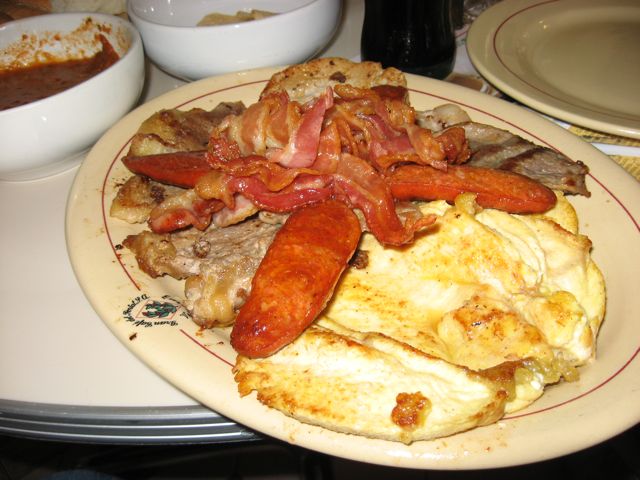 Beef, Pork, Chicken piled with sausage and bacon.
The "Tower" came with fresh lettuce, tomatoes, onions, avacato and corn tortillias. Sufficiently stuffed, we shuffled off to do a little shopping. Once we arrive back at Goldi's, we found 7,000 pills that needed to be packed for next week's clinics. Break time was OVER! As luck would have it, five of our friends from Arizona arrived to help us finish off the last 3,500 or so. The Arizona guys are here in Mexico installing water purification units in area villages.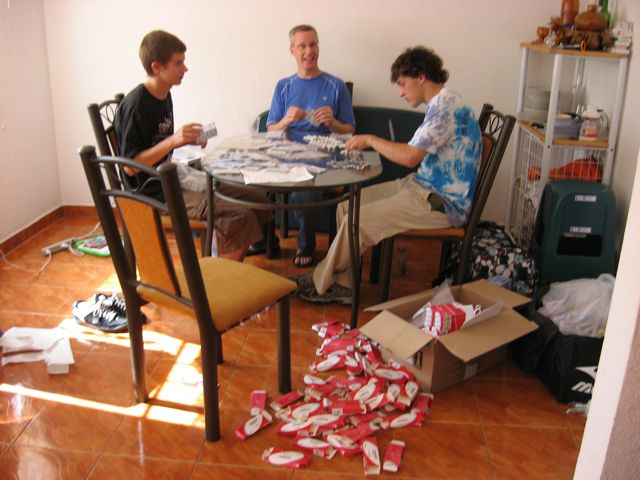 James, Barry & Alex break down medications bought today for use in next week's clinics while the girls are off shopping. Curtis is off camera cracking a whip. Thanks to all who responded to our plea for additional funds. You are making it possible for us to keep our clinics going next week.
Dana and Viki arrive at 11:00 pm and most of us will stay up to greet them. Tonight's movie is "August Rush" on DVD in English with Spanish subtitles. Show started at 8:30pm (now!!). That should keep us busy until the girls arrive.
Tomorrow we are off on our excursion to Tajín at 7:00 am sharp!
Click here for more pictures
Barry
On Saturday June 20, 2009, at 10:00 PM, Viki Dombrowski wrote:
I can't tell you how great it is to meet the children that Amiguitos is impacting the most, and to finally get faces to go with all the stories. These kids that Amiguitos are investing in are truly special and sweet children.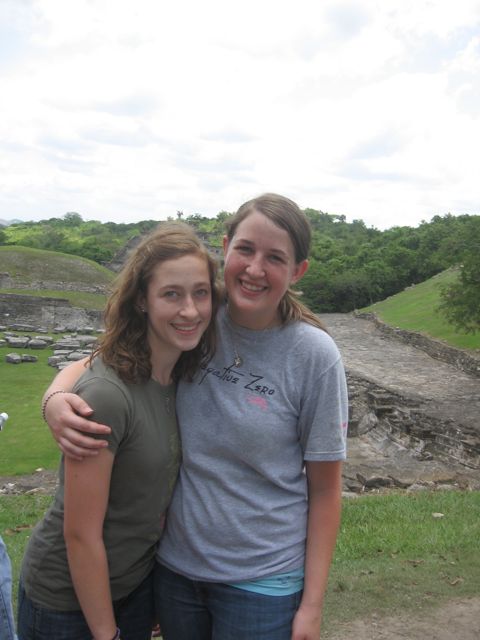 Dana & Viki arrive in time for Tajín
Today we went to Tajín, which is an Aztec (and other cultures) ruin and museum essentially, and it was a blast. The Aztec ruins were really cool to see. But more importantly we got to take the kids to a place they had never been before. They got to learn about a civilization that helped cultivate the culture they dwell in currently. It sounds repetitive, but it was so much fun. They loved the time and the attention. We even got to hit the beach briefly on our way. I can't wait to spend more time with them and get to see them in action in the clinic.
Today was a great representation of all the phenomenal things that are happening here in Veracruz, and it is a only the beginning to my trip.
Click here for more pictures
Viki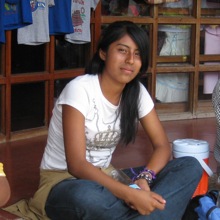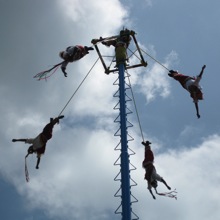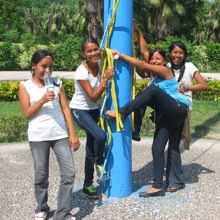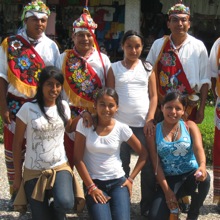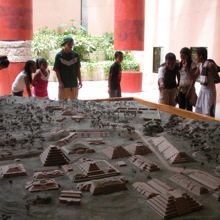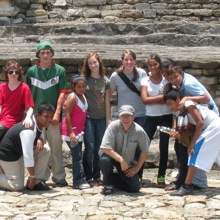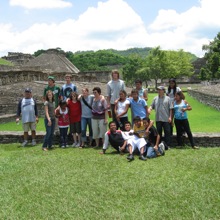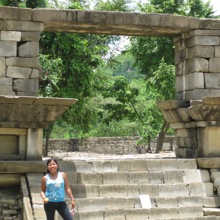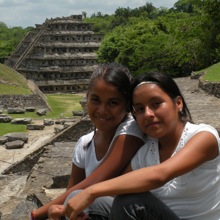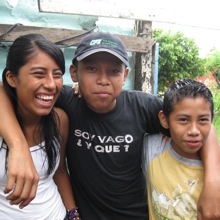 On Sunday June 21, 2009, at 7:00 PM, Dana (age 16) wrote:

Happy father's day everyone!!! Today was a fullfilling day, as usual! The crew from the guest-house (which is now limited to Viki, Curtis, Alex, Anne, Goldi, and I ..... since Matt, Ralph, Barry, James, Alyson & Matthew all left today) went to Laguna to have church and celebrate the birthday of the all important Guillermo who was turning 15. The Church service was very successful, and included a sermon by our very own Curtis Wait (in spanish might I add... quite impressive). We blessed and were blessed throughout the day while hanging out with
los chamacos
(the teenagers). After the service, We ate lunch in the center with all of the children, which is my personal favorite thing to do. There was nothing but smiles as we all enjoyed each other's company and ate.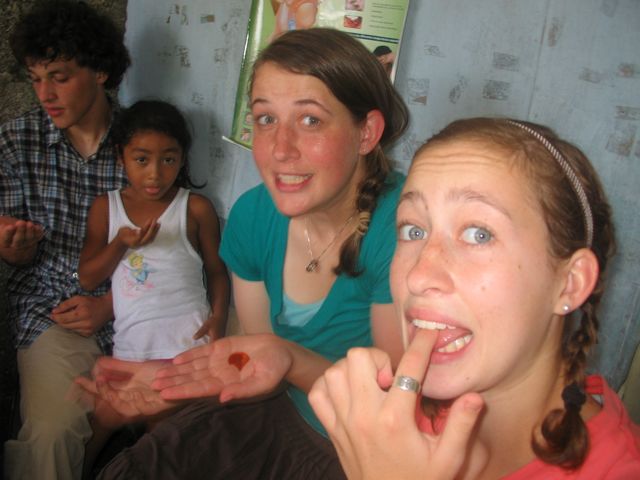 Alex, Magali, Viki & Dana "do shots" of hot-sauce while hanging out
We experienced some new "reggaeton" music provided by our teenagers in the center later in the afternoon. Inspired by the music we had a fun dance party in preparation for the birthday party to come that evening. Guillermo's fiesta was very nice. We were served dinner at his house followed by cake! My favorite thing about his house were all the
pavos
, or turkeys that they were raising. There were about eight full grown turkeys, and many various types of chickens. I was partial to the baby chick waddling around. All in all, we had a very successful and relaxing day. We'll be ready to work tomorrow!
Click here for more pictures
Dana
On Monday June 22, 2009, at 8:00 PM, Alex (age 19) wrote:

Week 2. Day 1.
Clinic today was in the Tarimoya neighborhood (Jose Maria Morelos y Pavon primary school). We were here last December and are going to be here again tomorrow. We had our work cut out for us with 4 team members from last week having to leave us and only 2 more coming, but it turned out very well. After a late start we ended up seeing 224 people, and 170 of those were before lunch!!! This was not a number that I was expecting and I think everyone is as pleased as I am with it :)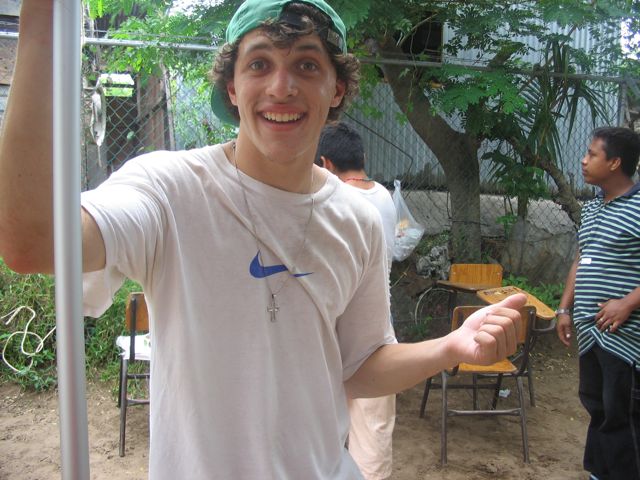 Alex smiles while running bags of medicine to the doctors for verification and then delivery to patients
We are currently preparing ourselves for some "
Tiempo Libre
" (free time) and will be doing the same thing, same place same time, less people (some of the
Chamacos
-- teenagers -- won't be able to make it tomorrow : Elena & Raúl )
Tune in next time to hear what Veracruz has in store for all of us in tomorrow's clinic ;~D
Click here for more pictures
Alex
On Tuesday June 23, 2009, at 10:00 AM, Maria Elena (15) wrote about her experience in the clinics (in Spanish) and Robert translated for her into English: Note: She is one of the teenagers in the Laguna center and a leader who helps Goldi run the center.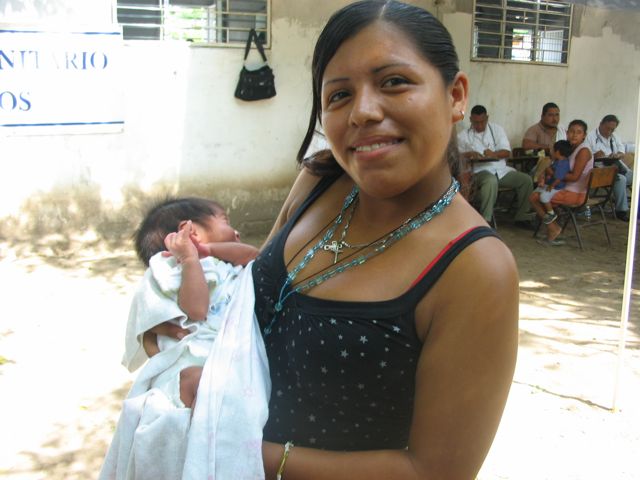 Maria Elena takes time out in Triage to hold the cute babies

MI OPINION SOBRE LAS JORNADAS MEDICAS ami las jornadas que emos hecho hasta hoy me an paresido muy bien yo senti que mejore en como checar la precion como tratar a las personas el trabajo de Ramon esta regular bueno pero puede mejorar pues es su primera vez. pues Ana para ser su primera vez estubo un poco mas bien que el de Ramon y Caren pues tambien es regular pero ella tiene que aprender que cuandoesta en hora de trabajo no debe estar haciendo otras cosas pues rimero que atienda a las personas y luego si le da tiempo que aga lo que quiera bueno y lo demas estuvo super mejor a y la comida muy sabrosa e doy muchas gracias a Goldi, Curtis,porque me presta su musica y atodos los demas por hayudar.adios a todos los quiero mucho .muaa,besitos bay, bay

My opinion about these medical clinics that I am helping with is that they are so good because in the time that I have been helping I have learned a lot, like how to check a person's blood pressure and how to be good at helping people. I also helped with clinics in December. My friends Ramon and Caren are working in clinics for the first time. Ana was really good (her first time also) and Caren has great focus. Everything was very nice, the food was good too and I have to say thank you to Goldi (who works hard to help us participate) and Curtis (because he lets me use his music and speakers!). See you next time and I love you guys bye bye.

Maria Elena

On Tuesday June 23, 2009, at 9:00 PM, Viki Dombrowski wrote:

Today was my second day of clinic, the sixth overall, and it went extremely well. Although it was not as busy as the day before we did manage to help 203 people averaging 3 prescriptions per person. That is over 600 prescriptions!
Alex, Viki & clinic supplies in route to clinic
Yesterday and today reminded me of the great things the friends of Amiguitos are helping us do. It is through their support that we are able to hand out, on average, 600 prescriptions a day to people who really need them. These are medicines the people we visit cannot afford but need desperately. What an amazing thing Amiguitos is doing!
I also have had the opportunity to get to know a few of the kids better. Caesar, who works with me in the pharmacy, is a great kid. They all really are. Anne asked him what he wanted to be and he had no idea, but I know that this young man is going to make a difference in the world because he has such a good heart. All of the kids are awesome and discovering this is what happens when you invest in Amiguitos. You are investing in the lives of the young people in Mexico who are going to make a difference in the world.
Thanks to all the people who made this trip possible. God has used you to mold the hearts of people in Mexico and in the United States.
Click here for more pictures
Viki
On Wednesday June 24, 2009, at 7:00 PM, Curtis Wait wrote:

A new school today and the first time we ever worked there (Emma Godoy Primary School in the Dos Caminos neighborhood very close to Laguna). Three children from the Laguna center attend this school and they were VERY proud to have us in their school. It was a good day and we saw more patients than ever. People are sicker here and need more medications. We have run out of 10 of our 33 medications which makes things more difficult. I took a doctor and bought all the anti-parisite medications I could find at the central pharmacy downtown ($200 USD). This helped a little, because almost every patient receives this anti-parisite medication. We will be buying much of of this in the future in the USA plus the other medicine I bought over the weekend). Wow, it has been an great trip. We have seen over 1,100 patients so far and have two clinics to go.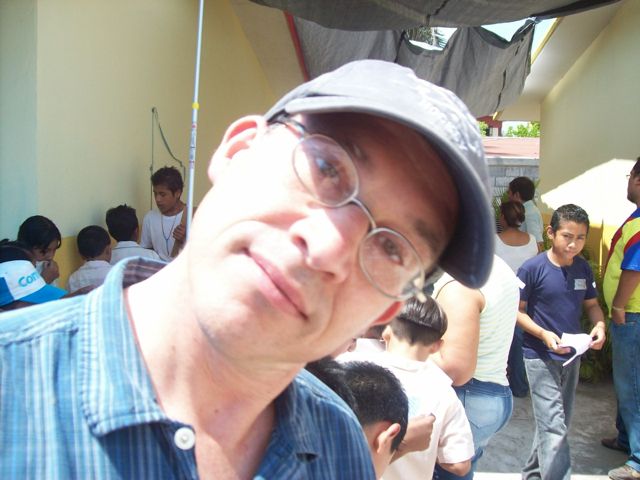 Curtis finds the "Paparazzi" get right up in his face now.

Thank you all for your wonderful support. Without you we would be unable to have such great clinics. The people are very thankful and appreciate your help.

Click here for more pictures
Curtis
On Thursday June 25, 2009, at 10:00 PM, Curtis Wait wrote:

So today we completed our Veracruz clinics at a new school in the Predio La Loma neighborhood (Vicente Lombardo Toledano primary school). It was our busiest day yet. This is a large school within walking distance of Laguna. One of our center's particpants (Kati) goes to school here. So with only one day, we had LOTS of children to see plus all the adults who came to clinic from the neighborhood. This was a great location and we plan to definately plan to come back again in the future. The school's principal is very supportive and organized (always a great help!). We ran out of a few more medicines today and so near the end were only able to give vitamins to the school children (all the anti-parasite meds we brought and bought were used up a few hours before clinic closed).

Of course today is also a sad day. It is the last day we see the teenagers from the center who have now been working with us for 8 clinics on this trip plus 4 last December and our excusions to Xico (December) and Tájin (June). So lots of tears and goodbyes. Dana and Viki put together a photo album from December 2008 and this trip of June 2009 and gave it to the teenagers today. They love the photos.


Maria Elena, Cesar, Ana, Raul, Dana, Caren, Alex, Ramon, Guiermo, Anne, Curtis, Goldi (front), Porfi, Viki, Miguel, Tomas, Augustin, Maya, Corazon and Ana (back).

Thank you for all your support and we hope you enjoy the pictures and updates from our trip. We look forward to returning in December for more clinics and perhaps a second week for working on the permanent Laguna center. We made some more new friends on this trip and deepened our friendships with the kids at the center. We have given all of the small donations collected at the clinics over to the teens at the center to fund projects to help their neighborhood and to help others. It will be fun to see what they decide to do. They brainstormed over 70 ideas, so it may take them a while to decide what to do first.

I hope you consider joining us on a trip in the future. And again, thank you so much for your prayers, support and compassion for these wonderful children and families.

Click here for more pictures
Curtis
June 2009 Clinics: 2nd Week (22Jun09 to 25Jun09) RECAP:

The Team lost Alyson, Mathew, Barry & James
The Team gained Dana, Viki, Sául & Corazon

39 on Team
The patients, perscriptions & conditions:
Tarimoya - Monday 22 June 2009
Temp High 88F/31C Low 77F/25C Humidity 80% 0.0 cm rain
224 Patients (159 children, 65 adults) 651 perscriptions given.
~100 patients visited the dentists
Tarimoya - Tuesday 23 June 2009
Temp High 88F/31C Low 75F/24C Humidity 75% 0.0 cm rain
203 Patients (107 children, 96 adults) 657 perscriptions given.
~50 patients also visited the dentists
Dos Caminos- Wednesday 24 June 2009
Temp High 90F/32C Low 79F/26C Humidity 74% 0.0 rain
317 Patients (235 children, 82 adults) 944 perscriptions given.
Predio La Loma - Thursday 15 June 2009
Temp High 91F/33C Low 79F/26C Humidity 74% 0.0 cm rain
377 Patients ( 315 children, 62 adults) 910 perscriptions given.
~50 patients also visited the dentists
Week 2 totals:
1121 Patients ( 816 children, 305 adults) 3162 perscriptions given.
~200 patients also went to the dentists
On Tuesday June 30, 2009, at 6:00 PM, Curtis Wait wrote:

We had a great time in Pénjamo. Curtis, Anne, Alex, Dana & Goldi made the drive. Driving there and back was, ummmm interesting! 11 hours Veracruz to Pénjamo (Friday). The Pénjamo to Veracruz return (Monday) started with an 8 hour delay for car repairs (opps!) then 10.5 hours driving. Mexico city was a big challenge and night driving is more difficult. So we felt great about the lower overall travel time (read: got lost less!!).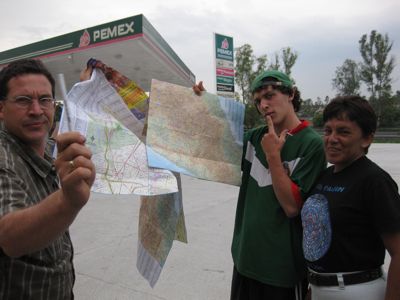 We had a small clinic in beautiful little hospital downtown the Saturday after our Friday arrival. The clinic focused on the elderly. Then we had Sunday a chance to meet with a group that will be working with our newly created Amiguitos de Pénjamo group led by Maria Elena Arredondo. The rest of the day was fun. First, tour the local tequila factory. Then spend the day in the country resting and taking in the cool mountain breeze. Ah!! Of course we eat very very well. And we stayed with friends at the cute little hospital that they own.
The time in Pénjamo was great. We felt so welcome and enjoyed our time together and look forward to the projects that Amiguitos Pénjamo will be putting together.
We definately do not recommend driving across half of Mexico for leisure. So our day in Veracruz to pack up and fly home was great also.
We appreciate all the donations that were given. Goldi will be giving them out to the children of Laguna this weekend.
Click here for more pictures
Curtis
June 2009 Clinics: Pénjamo 27Jun09 RECAP:

Maria Elena (tickets)
Maria Elena "2" (runner)
Abril (triage)
Yunot (triage)
Elvia (jr) (triage)
Dr. Luis (medical)
Dr. Ramiro (medical)
Dr. Guillermo (medical)
Adriana (pharmacy)
Yanis (runner)
Cristian (runner)
José Luis (runner)
Viki (lunch)
Mariana (runner)
Nancy (runner)
Elvia (sr) (runner)
Maria (cleanup)
Carmen (cleanup)
Alex (runner/security)
Anne (pharmacy)
Curtis (pharmacy)
Dana (triage)
Goldi (Medical History)

23 on Team (small??)

The patients, perscriptions & conditions:
Pénjamo - Saturday 27 June 2009
Temp High 77F/25C Low 61F/2516C Humidity 80% 0.3 cm rain
117 Patients (26 children, 91 adults) 276 perscriptions given.
GRAND TOTALS for June 2009 Clinics:

1921 Patients (1292 children, 629 adults) 5293 perscriptions given.
Thank you so much for all your support and hope to see you in Mexico soon!! Curtis