December 2009 Work Trip "Blog"
The fourth Amiguitos work team is in Veracruz for 4 medical clinics in December 2009. Below are the brief updates from the team during the work trip. Please scroll to the bottom to see the latest updates!

Curtis


On Wednesday December 23, 2009, at 5 PM, Curtis Wait wrote:

The team of 34 people is gathering from the USA and Mexico for Monday's first medical clinic in the Tarimoya neighborhood. Photos of the team are posted.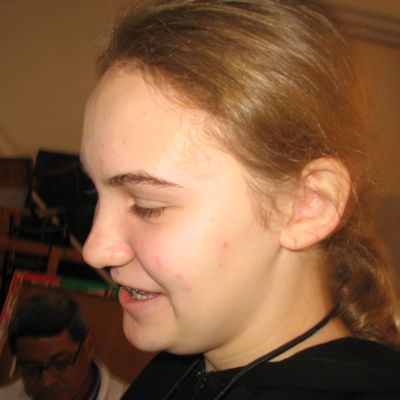 Ailee
Please keep the team in your prayers as we travel and prepare for the clinics
Click here for more pictures from the December 2008 work trip

Curtis

On Saturday December 26, 2009, at 5 PM, Ailee (Age 13) wrote:

Today was the first day in Mexico. We got up (after being woken up at
5am by Saul's alarm, a mariachi band), ate a WONDERFUL breakfast, and then headed out for the center.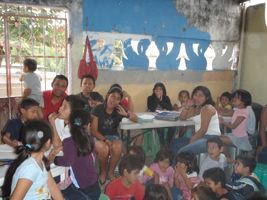 It is way shorter walking than you'd think. We taught English, and apparently I'm dancing in the celebration tomorrow because I was present during the dance review.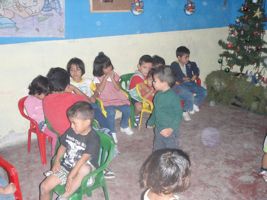 After lunch, and more dance rehearsal, and baptism preparation, and clinic overview, we headed back to the house. Ever since, I've been eating, reading, listening to awesome music, and finding new bug bites.
Click here for more photos from our day
Ailee Rowe
13 years old
On Sunday December 27, 2009, at Noon, Curtis Wait wrote:

All - Anne, Alex, Dana and I arrived last night with all the medicine. Unfortunately, there is a new manager for the Mexican Customs office in Veracruz and he has had our bags of medicine held. Monday, I will go with the bishop of Southeast Mexico to visit the Mexican Customs office in downtown Veracruz and hopefully get permission to have the bags released. We will have to go back to the airport and then get them.
We have a small amount of medicine already at the center and we will use this for as long as it lasts. Please include us in your prayers for the medicine to be released. Thanks Curtis
On Sunday December 27, 2009, at 9pm, Curtis Wait wrote:
We had a great celebration in the Laguna neighborhood tonight. We had a baptism service for 8 children and one adult. We also celebrated the 15th birthday for Victor, Ana, Esmerelda, Cesar and Ramon. Victor was too shy to dance and Omar took his place. Maria Elena (now 16)
also participated.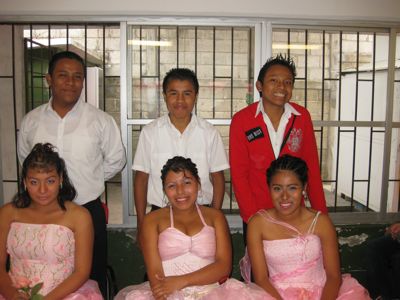 Omar, Ramon, Cesar (top row),
Esmeralda, Maria Elena and Ana (in front)

The 6 showed off their formal dancing and got the rest of us involved. Then it was a fiesta and a great time. Tomorrow is our first clinic. The location has been changed to Vias Ferias (from Tarimoya) due to problems with the principal at the Tarimoya school. There seem to be many challenges for Monday's clinic. Hopefully we will get things on track and then run smooth. We hope so. Certainly we had a great celebration today and start to our work trip. It is good to be back with our friends at the center.

Click here for more photos from our day

Curtis

On Monday December 28, 2009, at 9pm, Alex Wait wrote:
(Official) Day 1:
The first day of clinic went very well, all things considered. With 100 patients (exacto!) going through and receiving medicine we were very pleased. We still have a "situation" (because we don't have problems) with the medicine arriving to the country but I will refrain from speaking of that the rest of this blog.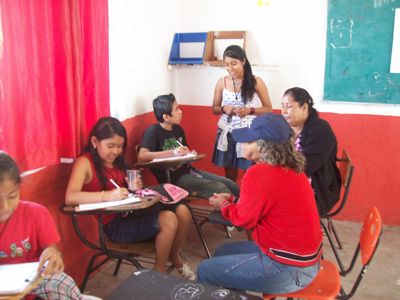 The hand(s)ful of teenagers from La Laguna were quite the help as always. With new faces joining us this year, the amount of help is fantastic as always (and we have reinforcements arriving tonight from Leadville also! Fingers Crossed!)
While today was an early day (for some of us, 7:00am Breakfast) tomorrow will be even more of a strain! There is a social services office next to the school that we are going to be in that is giving out free milk at 7:30am! 200 people are expected so we figure they might want some free medicine as well. With a 7:30am arrival that means breakfast at 6:15am! Although we know Goldi doesn't sleep (she only has to "re-charge" at night), we know that breakfast will be ready at the appointed time.
That is all I have at this time.
This message will self destruct in 5……4……3……2……1....

Click here for more photos from our day

Alex
On Tuesday December 29, 2009, at 9pm, Katherine Rowe wrote:
Today we had an early morning for all of us. We began our second day of clinic at Enrique Segara School at 7:30am(!) (same location as yesterday, but a much earlier start time). We took advantage of the crowd that was gathering next door for a free milk distribution. Word of the clinic spread quickly and we ended up seeing 221 people today. This was more than double the people we saw yesterday. Threats of rain didn't seem to keep anyone away. Gratefully, we were able to fill many prescriptions despite the fact that our medicines were still being held at the airport.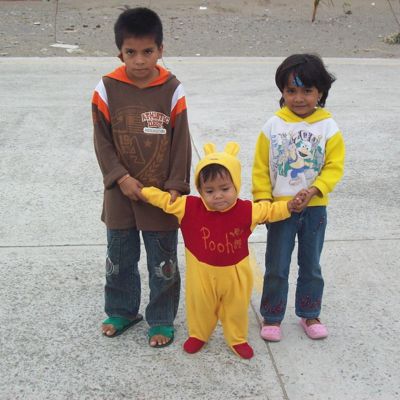 Winnie the Pooh arrived at clinic today


Speaking of airports, Goldi met with the Bishop who met with the Governor who met with the customs official who not only charged us for holding the medicine hostage -- but then paid the bill herself. All 11 bags of medicines (which also included Anne's pants!) are now filling Goldi's livingroom floor. Our Argentinian pizza tonight was a joyful celebration of serving others (clinic)and receiving grace (medicine in hand).
Cake, pill sorting, counting forms and taking showers fill the rest of the evening. We are excited to meet tomorrow with plenty of workers, plenty of medicine, and the arrival of our Leadville team who finally made it across the border at 10am this morning (2 days behind schedule). God's speed to them. Please keep praying.
Click here for more photos from our day
Katherine


On Wednesday December 30, 2009, at 6 pm, Alex Wait wrote:

Buenas Tardes Todos,
My report of clinic day 3 is a pleasant one, as always. The magical number was around 140 people who came through our clinic today. With such a slow start I was pleased to see such a number. The day started off so slow we couldn't even enter the school. We had to break into the school with a hammer with the lock not being convinced that the key was sufficient payment for entry. Once inside and set up in the scorching sun we waited. We never really seemed to have much of a rush until lunch (when we couldn't see patients of course) and then following in the afternoon. It picked up to the point where we ended up closing approximately 14 times.
This was also the last clinic for ¾ of the Rowe Clan (Major Sad Face!), Ailee, Suton and Katherine are leaving (VERY) early in the morning. With the loss of these valiant companions hopefully the void will be filled by the safe arrival of those coming from Leadville.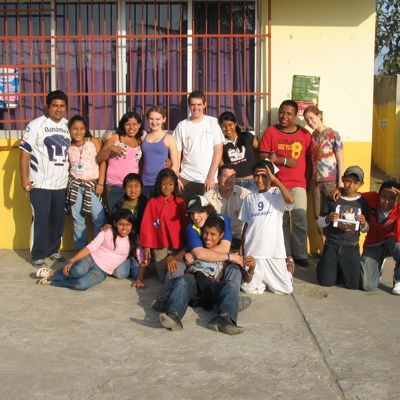 The chamacos (teenagers ......) before Ailee and Sutton leave
(Hannah, from Leadville has not yet arrived)
If you have read this far, I thank you and encourage you to tune in at the same time tomorrow! (I would encourage those who didn't read this far too but that wouldn't do much good, now would it.)
Click here for more photos from our day

Paz y Amor de Veracruz!
-Alex ;~D


On Thursday December 31, 2009, at 11 pm, Curtis Wait wrote:

Katherine, Ailee and Sutton returned to the USA today (leaving the hourse at 5:30am). We finished our fourth and final clinic of the work trip. Tonight the Leadville group arrived. During clinic, Dr. Tomas wrote a poem about our work trip using the first letter of our name in Mexico (Centro Comunitario Amiguitos, which means Amiguitos Community Center).
CENTRO COMUNITARIO AMIGUITOS
C
uanta gente se beneficia
E
n el servicio comunitario gratuito Amguitos
Ninguno otra asociación altruista
Tiene el carisma y entusiasmo
R
otundo de nuestros hermanos Norteamericanos
O
rgullosamente tambien Mexicanos de Corazón.
Cuenta en Veracurz con la Reverenda Goldi
O
rgullosamente Ecuatoriana – Mexicana a
Mucha honra, porque tiene la capacidad de
U
nir los corazones de niños y jovenes que
N
o se niegan al altruismo.
I
ntensas compañas de promoción en donde
T
odos trabajan con solo recibir el
A
plauso a su noble esfuerzo y ellos solo
bien y agradecen el

R
econocimiento.
I
mportante es continuar con estas jornadas.
O
rgullosamente Mexico –Americanas.
A
yundando a estas jornadas
M
edicas estan los medicos que sin
I
mportar el tener otras actividades
G
ustosamente colaboran en esta
U
nión de fuerzas para continuar
I
nteresante colaboran en esta
interesante promocionando estas campañas
T
odos los pacientes se benefician con medicamentos
O
bjetos varios ,como muñecos de peluche y juguetes
S
olo resta decir nos vemos en otra proxima Jornada de Salud.
Dr. Tomas González Juárez
Click here for more photos from our day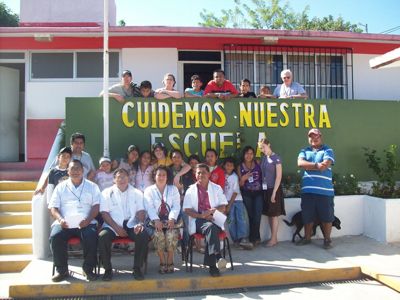 On Friday January 1, 2010, at 11 pm, Dana (Age 16) wrote:

Today was the day I personally looked forward to all week . The excursion! We started bright and early on a bus with the children from the center. Our first stop was at a beach at the Boca Del Rio. Two or so hours later by bus, we arrived at Salto De Eyipantla to tour waterfalls. The combination of wind and raging falls concluded in soaking wet jackets and shivering (but smiling) children. From there we made our way to a small family owned restaurant to prepare ourselves by eating lunch in anticipation of the upcoming boat ride. We rode around "monkey island" in small boats that held 12 persons (two boats for our group). We approached to within a meter or so of the monkeys and so we were practically part of the monkey clan. My favorite part was leaving the boats to walk the island then to participate in the customary mud mask ritual. Looking and acting like monkeys was quite the experience.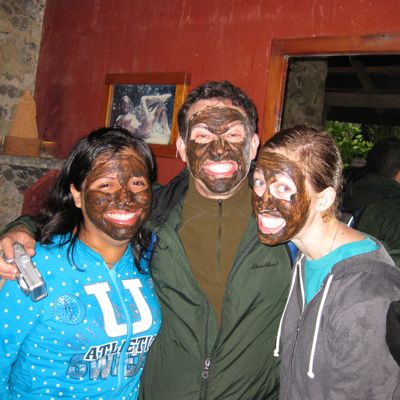 3 "Monkeys" - Maria Elena, Curtis and Dana

I hadn't quite taken the term "monkey island" as literally until we really could have been mistaken for monkeys ourselves. Although being wet was a common theme for the day, I know everyone had an incredible time. Lots of Love and many laughs in total, a successful day.

Click here for more photos from our day
Dana
On Saturday January 2, 2010, at 10 pm, George Lufkin wrote:

Hello Leadville and beyond, it has been the most wonder filled two days here at Amiguitos. We spent the last two days meeting the children. The first day on a bus tour to the sea, and a lake boat ride to see monkeys. The second day, we spent with the children at the Amiguitos school, where we taught school and played games.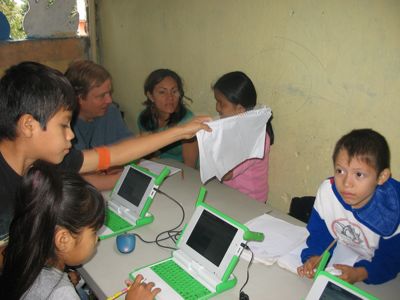 George and Lilliana held teach the computer class
Today, we went to see the new property and began the process of asking builders how to begin building the retaining walls. The days here are very long in the best ways because life is being lived so fully.
On Sunday January 10, 2010, at 11 am, Curtis Wait wrote:

As the clinics for the work trip completed, we had the opportunity this year to begin construction on the new permanent Amiguitos center and school in the Laguna neighborhood in Veracruz. We had a great deal of fun and very hard work as we began the important and difficult task of leveling the land so that we can build on it.
Because of the steep slope and heavy rains, we started our first project to complete a very strong retaining wall. It does not sound very sexy, but I am so pleased that we have done this work ourselves and not purchased land that already had retaining walls. We now know just how strong our wall will be (very strong!).
The parents, teens and children of the Amiguitos Community Center have all worked together to perform this work. Their tireless work ethic is amazing. Ignatio is the lead builder (the father of Jesus in the center). He worked through the night to prepare the site for the concrete truck to deliver and pour the cement for our retaining wall. Unfortunately due to the coldest day in 125 years in Veracruz, the cement was not poured this week. No worries. Next week it shall be.
Stay tuned for more as the construction project continues, even though the December work team members from the USA have now all gone home. We have many photos of our construction days. I have broken them down to make the viewing easier.
Sunday January 3, 2010 - Construction Begins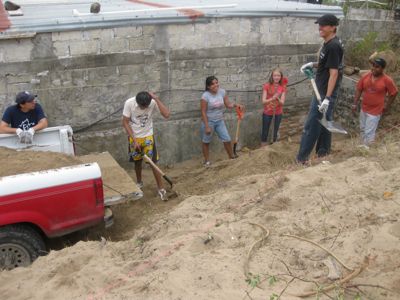 We begin moving sand to have a place to build the retaining wall
Click here for more photos from our day
Monday January 4, 2010 - Earth and gravel delivered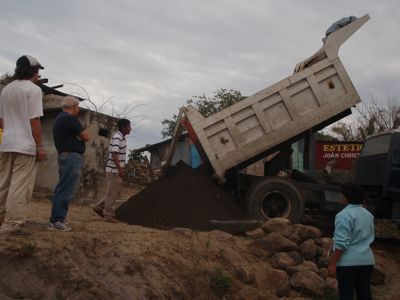 Plenty of earth and gravel delivered to make lots of cement


Click here for more photos from our day

Tuesday January 5 to 6, 2010 - Prepare for celebration of Three Kings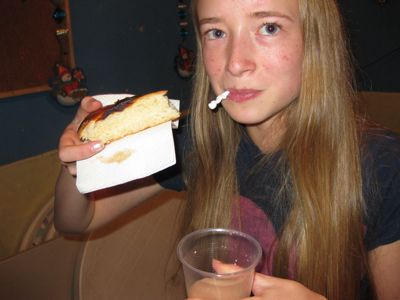 Hannah finds a baby Jesus in her cake! She must help give the next party (tamales!).

Click here for more photos from our day


Tuesday January 7 to 9, 2010 - Progress


The parents of children in the center help some of our hired steel workers put up the key components of the retaining wall

Click here for more photos from our day

Thanks for everything from the team!!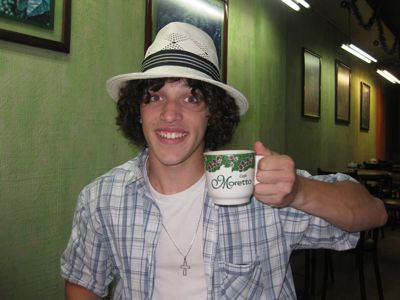 Alex visits Xalapa for coffee

I hope to see you soon in Mexico

Curtis


Dec 2009 Clinics RECAP:

28 on Team (5 from Leadville arrive after clinics)
Which included 4 doctors
The patients, perscriptions:
Enrique Segarra Thomas Esquela; Col. Vias Ferreas
Monday 28 December 2009
100 Patients (37 children, 63 adults)
251perscriptions (69 children, 182 adults) given.
Enrique Segarra Thomas Esquela; Col. Vias Ferreas
Tuesday 29 December 2009
221 Patients (79 children, 142 adults)
649 perscriptions (223 children, 426 adults) given.
Free Milk given away next door!
Dos Caminos Esquela
Wednesday 30 December 2009
142 Patients (71 children, 71 adults)
357 perscriptions (216 children, 141 adults) given.
La Laguna Esquela - Thursday 31 December 2009
146 Patients (81 children, 65 adults)
910 perscriptions (184 children, 222 adults)given.
Week totals:
609 Patients ( 268 children, 341 adults)
1663 perscriptions (692 children, 971 adults) given.
Week 2
Construction began on retaining wall of permanent La Laguna CCA center/school.
On Thursday January 21, 2010 Curtis Wrote:
There is one in every group! Jerry forgot his cable for his camera and so his photos were not included in the daily blogs. Here are Jerry's photos from throughout the trip.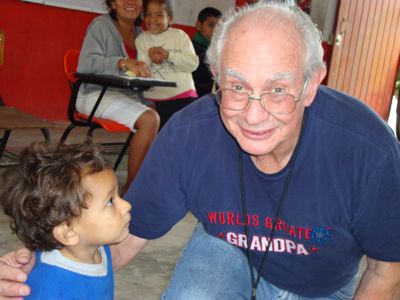 Jerry works triage at the clinics

Click here for more of Jerry's photos