June 2008 Work Trip "Blog"
The first work team from Amiguitos was in Veracruz for 8 medical clinics in June 2008 Medical. Below are the brief updates from the team during the work trip. It was a great trip and I hope all will consider joining our next work trip.

Curtis


On Thursday Jun 12, 2008, at 11:00 AM, Curtis Wait wrote:
Dear Friends -
The first work team has arrived in Mexico! Anne, Alex, Dana and Curtis Wait plus Ximena Canales. Next Friday Myra Kingsly arrives to help in week 2.

Our advanced team (Alex, Dana, Anne,Curtis y Ximena) had no troubles with the Mexican Customs service. They were very kind and excited that we were bringing so much medicine to help the children and families in the poor neighborhoods.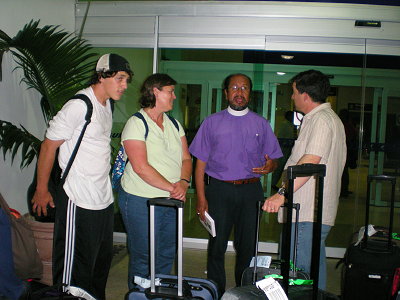 We were greated by a large group at the airport. The bishop, Goldi, Goldi´s mother Violeta (who is visiting for 30 days from Ecuador) and the leaders of the city´s professional organization (doctors, lawyers and dentists). We were welcomed warmly and the city has donated a van and a driver to transport us during our two week stay. A very nice surprise (no searching for taxis or bouncing in city buses). Even nicer was the fact that 10 professionals and helped us carry our 15 heavy bags of medicine to the van!
Today we are packaging medicines and vitamins to give out next week. Lots and lots of counting!!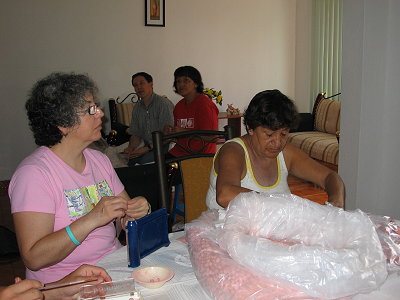 Now that we know customs is so kind, we will be able to count them into little packages in the USA before we arrive in Mexico. That will be nice (we are all covered in sticky dust from the children´s vitamins ..... ).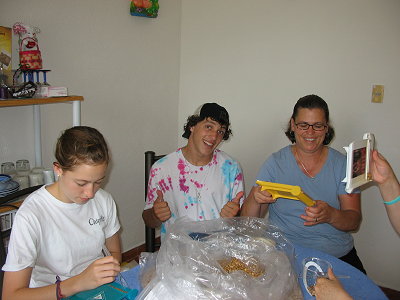 We are staying in the new guest house that Amiguitos has arranged. It is very beautiful and to our surprise there are 3 bathrooms (we had expected 2) and four bedrooms. Did you always want to have a second home in Mexico? Well, now you have one. All are welcome to come down anytime. Of course we will have our next organized work trip in December. The people here are very excited. Alex will be teaching English on Saturday (he found out today!). Sunday will be a talent show and the children here have been keeping their performance a secret. Not even Goldi has seen what they are up to.
I will send more updates as clinics begin. For now, we are all enjoying being on the ground and all the hospitality of Mexico.
Paz
Curtis
On Sunday Jun 15 2008, at 8:30 AM, Curtis Wait wrote:
Dear Friends -
The last few days have been very rewarding. 15 volunteers crowded into the living-room of the guest house to meet the rest of us and form our teams for the clinic (Entrance, Medical History, Nurse Station; Patient Escorts; Pharmacy). There was a lot of discussion. It went late and so we went out for Pizza after.
We have packaged most of the medicines, but have run out of packaging. So Goldi, Curtis, Alex, & Dana went on a supply run. We don't have our van and driver yet, so it was taxis for us. First Sams, then Walmart, Office Max and some other locations. We settled for what we could find (Image Curtis trying to walk down the aisles of Walmart with 40 boxes of sandwich bags and a worker bringing him a shopping cart). We picked ups 2 shopping carts full of other supplies (tarp, rope, bleach, colored dots, string, food, lockbox, colored pens, labels).
Saturday (yesterday) Saul joined us from Xalapa (1 hour bus ride away; the capital of the state of Veracruz) and we finally went into the neighborhood. From the Amigutios' guesthouse (also Goldi's home) it is a 15 minute walk to the center, so we walked. We saw for the first time the new center. Instead of the front yard of a resident, last week Amiguitos upgraded to a 6 month lease on a very small "house" in the neighborhood. It is not quite as nice, but now the children have the run of the place. We hung tarps over the "front yard" where meals and lessons are given. The "back yard" is a soccer pitch. Each are about 20 feet by 15 feet. Pretty small, but it makes for high scoring matches.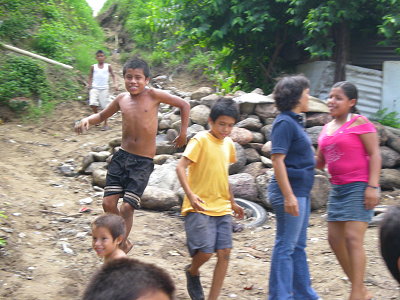 We made repairs on the center (extended a garden hose, hung tarps), we served the meal to the children and we ate with them. Alex taught English, Saul taught math and computer (using the "Laptop for every Child" computer we brought down last January) while all the rest of us helped. Then people from the El Centro (downtown) congregation which Goldi leads came and we had a worship service (eucharist). Followed by the children giving their secret show.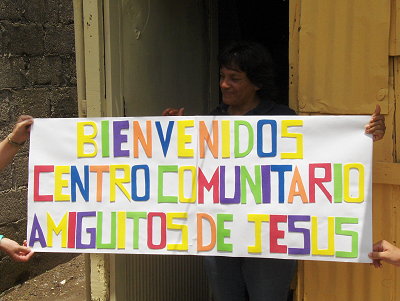 It was 8 dances (lip-syncing to music CDs). It started traditional and then moved to some modern "Columbian style" dancing. Curtis was captured to dance in one of the dances which the children thought was very funny. We all cleaned up and then were so tired we took a taxi ride home.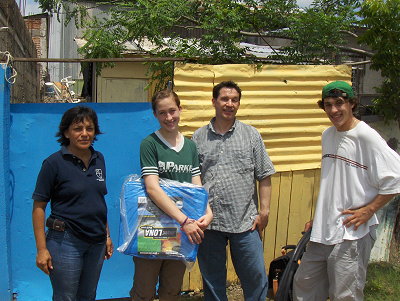 Today (Sunday) we will clean the school to prepare it for the clinic and we will again be at the center to prepare and serve a meal to the kids.
Curtis

On Monday Jun 16 2008, at 8:30 PM, Alex Wait wrote:

Buenas noches...
I hope that all of you at home reading this are very well, and are not missing us too much. Today we had our first day of clinic in Veracruz. We had it in the school in Laguna, which we cleaned and prepared yesterday. We were all ready bright and early this morning, and the van came to Goldi's house at 8 o'clock and we were ready to go...but we couldn't go quite yet. The bishop was in town for a press conference (that Goldi and my dad Curtis were to attend). We were first told that he would be meeting us here at the house, only to learn otherwise after we had left a faithful companion (Saul) behind to wait for him. A few cell phone calls and taxi rides later and we were all together again. I do not know many details about the press conference, but the two reverends of the household did not return until about 10am to the van...which was then speedily driven to Laguna from downtown under the command of our fearless leader Goldi. We did not arrive at the school until about 10:30 and did not get set up and ready (which took several stressful hectic translations from poor Ximina) until about 11am when we started letting people in. Once we all found our groove we proved to be very organized and efficient...well most of us. We did have only two doctors today (one no show) and they were not seeing patients at the rate that we were prepared for. This caused some delay in the rate of passage, but no serious problems. We ended up seeing 86 people, about 50 of which were children. That was about 43 a doctor, which we have found to be typical or very well through our missions in Ecuador. With only two doctors we can only expect so much, and being our first clinic in Veracruz we were nowhere close to being disappointed. I still believe that there is nowhere to go but up from here, leaving only fantastic things to come. I am very proud of our first day's efforts, despite the few problems encountered.
Once again, I hope this finds you well and that you will be as eager to hear our stories when we return as we are eager to tell them.
Paz y Amor
Alex
On Tuesday Jun 24 2008, at 6:00 PM, Curtis Wait wrote:

Time flies when you are having fun! Sorry for the slow update. A press conference in Mexico runs a little different than in the USA. Think of 30 people sitting around having coffee and from time to time a reporter comes by and asks a few questions. Fortunately the only question I had to answer was my name (however I think it was recorded differently every time I gave it).
Clinics have been going fine. We have worked with several doctors here in Mexico and of course all of them are different. Myra Kingsley has joined the team for week 2. She is from Pheonix, Arizona where she is the president of the Cathedral Health Services and the Peace and Justice Center. Myra is our nurse (Dana has been moved to assistant nurse to her relief).
Over the weekend we took an excursion to Xico and Xalapa about two hours away from Veracruz. There was beautiful waterfalls and sights to be seen as well as lots of great coffee.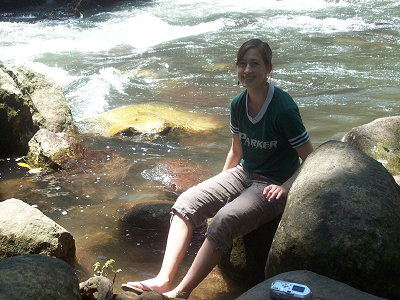 We shopped for handicrafts as well and will return with many interesting items. We also took 12 kids from the neighborhood to the aquarium and the beach. A big day!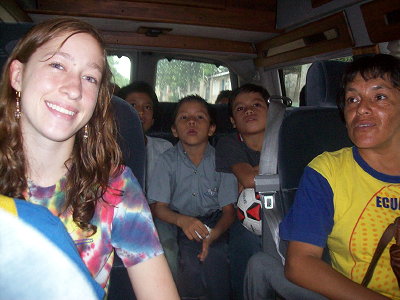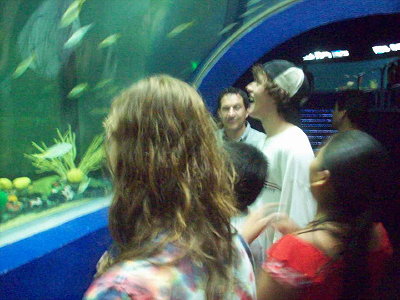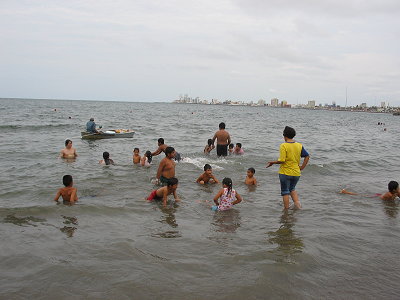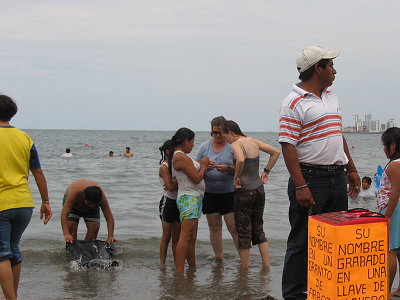 We have two more clinics to complete. Attendance has varied from 80 to 210 each day. We are starting to wear down a little and some beach time sounds good about now. Pictures will be uploaded to the site upon our return.
Paz
Curtis
On Friday Jun 27 2008, at 9:00 AM, Curtis Wait wrote:

Well all the clinics are now complete (8 total). Today is a "free day" which means going downtown for touring and shopping. We'll probably watch some DVDs as well and pick up a few supplies for the house. We already bought two matresses and frames for the guest room so now nobody sleeps on the floor. We managed to fit the matresses into the van without taking the people out.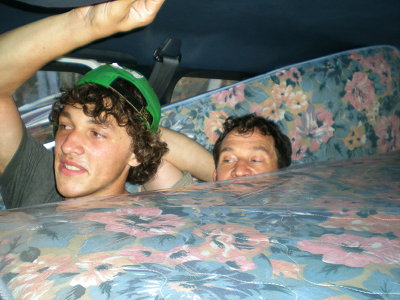 A typical day started with setting up for clinics.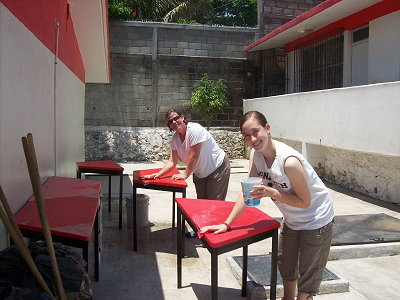 Since we were at schools and classes were in session, we worked around the ongoing activities at the school. Since the end of school year is almost here, kids were getting ready for celebrations when family and friends would come to school. So lots of dances and songs were being rehearsed. We can all sing and dance the graduation songs of all the schools we worked at.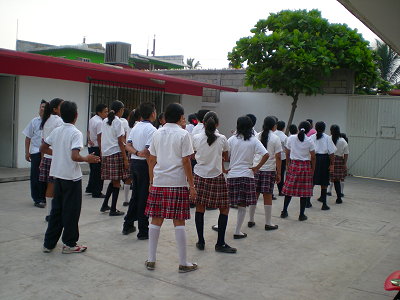 Once things are setup, all the action starts at the front door where Goldi and Alex hand out tickets and mark hands for people entering clinic (and keep others out). Alex also draws a big crowd where-ever he goes.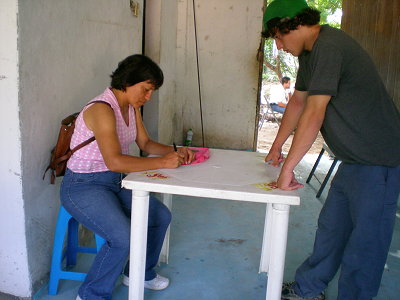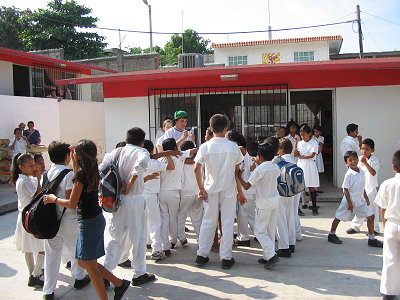 Then its on to history where the basics are written down like name and any history of medical problems, alergies and such. Ximena is our star history taker and sometimes she has some local assistance (but not always!!!).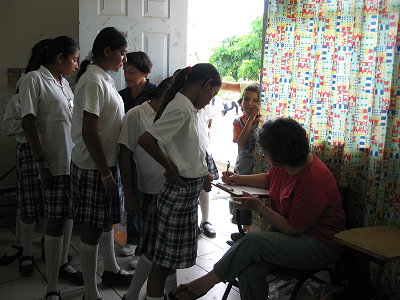 Then patients are off to "triage" where Myra and Dana take temperatures, blood preasure, height and weight.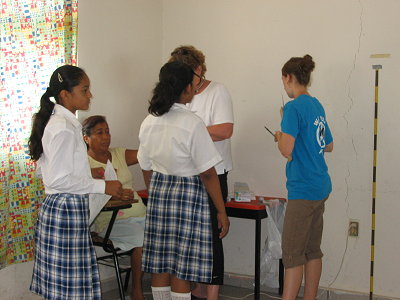 Okay. Now you may see the doctor. Violeta (Goldi's mom who was visiting from Ecuador) is the one who gets them there.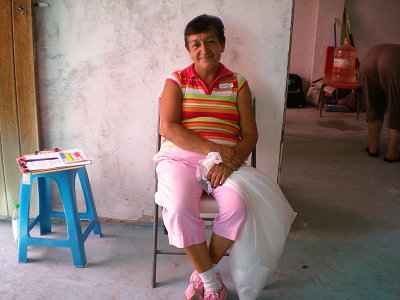 Now what all have been waiting for .... their time with a doctor. Our stars are Dr. Porfidio, Dr. Raymundo and Dr. Tomas (left to right).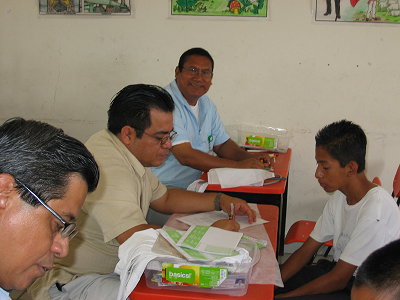 They will proscribe medications and you wait outside while Anne and Curtis prepare your bag with meds, gifts and candy.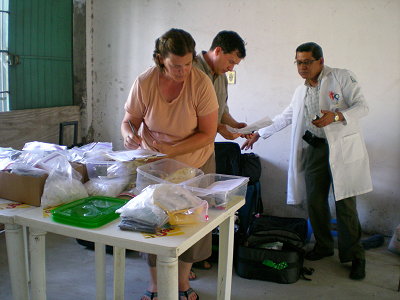 Alex pulls double duty during rush times and will check medications with the doctors before they are handed out.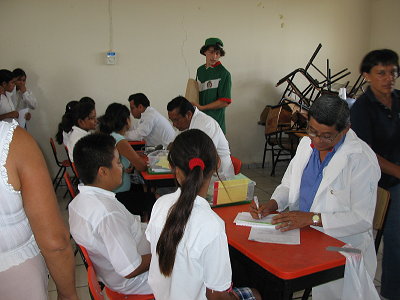 Curtis is also has to "keep the doctors happy". He gives out chocolate at the end of each day and "coca cola" is a favorite of doctor Raymundo, so of course there is always time for a quick coke.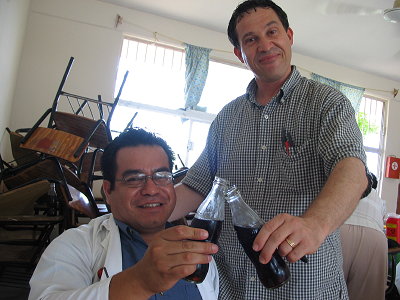 We have had a blast and look forward to next December. I hope you will join us.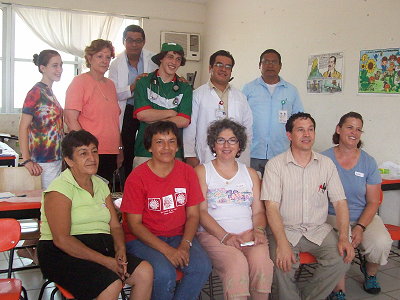 Thank you for your interest and support. Everything you gave was shared with needy children and families. We all worked very hard and are eager to tell you more about our new
Amiguitos
(good friends).
Paz
Curtis