December 2008 Work Trip "Blog"
The second work team from Amiguitos is in Veracruz for 4 medical clinics in December 2008. Below are the brief updates from the team during the work trip. Please scroll to the bottom to see the latest updates!

Curtis


On Friday Dec 26, 2008, at 11:00 AM, Alex Wait wrote:

Buenos Días,
Our work team has arrived in Mexico. The only "problem" in our journey was that nothing was open in Houston airport during our layover, so we spent hours looking for the one restaurant that was open and we were unable to change money. In Veracruz we had no troubles with customs (yippee!). A friendly official walked up to our group while we were collecting our bags and questioned how many bags we had (37+). They wanted to know if we planned to move here on this trip! The bishop and the officials from the city met us at midnight to ensure everything went smoothly and to welcome us. Of course Goldi also met us with the best gift of all …. Two vans to bring us from the airport to our guest houses. After loading up our van, and bags stacked on top of our extra car. Once we convinced Goldi that I didn't want to join the bags on top of the vehicle we were off. We arrived at Goldi's house (and another guest house across the street) late last night and blew up our air mattresses for our first sweaty nights sleep. We are currently getting the final members of the work team breakfast and we will soon be off to start preparation at the schools for clinics.
Here's to the first of many stories to come!
Alex ;-D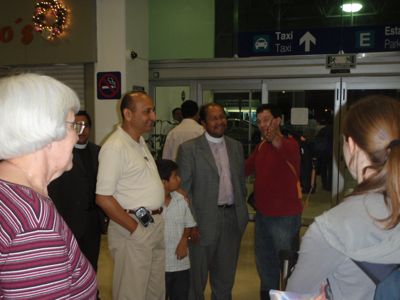 On Friday Dec 26, 2008, at 12:30 PM, Curtis Wait wrote:

We had a great time cleaning the schools for clinic next week. Youth from the Amiguito's Community Center came to help: Oscar, Ceasar, Maria Elena, Guiermo, and Elena.
Curtis
On Saturday Dec 27, 2008, at 10:30 AM, Katherine Rowe wrote:
Feliz Navidad! That is, Merry Christmas from Veracruz – the day after. What a full day we had in celebration of this day of Jesus' birth. Presents we opened together were variously wrapped and of many sizes and shapes. Here are a few we shared together: meeting teenagers from the neighborhood, riding in the back of a pickup over speedbumps and rutted roads, finding children's schoolwork and artwork in classrooms we scrubbed, hospitality of poor neighbors in sharing their bathrooms during work hours (!), new bleach bottles for the limited water supplies used to wipe down walls, desks and floors, blessed food (!), and the varied Christmas decorations in Goldi's neighborhood during our late night walk.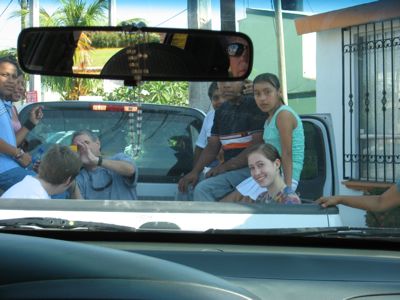 Our focus during this present opening was to first find and then to clean and prepare two different schools for our medical clinics next week. Gratefully, we had transportation supplied to us by the city of Veracruz, which saved the time and challenge of city traveling on buses and much walking through non-bus areas.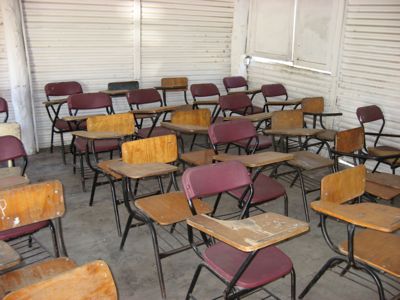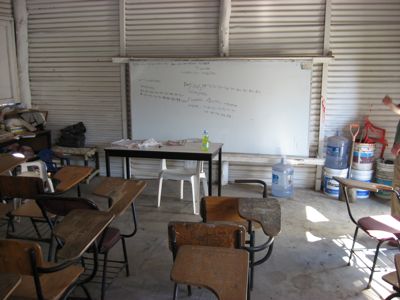 The evening ended with good fellowship, the gift of showers and 14 people gratefully zonking out on expertly inflated mattresses. The morning will bring more gifts at the community center as we head out saying VAMOS A LA PLAYA (which we may actually do later in the week).
Katherine
On Sunday Dec 28, 2008, at 8:30 AM, James wrote:
The temperature this day was very hot, and with high points of humidity. Today we went to the Community center and helped teach the younger kids colors numbers and some English. With the older kids we helped them learn how to use computers and speak a little English. Goldi cooked a nice lunch for the kids and us. The lunch was made of corn tortillas, cheese, and some kind of sauce. The lunch was very good and was well prepared.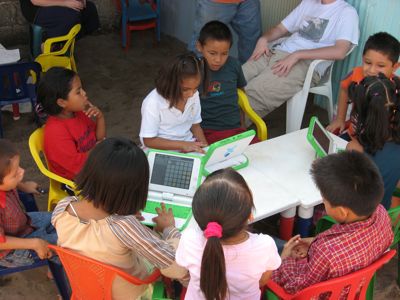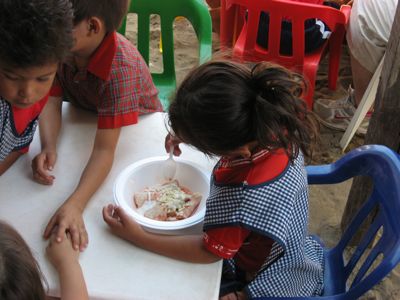 Later we met with the doctors here in Veracruz. The Doctors seemed very nice and talked to us about how the clinics will work on Monday.
James
On Sunday Dec 28, 2008, at 9:00 PM, Ailee wrote:

First today, we had an awesome tour of Veracruz. We went to a water front fortress, and the beach, even though it was WAY past lunch time.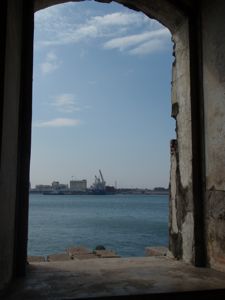 Then, after we came home, we ate lunch, and took short naps. We went to church, in the back of the truck. It was way too crowded, and all my million ant bites started itching. The readings were read in Spanish and English, and my mom had/gave a five minute sermon in Spanish. After church, we had a talent show, and everyone says my tap dance was da bomb (really good).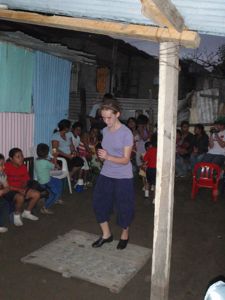 We reached the house, and while we were in the truck, there was much worry of rain. Now, we are editing the medical history forms/ prescription order forms (adding medications that were not on there before). And eating potato chips and cookies. -Ailee (12 year old)
On Monday Dec 29, 2008, at 6:00 AM, Phil Rowe wrote:

Day three in Veracruz for the work team. Sunday was the leisure start for the team. A late breakfast included spicy chicken and pineapple-sweetened tamales. Our transportation hosts provided a tour of Veracruz with stops at the San Juan de Ulua fortress and the local tourist beaches. The fortress, the starting point for the Spanish entry into Mexico by Coronado. The current fortress is a mixture of 17th through 19th century architecture with lots of stones cut from coral. After a brief drive-by of the tourist beaches, we hurried back to the house for lunch before proceeding to the Amiguitos community center for weekly church services.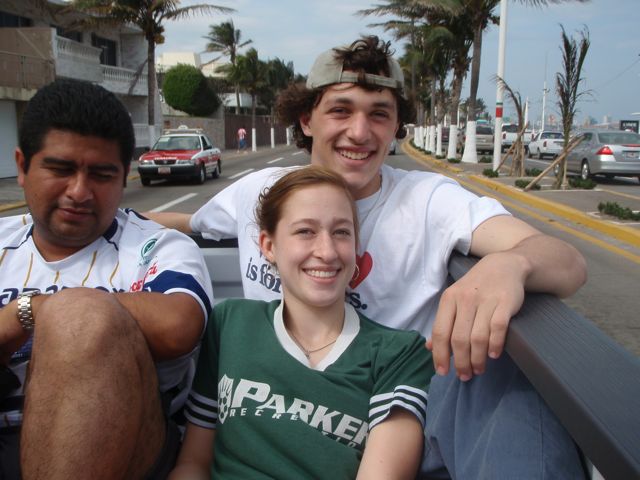 A mainstay of our transportation to date has been a pickup truck. During today's travels, we have 10 teenagers and adults crammed into the back. While it is common to see locals travelling in the back of trucks, especially children, we feel that it is probably unusual to see a group of gringos riding in the back of a truck.
One highlight for the service, conducted by Padres Curtis and Rick, were the 2 baptisms. After readings in Spanish by community members and English by the work team members, Katherine (my dear wife) preached in Spanish. The photos show a preacher in action with lots of facial expression and interaction with the congregation. Following the sermon, the 65 people in attendance shared in the baptism of two children into Christ's family.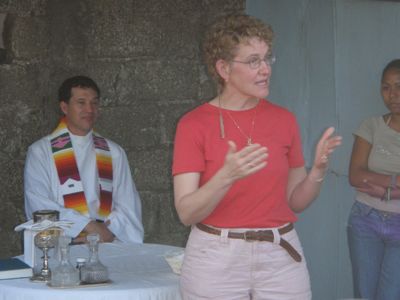 Following Eucharist and a blessing of the children, we all enjoyed a show from the children of the Amiguitos' school and the youth of the neighborhood. This includes songs, recorder music, and a Nativity play narrated by Rev. Goldi and a tap dance by Ailee. A dinner of rice, black beans, plantains, broccoli and cheese followed.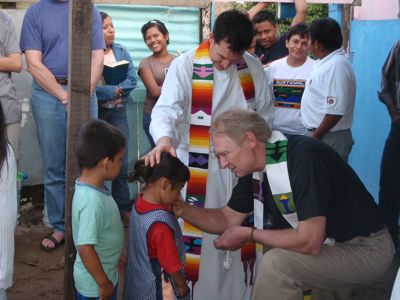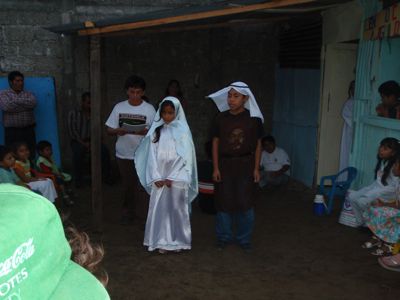 As the service and festivities proceeded, I was reminded of a hymn we often sing at our home church, "Surely the presence of the Lord is in this place". As I looked at the neighborhood children, and the mothers of the smallest ones, and our work team, I couldn't help but feel the connection of God's people. I hope that feeling stays with me all week.
Phil Rowe
On Monday Dec 29, 2008, at 7:00 PM, Alex Wait wrote:


Buenos Tardes,
We just finished our first day of medical clinic and we were out in Jose Maria Morelos y Pavon school in the Tarimoya Neighborhood and it went very well!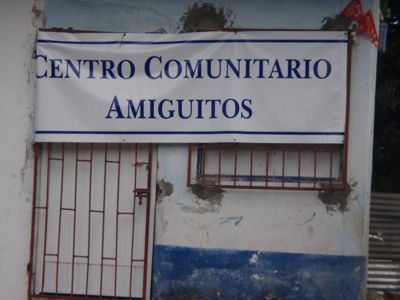 This was not the first clinic for some of us but it was for many of us but the general feeling of the group was that it went very well! A handful of 'jovenes' (teenagers) from the community center in Laguna came and helped us out and did a very good job.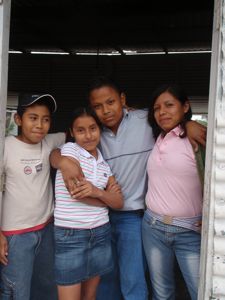 I thought that for the amount of experience of the group as a whole it was a very very quick learning process and we got organized very quickly and became very efficient.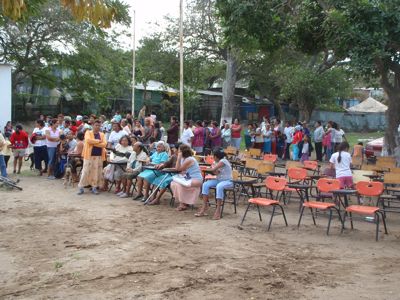 This was THE MOST efficient and productive team/clinic that I've been a part of in my few years of doing this work. The amount of people that we saw (208[WOW]) compared to the people on the work team (30 including doctors and helping hands).
I have not yet gotten a sense of how tired the rest of the group is, but I am ready for a siesta myself. We will soon head out for the local pizza place and get a good nights sleep and we will be ready to go at it again in the morning.
Paz y Amor
Alex ; D
On Tuesday Dec 30, 2008, at 8:00 PM, Katherine Rowe wrote:
After being on television last night (yes, really), after a very cool night, and after morning showers warmed with the challenging gas heater, we gathered at Goldi's for breakfast (scrambled eggs and leftover pizza) and morning prayer. A quick drive in the loaned truck and van brought us to Laguna and the school there for our clinic. This school was definitely the cleanest and best kept of all the locations we have been in this week.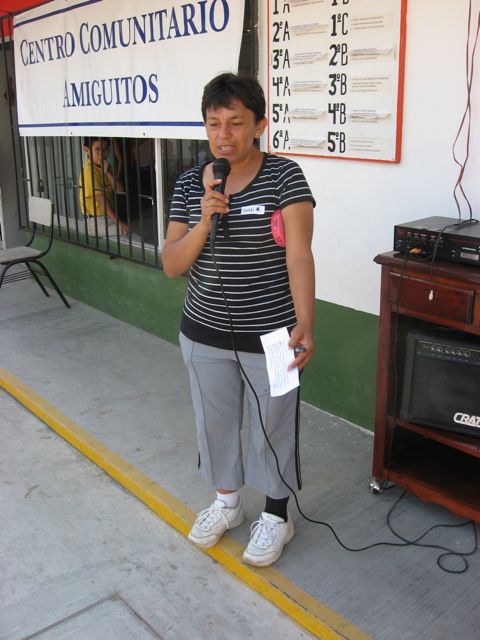 With so many helping hands and a day's experience together, clinic went well. The loudspeaker at the school helped our presence be known(!) We saw 112 people and will return there tomorrow. Goldi and the teenagers of the neighborhood distributed notes to at least 200 houses about the clinic tomorrow so we expect as many folks if not more.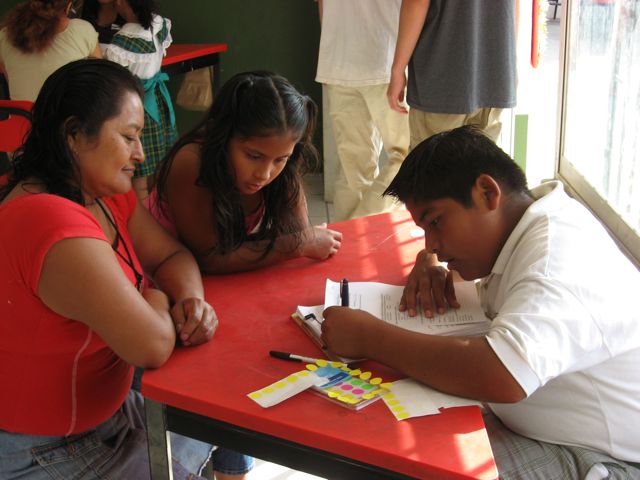 During the day, as we had time, small groups ventured into the neighborhood to visit in the houses of the families that attend the center's programs with Goldi. It is always eye opening to see how others live and love in environments we can't even imagine.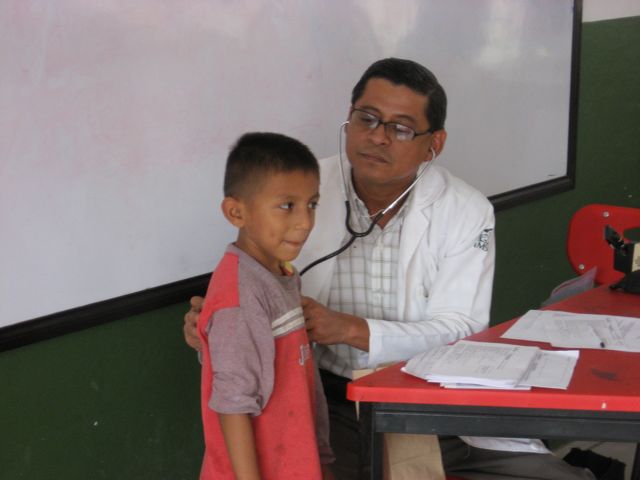 After clinic and a debriefing together, one group headed to WalMart while another went to rent the bus for our excursion Thursday to Xico. 8pm now and just beginning cooking for dinner. Pleasant weather and good companionship complete our day together.
Katherine Rowe
On Wednesday Dec 31, 2008, at 6:00 PM, Rick Meyers wrote:


My attention was drawn to Padre Curtis standing in the courtyard of the school where we were helping the medical clinic. He was wearing a Santa hat and fake white beard holding a box of small candy canes in one hand and a mini boombox in the other dancing to rhythmic Latin musica (La Factoria). Drawn to him like a magnet, Omar, Cesar, Raul and I followed him out the door onto the dirt street, dancing and smiling in the wonder of the moment. For the next forty minutes wound our way through the Laguna barrio dancing with the music, handing out candy, and inviting people to the clinic's health fair.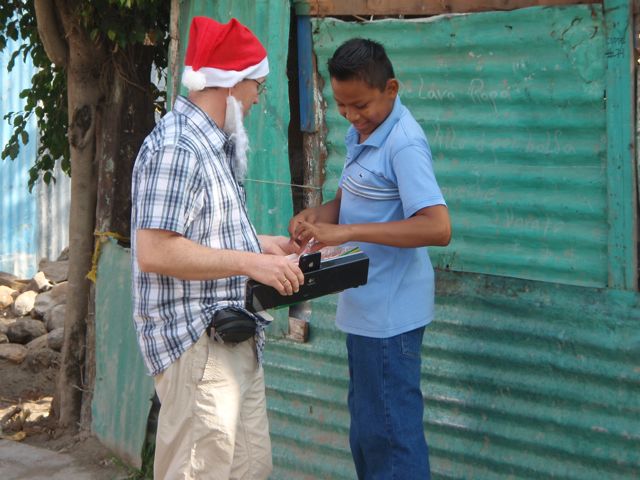 Ten minutes after we arrived back at the escuela, the mothers, children, and grandparents began to arrive. The music and dancing continued. The smiles grew. The people were treated medically. The staff was fulfilled.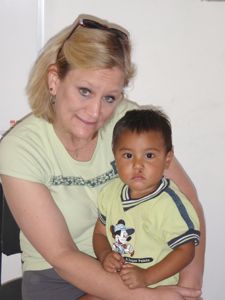 Another snapshot in time for you from the Centro Communitario Amiguitos in Veracruz, Mexico at the end and beginning of another year. Feliz Nuevo Año! Gracias del ayudanos! Thanks for your help.
Padre Rico + 12/31/08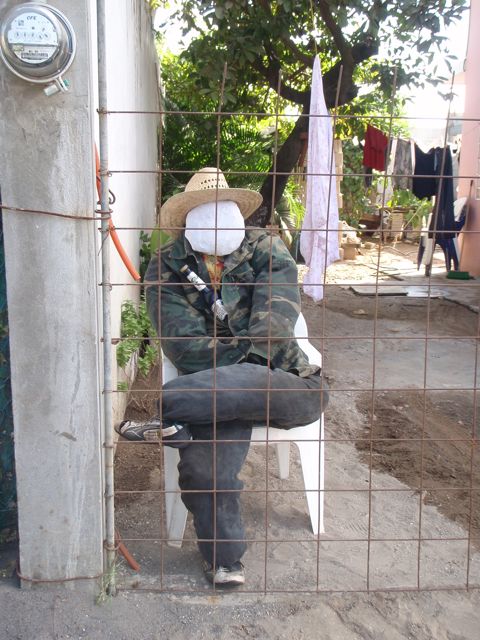 P.S. A new year's tradition here is to stuff paper into old pants and shirts (the "old man" of 2008") and then light him on fire! Happy New Year!
P.S.S. If you want to get a real feel for this, go on live and check out "La Facturia", a contemporary pop Mexican musical group.
On Thursday Jan 1, 2009, at 8:30 PM, Barry Pardus wrote:
Coffee beans, bananas and waterfalls -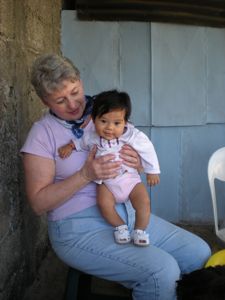 Where can you find all three? Xico, Mexico. Today we went on an adventure in the mountains (two hours outside the city of Veracruz and up in the mountains). It was not only special for us but also to the children from Goldi's Community Center.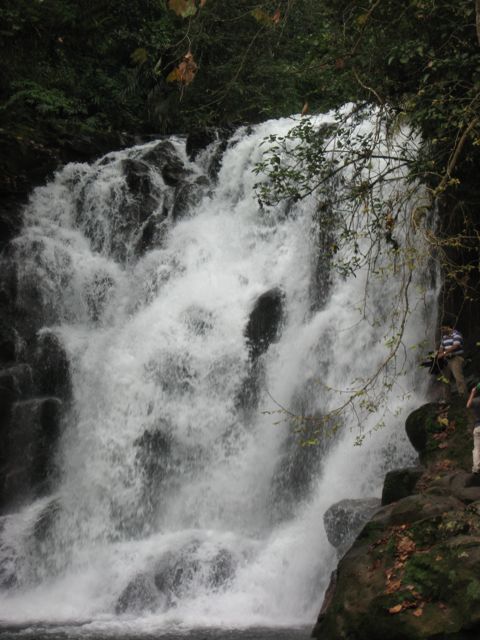 First, we stopped in the city to do a little sightseeing and grabbed a snack, coffee and hot chocolate at the restaurant "Campanario."
The next stop was the beautiful waterfalls. Awesome views and magnificent water. But, one had to pay 3 pesos to use the baño (bathroom!).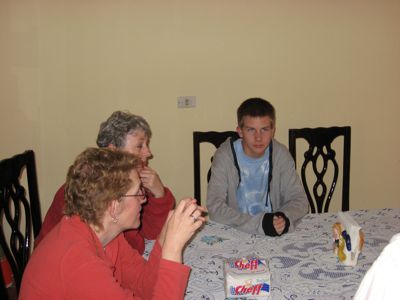 Our lunch stop was at Saul's home for a grand meal prepared by his mother. One could wonder when the last time Saul had over 25 guests for lunch - much food and laughter was had by all!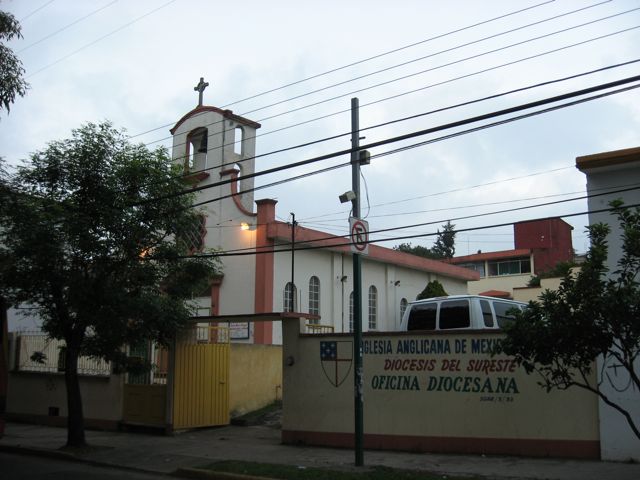 We also stopped at the market in Coatepec And the Anglican cathedral church and diocesan offices for southeastern Mexico in Xalapa.
Adios!
Barry Pardus
On Thursday Jan 2, 2009, at 7:00 PM, Dana wrote:
So today, was our last clinic in the neighborhood of Vias Ferreas at the Enrique Segarra school. I would say that it was a successful day, due to the number of patients we saw. In total, we served two hundred and fifteen people today (621 patients total in the four clinics combined).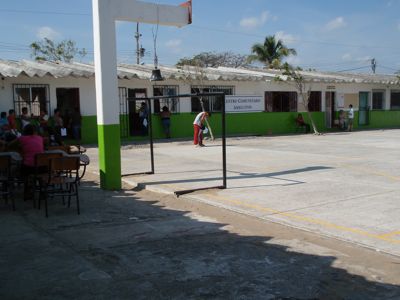 My job is taking height and weight in the triage part of clinic. As I worked, I gave out tattoos to the children. I found it interesting that they didn't know what they were or how to put them on. Even still, as I put them on for them, they smiled and laughed like it was the best thing they had ever seen. I not only speak for myself, but for the rest of the team when I say that the people have touched us and changed our perspective on them and Mexico as a whole.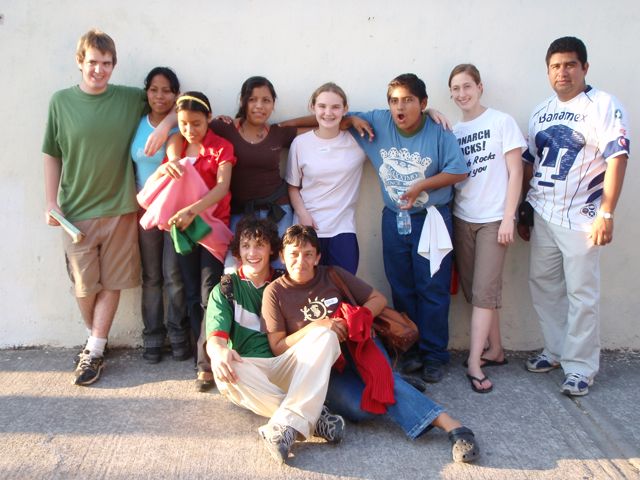 I was moved to look at our culture and society and compare and contrast morals, ideas, and ways of living. The people of Veracruz have touched my heart, and will always have a special place in us all. Tonight, we plan on having a celebration dinner Gran Café, which should be fun. We have had an awesome trip!
~ Dana ~
P.S.- We ALL miss Barry, James, Charles, Omar, Cesar, y Raul today especially!!
* * *
Thanks to all of our team from Mexico and the USA who made this Amiguitos work-trip a great success. Goldi, Saul, Cecilia, Maria-Elena, Omar, Cesar, Nayma, Guillermo, Elena, Raul, Kay, Rick, Dana, Alex, Curtis, Anne W., Phil, Katherine, Sutton, Ailee, Donna, Anne L., Barry, James, Charles and especially Guadalupe, Porfirio, Raymundo and Tomas (our doctors).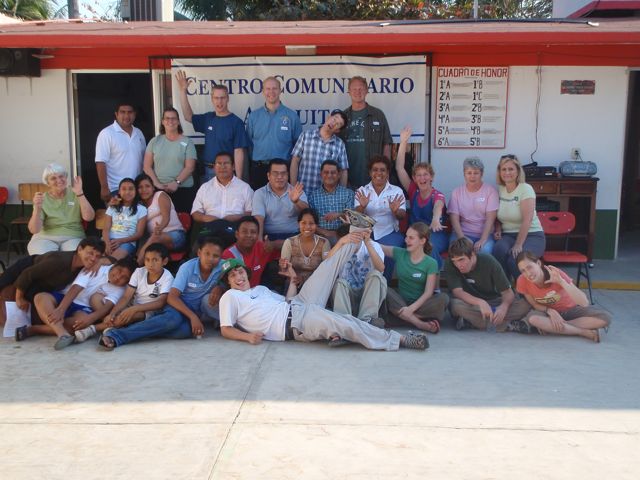 Hope to see you all in June for our next work-trip to Veracruz!
Click here for more photos
Curtis